5 Best CRM For Financial Advisors
Customer relationship management (CRM) software is a good investment for certified financial planners and financial advisers who wish to generate leads, complete transactions, and organise client data. The most effective customer relationship management systems (CRMs) for financial advisors are adaptable and simple to set up, and they include a number of capabilities that may help simplify workflow, assist in marketing financial services, and ensure that accounts remain compliant. We looked at over a dozen different CRMs and limited the field down to six of the very finest ones so that you could choose the one that is right for you.
How We Evaluated the Best Financial Advisor CRMs
During the course of our analysis, we considered both industry-specific and generic choices to determine which provided the optimal balance of capabilities and cost for financial advisers. First, we devised a set of six weighted assessment factors for financial adviser CRMs so that we could identify which was the best. Following that, we utilised these categories to evaluate each possibility on our list and give it a score out of five. This evaluation also included the determination of key application scenarios. You are welcome to have a look at our unique assessment criteria that are listed below.
Due to the fact that advisers are required to maintain compliance and security, we also made certain that each alternative maintains the confidentiality of its data and complies with regulatory requirements such as those set down by the Financial Industry Regulatory Authority (FINRA).
Zoho CRM: Best for Digital Marketing & Sales
Because of its reasonable price, easy accessibility, and extensive feature set, Zoho CRM has climbed to the top of our list of the best customer relationship management software for financial advisors. However, what really sets it apart from the competition are the multi-channel digital marketing features that it offers. Advisors can use the CRM to not only develop email marketing campaigns for individual leads and customers, but also communicate with prospects on Facebook and Instagram. Because of this, Zoho CRM is an excellent option for planners who want to produce new leads from a variety of channels and nurture them over time.
Despite the fact that Zoho CRM has earned our highest recommendation for financial advisers, its user interface might be frustrating at times. Freshsales is a CRM alternative that combines ease of use with a broad set of sales tools; check it out if you're searching for anything like this.
Zoho CRM Pricing
Free for life with Zoho: Up to three users may be supported.
The average cost is $14 per user each month.
At the professional level, the monthly cost is $23 per user.
Enterprise: $40 per user, every month
Ultimate is available for $52 USD per user, per month.
Free trial period ranging from 15 to 30 days
Zoho CRM Key Features
Customer Management: Tend to client requirements with Zendesk and Zoho Help Desk integration.
Tracking customers' contact information, assets, interactions, and more is all part of the 360-degree client view.
Zia AI Assistant will provide suggestions for follow-up tasks and the best moments to reach out to clients.
App Integrations: Includes Zoho's portfolio of applications in addition to well-known software from third-party developers.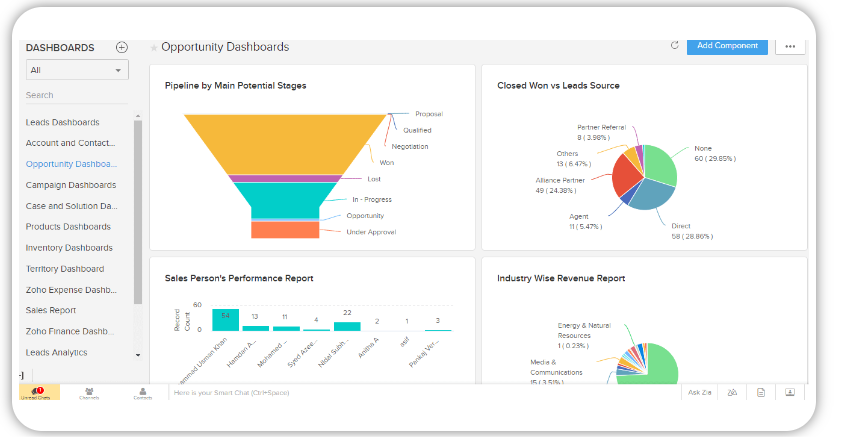 Pros
Customizable reporting dashboards
Intelligent sales forecasting
Built in phone dialer
Cons
Sometimes hard to learn
Setup and customizing take time
Can be expensive for some
Salesforce Essentials: Best for Reporting
Salesforce Essentials is a version of the well-known Salesforce CRM designed specifically for smaller businesses who want a CRM that includes sophisticated general sales functionality such as reporting and collaboration tools but cannot afford the more expensive Salesforce Enterprise edition. Its price is structured on a single tier, which makes it an appealing starting point, and it even enables you to upgrade into its Financial Services Cloud, which comes with features such as workflow automation, 365-degree customer profiles, milestone monitoring, and intelligent AI-powered forecasting.
Although Salesforce Essentials is a strong choice that offers finance-specific upgrade options, it does not have all of the functionality that are necessary for sales and marketing without an upgrade. Check out Zoho CRM if you're looking for more powerful marketing tools, and try Freshsales if you're interested in more robust sales features.
Salesforce Essentials Pricing
Essentials: $25 per user, per month (up to 10 users)
Free Trial: 14 days
Financial Services Cloud Upgrade Pricing
Professional: $150 per user, per month
Enterprise: $300 per user, per month
Unlimited: $400 per user, per month
Free Trial: 30 days
Salesforce Essentials Key Features
Streamline the process of data input, generating of leads, and scheduling using workflow automation.
Contact Management: Separate lists into categories and organise customers into families or households.
The Milestone Tracking feature notifies you of important events in both the personal and professional lives of your customers.
Integrate hundreds of applications for banking, marketing, and a great deal of other areas with AppExchange.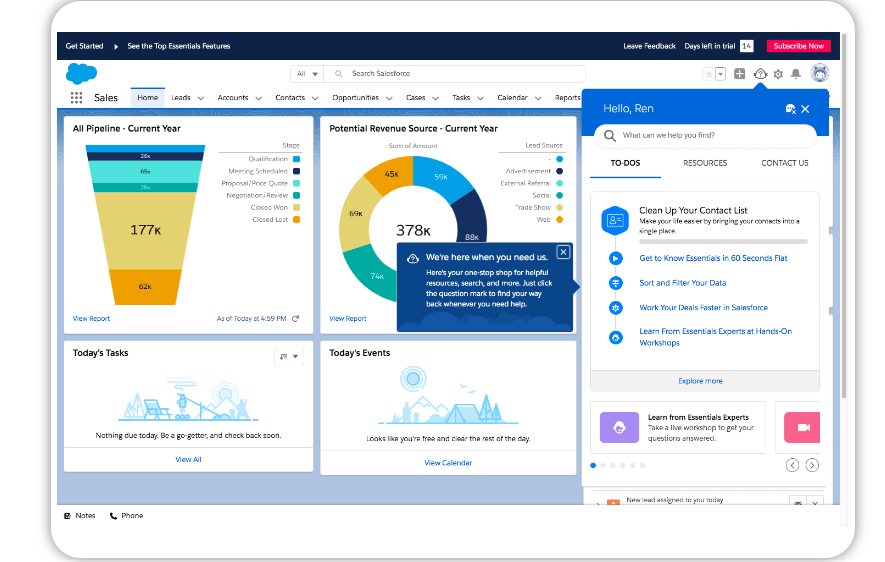 Pros:
Customizable reporting dashboards
Intelligent sales forecasting
Built in phone dialer
Cons:
Sometimes hard to learn
Setup and customizing take time
Can be expensive for some
Wealthbox: Best for Customization via Apps
Because it integrates so many apps that are pertinent to the financial sector, Wealthbox is able to act as a one-stop shop for independent financial advisers and smaller businesses. RIA in a Box, eMoney (for financial planning), and DataPoints (for risk analysis) are some examples of partner applications that can be integrated with a CRM to provide additional functionality. Advisors that want a bespoke CRM may have it adapted to meet their requirements (compliance). Integrating third-party applications for email marketing, communication, scheduling, and social media into Wealthbox will allow you to expand the capabilities of this platform.
Wealthbox is our top pick for a CRM that is tailored specifically to the financial industry; but, it might be expensive for certain users and may be lacking in some marketing and sales functions. Check out Freshsales or Zoho CRM if you want solutions that are both more reasonably priced and feature-rich.
Wealthbox Pricing
Basic: $35 per user, per month
Pro: $49 per user, per month
Premier: $65 per user, per month
Free Trial: 30 days
Wealthbox Key Features
Integrations: More than 80 different applications covering areas like as finance, compliance, and risk analysis are accessible.
Data Security is provided by Wealthbox via the use of 256-bit encryption, two-factor authentication, and a session timeout feature.
Two-way sync with Gmail, Outlook, and other popular email applications is included with the Wealthbox Email service.
Mobile Software: The Wealthbox desktop app is able to synchronise with the fully-functional mobile CRM.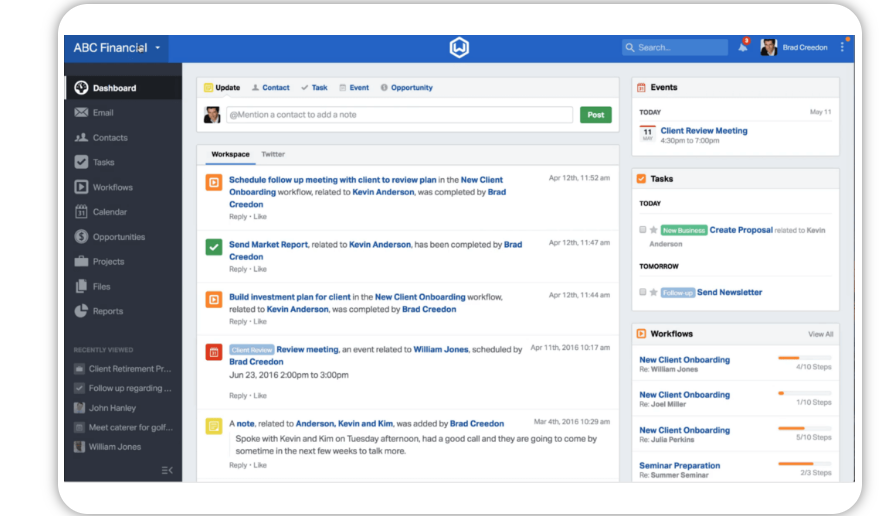 Pros:
Vast selection of finance integrations
Two-way sync with email clients
Highly-rated mobile app
Cons:
Lacks user support options
Limited features with Basic plan
Little guidance during setup
Freshsales: Best for Advanced Sales Features
Freshsales is an intuitive customer relationship management system (CRM) that comes with a free tier that includes live chat, online web forms, and an integrated phone dialer. You may have access to an intuitive pipeline tool by upgrading to one of its paying levels. This tool comes with additional capabilities like as powerful reporting, as well as AI-powered sales forecasting and analytics. Although it is not a CRM designed specifically for the financial industry, it is our top pick for general CRM software because it provides the majority of the sales tools that are necessary for the production of leads, the nurturing of those leads, and the closing of business deals.
Although Freshsales is one of the best CRM alternatives currently available, it is lacking in some digital marketing capabilities that are necessary for lead creation and nurturing. Check out Zoho CRM if you're searching for capabilities that provide you more control over your marketing efforts.
Freshsales Pricing
Free Version: Support for unlimited users
Growth: $15 per user, per month
Pro: $39 per user, per month
Enterprise: $69 per user, per month
Free Trial: 21 days
Freshsales Key Features
Transform your data into charts and graphs that are simple to understand with interactive reports and dashboards.
Visual Pipelines: Organizing pipelines in a Kanban-style is as easy as using the drag-and-drop functionality.
Predict future sales and automatically follow up with the most promising leads using AI's features.
Live Chat and Phone Dialer: Communicate with Customers Via Chat or the Phone Live Chat and Phone Dialer: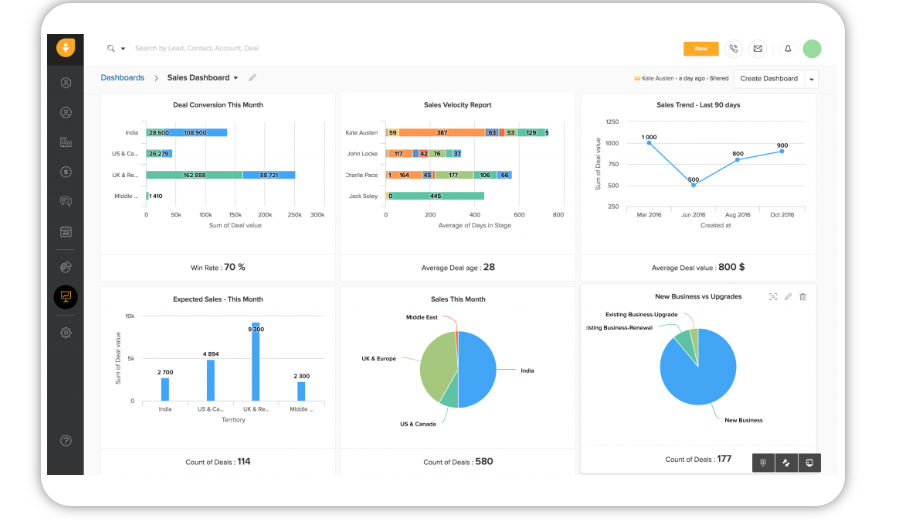 Pros:
Built-in chat and dialer
Accessible user interface
AI-powered sales features
Cons:
Not a finance-specific CRM
Lacking some marketing features
Free plan missing pipeline
Redtail: Best for Creating Financial Info Products
Redtail is a customer relationship management system that was developed with financial advisers in mind. The built-in seminar tool that logs attendance, organises prior sessions, and integrates contact information so that follow-up communications may be sent can be used for marketing purposes with both new and current clients. As part of its multichannel marketing capabilities, its seminar tool can also manage phone and email marketing efforts. Redtail is an excellent tool for financial advisors who wish to develop client-attracting content resources that position them as credible authorities in their field and attract new customers.
Redtail is a fantastic choice for the creation of financial information products for marketing and continuous education; nevertheless, its interface may be difficult to use, and it may be expensive for certain users. Try Freshsales alternatively if you're searching for a general choice that's not only simple to use but also has extensive capabilities for sales.
Redtail Pricing
Database Pricing: $99 per month, per database for up to 15 users
Free Trial: 30 days
Redtail Key Features
Management of Seminars: Conduct seminars virtually, then record attendance and any other relevant data.
Monitoring the success rates of email and phone campaigns is an important part of campaign management.
Free Database Migration: Transfer data from your current provider to Redtail without paying any additional fees.
Infinite Resources: A single, all-inclusive monthly fee gives you access to an unlimited number of leads, contacts, and tasks.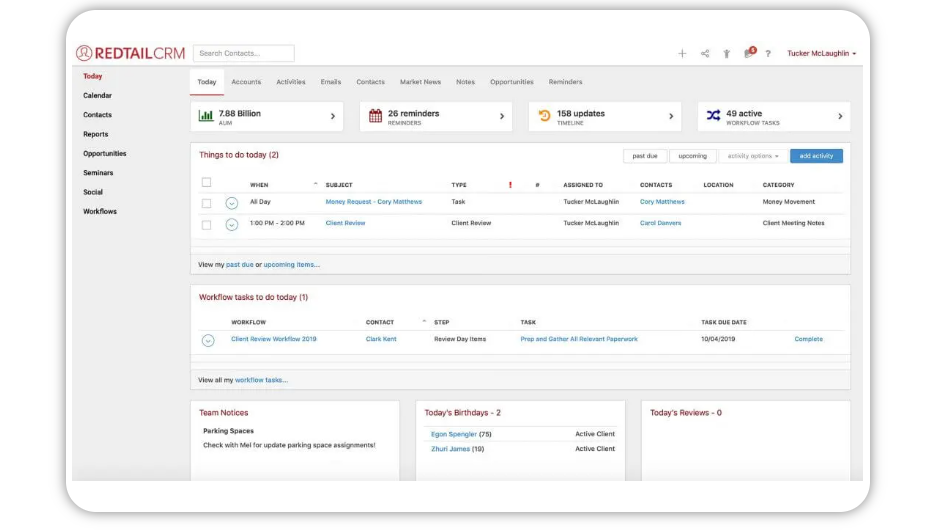 Pros:
Generate leads with seminars
Free database migration
Ample financial app integration library
Cons:
Core features somewhat thin
Only 15 users per database
Slight learning curve
FAQ'S
What Is a CRM for Financial Advisors?
To be a successful financial adviser, you must be able to grow your client base while also establishing long-term and lucrative connections with your customers. Advisors may scale their efforts and resources to manage their relationships and discover new prospects with the help of a CRM system.
In order for advisers to cultivate connections with customers and prospects and quickly move them through the funnel, CRM solutions are data-driven.
What are the Top Financial Advisers CRM Software?
Some of the best customer relationship management software for financial advisers are PractiFI, Wealthbox, Tamarac CRM, Junxure, NexJ Intelligent, UGRU Financial CRM, and SatuitCRM.