The Best Drag Clicking Mouse in 2021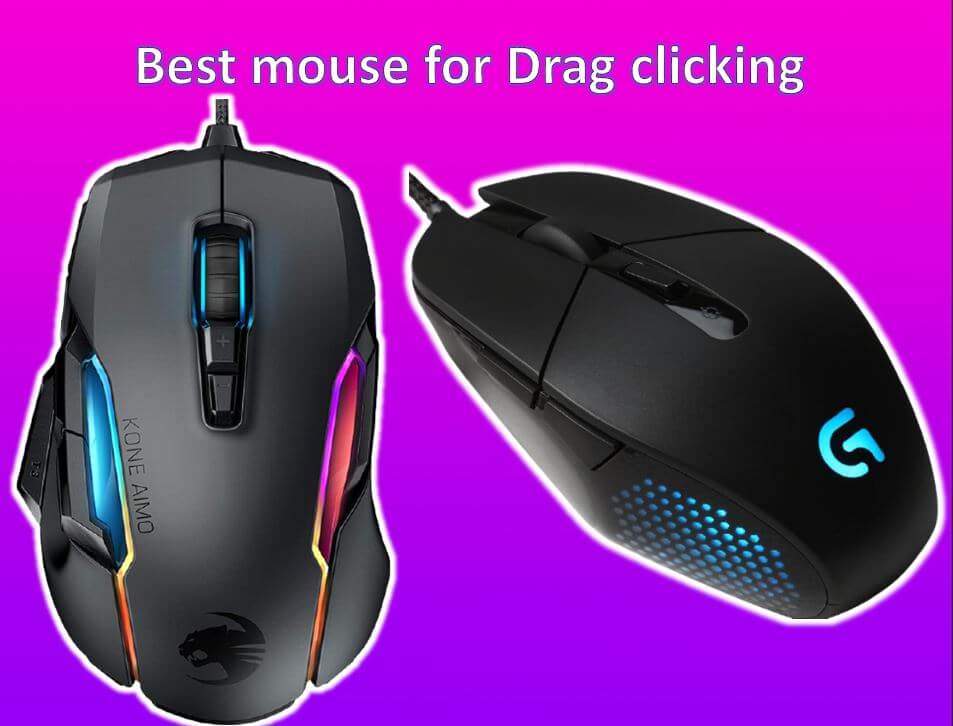 To become a pro gamer, you must know that how important is drag clicking. It is one of the techniques that will help you to beat your opponents and show off your skills. In games like Minecraft, you need to press more clicks than any other game. You must be able to do more clicks in a short time frame. Such a technique is known as drag clicking and it is very common in the gaming world. To ensure the perfect motion of drag clicking, games search for the best drag clicking mouse. 
It should be sturdy, efficient, and great in performance that can endure the fast clicks. We do understand that it can be confusing for you to find the right mouse for you. Not a lot of people are familiar with the drag-clicking mouse but you must know that there are many choices in the market. And, they are available in every range to come under your desired budget. So, here is a complete review of some of the best drag-clicking mouse that is in top-demand. 
Make sure to read every single one of them and then make an informed decision to buy the perfect mouse for your games. 
Top 7 best drag clicking mouse:
1. ROCCAT Kone AIMO Gaming Mouse
When it comes to gaming products, a mouse is one of the essential gadgets you need for an exceptional gaming experience. Well, ROCCAT Kone AIMO is one of the best mouses for gaming you will ever find. It is famous for its smooth drag clicking motion.
Its specs include a 4.6 oz weight and sleek body dimensions of 4.92 x 3.35 x 1.57 inches. One of the main features of this gaming mouse is the amount of customization it provides you with. Just like the Function Key on the keyboards, there is an Easy-Shift button that gives you further access to 23 customizable buttons.
ROCCAT Kone AIMO not only provides you with the best drag clicking experience but also has the fastest clicks ever. It is equipped with a 16000 DPI owl-eye optical sensor that makes sure you enjoy great pointer precision during your gameplay. This technology provides high tracking power and great sensitivity. 
Gaming is all about graphics and aesthetics. ROCCAT Kone AIMO comes with five lighting areas that are customizable according to your likes. You can enhance your gaming experience aesthetics-wise with this customizable lighting transformations. The colors synergize in a way that ensures a flawless and faster gameplay encounter.
For smooth drag clicking, you need a sturdy grip on your mouse. For this purpose as well, the ROCCAT Kone AIMO gaming mouse serves you the best. It has an ergonomic design and comes with an anti-wear covering which ensures a tight grip and prevents dirt. For intense and long gaming sessions, this could be your ideal choice for a drag-clicking mouse. 
One of the drawbacks of this product is its heavyweight. For those who enjoy lightweight gaming products then you might not be completely satisfied with this mouse. 
Pros:
23 Customizable Buttons 

16000 DPI Owl-Eye Optical Sensor

5 Customizable Lighting Zones

Ergonomic Structure

Anti-Wear Covering

Dust-Resistant

Perfect Grip
Cons:
The customizable buttons are not physically installed except it works with a single easy-shift button.

Heavyweight Body
2. ROCCAT KONE Pure Owl-Eye
ROCCAT is famous among gamers for its proficient gaming products. If you are looking for a fast drag-clicking mouse, ROCCAT has another solution for you – the KONE Pure Owl-Eye. Due to its amazing gameplay-enhancing features, it has made it to our list of best drag-clicking mouses. 
It has a reduced weight than its brother product AIMO (mentioned above) of about 3.2 oz which is a huge update than the previous gaming mouse. Its body dimensions are 4.5 x 3 x 2 inches. 
Similar to ROCCAT Kone AIMO, Pure Owl-Eye also has the feature of 17 customizable buttons. These buttons are not physically present on the mouse but can be accessed through an Easy-Shift button. This allows you to enjoy 17 different functions of this mouse. 
One of the most appealing features of this mouse is its response time. This mouse is equipped with high sensitivity to touch and can respond within 1 millisecond. It has a 12000 DPI ROCCAT Owl-Eye optical sensor that has upgraded mouse movements more precisely. This has made this mouse the best solution for an easier and fastest drag clicking experience. The sales of this gaming product have boosted because of its smooth drag clicking, optical sensor, and many other features. 
The body has an ergonomic design and allows the user a full and sturdy grip on the product. For serious gamers who are looking for a sleek and sturdy grip mouse, this is a perfect fit for all of you. 
Gaming mice are upgraded with lighting effects now. Similarly, this one has a color illumination feature with 16.8 million colors available. You can create a customized theme for your mouse or different themes according to your games and enjoy an aesthetic gameplay experience. 
Another amazing feature is its 2D Titan wheel. It has the most reliable and precise scroll and the wheel can be traveled in two directions. 
Pros:
Lightweight (3.2 oz)

Customizable Lighting Effects

16.8 Million Colors Available 

2D Titan Wheel

1 Millisecond Response Time 

17 Customizable Buttons

12000 DPI ROCCAT Owl-Eye Optical Sensor
Cons:
It does not come with a military rubberized texture
3. Glorious Model O
Next in our list of best drag-clicking mouses is the Glorious Model O. Glorious is a well-known and highly reliable gaming products company. This gaming mouse is yet another amazing manufacturing from the company. 
The mouse has a 5.04 x 2.6 x 1.48 inches in size and is about 2.36 oz in weight. Being super lightweight, it is one of the most prominent features that makes it more appealing than the others. Your gaming can be intense but not too much for your hand as you got the Glorious Model O. It is one of the best in-hand mice you will ever find in the market and is also considered as an ideal option for drag clicking. 
When it comes to its design, one of the best things is that it is ambidextrous. It means that either you are right-handed or left-handed, it is specially engineered to fit into your either hand. It is equipped with G-Skates (0.81 mm) that have round edges which ensure that your mouse movements go as smooth as silk. 
Another amazing feature includes its 12000 DPI Pixart 3360 Sensor. You can also remap the sensor with the software. The sensor is highly precise and has a polling rate of 1000 Hz. It ensures accurate tracking and mouse movements. Glorious Model O has Omron switches which are designed for almost 20 million clicks. 
This gaming mouse has a honeycomb design that supports long intense gaming sessions. Also, the honeycomb design will help you keep your hands free of sweat and clean. Maintaining your mouse's condition in the best quality is by using an air canister to clean it. 
However, some glitch in the Logitech software has been reported and is under up-gradation. 
Pros:
Lightweight 

Ambidextrous Design 

12000 DPI Pixart 3360 Sensor

Premium G-Skates with Round Edges 

20 Million Clicks with the Omron Switches

Honeycomb Design
Cons:
Logitech Software Glitch Issues 

Grip Table not available 
4. Glorious Model D
From the famous gaming products company, Glorious, here is another top drag clicking mouse for an enhanced gaming experience. It is engineered with a mix of innovative features that matches the needs of every gamer. 
The mouse weighs 2.47 oz and its dimensions are  5.04 x 2.6 x 1.48 inches. It is equipped with premium Omron switches that promise up to 20 million clicks. It is equipped with a 12000 DPI Pixart 3360 sensor and a tracking speed of 250 IPS. 
This gaming mouse not only guarantees smooth drag clicking but is also famous for its butterfly and jitter clicking. One amazing feature allows you to shift all the clicking to the left button with the help of Debounce Configuration. It saves time and enhances drag clicking. The Glorious Model D has an ergonomic design and offers a very comfortable grip. It also has a thumb rest. 
Despite its incredible features, one of the drawbacks of this mouse is that it has limited functionality when it comes to MMO or MOBA game players.
Pros:
Lightweight with Premium Quality

250 IPS Tracking Speed

Comfortable Grip 

Thumb Rest 

12000 DPI Pixart 3360 Sensor 
Cons:
Limited Functionality for MMO or MOBA Game Players
5. Razer DeathAdder Elite
When it comes to premium gaming mice, Razer DeathAdder Elite is a must heard name. It is one of the best options for drag-clicking mouses. 
The mouse weighs about 4.6 oz and has body dimensions of 2.9 x 1.69 x 5 inches. You can find many different models of this series, but without a doubt, the Elite series is the best. 
It is equipped with a 16000 DPI Advanced Optical sensor which ensures fast and precise tracking. The mouse is highly durable as its mechanical mouse switches promise about 50 million clicks. It has an ergonomic design and is best for a professional gaming experience. It comes with 7 programmable buttons. Moreover, it has customizable lighting effects that can be used with the help of Razer Synapse software.
One unique feature that makes it stand out from the crowd is its precise tactile feedback. Razer DeathAdder Elite comes with a Gaming-Grade Scroll Wheel that prevents misfiring and assures a tight grip on the wheel as well. 
The mouse is comfortable enough to use for long, intense gaming sessions. It is engineered to fit in medium to large hands. There are up and down buttons by default on the mouse and it also has two additional buttons near the thumb rest for extra functionality.
Pros:
16000 DPI Advanced Optical Sensor

50 Million Clicks 

Easy to Install

Accurate Tactile Feedback 

Comfortable and Tight Grip
Cons:
The positioning of DPI can be improved.

Not the ideal choice for gamers with smaller hands

Heavyweight
6. Logitech G302 Daedalus Prime MOBA Gaming Mouse
When it comes to Multiplayer Online Battle Arena (MOBA) gameplay, Logitech G302 is considered one of the best drag-clicking mouses in the market. The mouse has 2.56 x 4.53 x 1.46 inches dimensions and weighs about 4.5 oz
The premium quality switches allow you to enjoy 20 million clicks. It also has 6 programmable buttons and can be operationalized with the Logitech G302 onboard memory. It is equipped with delta zero sensors that have DPI settings between 240-4000. The mouse proves best for precise movement tracking and pixel-perfect aiming
The mouse has an ergonomic design and is best suited for a claw grip. Otherwise, for fingertip grip users or palm grip users, this is not the ideal choice for a drag-clicking mouse.
Pros:
Best for MOBA game players

20 million clicks

Ideal for Claw Grip 

Logitech G302 onboard memory

Delta Zero Sensor with 240-4000 DPI 
Cons:
Heavyweight

Not best for Fingertip or Palm Grip Users
7. ROCCAT ROC-11-730 Kone Pure Ultra
Last but not the least, here we have the ROCCAT ROC-11-730 KONE Pure Ultra gaming mouse. Due to its unique features, it was impossible to not add it to the list of best drag-clicking mouse options available in the market
It is quite lightweight, about 2.33 oz, and has 4.53 x 2.76 x 1.54 inches dimensions. For those who love to carry or use lightweight mice, this is the one for you. The overall design of the mouse is ergonomic and offers a comfortable grip. It comes with a hybrid anti-wear coating that prevents dirt accumulation
It is equipped with a 16000 DPI ROCCAT Owl-Eye Optical Sensor-Pixart 3389 that guarantees accurate pointer movements. The mouse also comes with an AIMO illumination feature. It has the 2D Titan Wheel for enhanced mouse movements and drags clicking
Pros:
Lightest Gaming Mouse for Drag Clicking

Super Comfortable Grip 

Anti-wear Coating 

Equipped with 16000 DPI ROCCAT Owl-Eye Optical Sensor-Pixart 3389

AIMO Illumination 

2D Titan Wheel 
Cons:
Not suitable for people with smaller 

The scroll wheel gives away a hollow click which can interrupt your gaming sessions
Buying guide for the best drag clicking mouse for your games:
The main decision is up to you that which kind of mouse you select in your desired range. But, you must know that there are multiple factors to look into to buy the best drag-clicking mouse. However, this is a general guide but we must insist that you should follow these recommendations for the perfect mouse
A lot of gamers are already familiar with the importance of debouncing delay when it comes to drag clicking. There is a general rule thumb for this that if the mouse has less debounce delay, then more clicks you get. So, you can use this important tip while purchasing. There are many new mice designed and available in the market today that provide long debounce delay. With a mouse like that, you can enjoy quick consecutive clicks for your game. There are optical switches now that can handle the debounce time as well
On the subject of the best drag clicking mouse, we cannot leave grip as it is an important factor. It creates the perfect mechanism for drag clicking that you need these days in modern games. The palm grip here is very important and a good mouse must have this feature. Above our list has plenty of options that are perfectly designed with optimal drag clicking. The palm grip makes sure that you can achieve a certain angle to drag the mouse around. So, you will have a strong base grip that is highly important in games like Minecraft
A lot of you might be interested to use compact ones, but it won't be a wise decision. As when it comes to drag clicking, you need to have a good grip and enough space for multiple clicks. If you have been gaming for a lot of time, you know that the tip and claw grips are mostly to click down. What you need here is the palm grip so make sure to check that before you make a purchase.
When you are buying a gaming mouse even for drag clicking, you have to see other features and techniques as well. One of them is build quality that you must look into. A gaming mouse should only be able to be best at drag clicks but make sure it is highly durable. It should last longer and have lightweight so you have the perfect control for dragging it around. Heavy mouse for gaming is not a good idea especially if you are into drag clicking. 
Another important factor is the covering material of the mouse you are using. You must have a mouse that provides resistance to the grip of your palm. It should be smooth so you can click freely but not so much that it slides over the keys. The covering material should not be of a high-resistance material, look for a matte plastic covering. But, if you have already purchased a mouse with high resistance then buy additional grip tape. You can find it easily online for your drag-clicking mouse. 
There are a lot of amazing mouse options but you can the one with more programmable buttons. As a gamer, it will help you have the perfect experience where you can control your games with programmable keys. It also depends upon the games you play but an advanced mouse with more options can make you a better gamer. 
Frequently Asked Questions:
Here are some of the most asked questions regarding the best drag-clicking mouse. We have tried to answer in the best possible manner to ensure you have every information you need for buying the perfect mouse. 
What is drag clicking?
Just like other clicking types, drag clicking is a technique in gaming where players try to get the maximum clicks per second. It is perfect for modern games and the biggest example here can be Minecraft. You have to perform every action in the game by tapping and ensure a lot of clicks. 
Drag clicking increases CPS and you need the right mouse and techniques to get the maximum clicks in a limited time frame. You have to drag your finger over it and accomplish your goals in the game. One more thing you have to keep in mind is the dragging motions that register the click. That is the reason why people research before buying the right drag-clicking mouse. 
In short, drag clicking is all about increasing your speed and it is much effective than the other techniques also you can check mouse sensitivity here. Now, drag clicking is something that you cannot do with just any mouse. Check our review on the top and best drag-clicking mouse for your games. 
Is drag clicking banned in some servers?
Yes, there are indeed some servers that prevent drag clicking. The main reason it is banned is that it provides a great advantage to the person using it. Before you buy a drag-clicking mouse, first make sure that you have permission to use this technique. 
What is the advantage of drag clicking?
The biggest advantage you get is that it increases your CPS. It will increase your speed of clicking that makes your gaming experience and performance much better and efficient. 
What is the best mouse for drag clicking?
It is hard to pick one as there are a lot of amazing choices in the market. We have reviewed the top ones to make sure you get the best mouse for your drag clicking in games. 
Conclusion
Apart from the other techniques, drag clicking does require a special kind of mouse. You must know that it is one of the hardest techniques and not everyone can master it easily. You have to do a lot of testing and have a good mouse with the proper features we have mentioned above in our buying guide. In our top best drag-clicking mouse, there are plenty of choices. We have given you a list and it is for everyone looking for a good drag-clicking mouse in their desired range. But, we must insist that you should do your research when it comes to buying. And, our review is the perfect way to start finding the right mouse. We have carefully reviewed each of them ensuring you get the right product for your games.