7 Best IT Service Management Tools & Softwares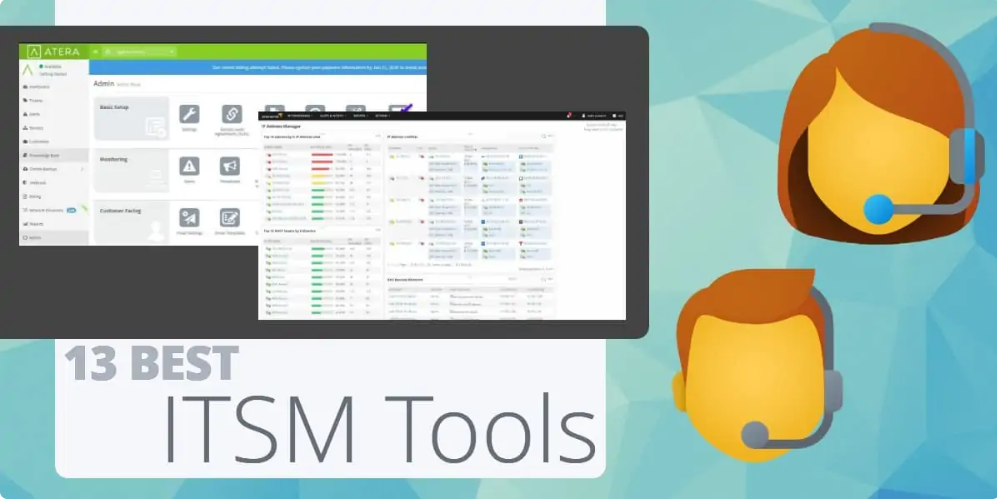 Review and Analysis of the Best Software Tools for IT Service Management ITSM: The process of implementing, administering, and delivering information technology services is referred to as IT Service Management (ITSM). It is used to enhance customer service in accordance with the objectives of the organisation.
When carried out in the most efficient manner feasible, ITSM will provide a variety of benefits to the company. This article investigates the Top ITSM Tools that are currently being utilised and compares and contrasts the characteristics of each tool.
What Is IT Service Management?
The use of the printer by the whole team, the installation of applications on your laptop, the modification of passwords, and other services are included in IT Services. The responsibility of managing these services completely, from beginning to finish, falls on the shoulders of the IT support staff, which is responsible not only for the resolution of day-to-day problems but also for their execution.
IT service management makes use of a variety of frameworks. IT Infrastructure Library is by far the most common one (Information Technology Infrastructure Library). It comprises many procedures like Incident Management, Request Management, etc. Incident Management, Change Management, Problem Management, and Knowledge Management are some of the procedures that are used the most often.
Tools for IT service management (ITSM) will make your company more efficient, more effective, provide you more control, improve the quality of service you provide, and enhance the client experience. Only twenty-four percent of firms, according to the findings of a study that was carried out by ManageEngine, think that their ITSM service is current and has been able to keep up with the changes.
List Of Top ITSM Tools
There are multiple ITSM tools available in the market. Enlisted below are the most popular ITSM ticketing tools.
NinjaOne
Freshservice
Zendesk ITSM
ManageEngine
HaloITSM
Wrike
ServiceNow
#1) NinjaOne
Excellent for both small and big companies.
Pricing for NinjaOne: NinjaOne provides a risk-free demo version of their platform. It utilises a pricing strategy that is based on a pay-per-device basis. Reviews indicate that the fee for using the platform is $3 per device on a monthly basis.

NinjaOne provides a platform for remote monitoring and administration that is compatible with all types of users and devices. RMM, endpoint management, patch management, backup, service desk, remote access, and a host of other capabilities are all included in its feature set. It is able to give you with insights on all of your IT assets in real time. You will find it useful for IT documentation as well as the deployment of applications.
Features
Installing, uninstalling, and managing software on a single device or across several devices are all possible with NinjaOne's feature set.
Through the use of this platform, you will be able to safely take control of attended and unattended devices.
Through its backup functionality, it guards against ransomware assaults on vital company data.
It is able to automatically patch any endpoints that are linked to one another.
The jury has deliberated, and they have decided that this RMM tool delivers all of the necessary tools. It is designed to cater to MSPs at every step of their business's development. It makes it possible to perform centralised monitoring and administration of the IT resources from any location.
#2) Freshservice
Freshservice Regarding pricing, Freshservice provides a risk-free trial that lasts for 21 days. There are four different price options available to pick from, and they are as follows: Blossom, which costs $19 per agent per month; Garden, which costs $49 per agent per month; Estate, which costs $79 per agent per month; and Forest, which costs $99 per agent per month. These costs reflect yearly pricing, however there are alternative options for monthly billing that you may choose from.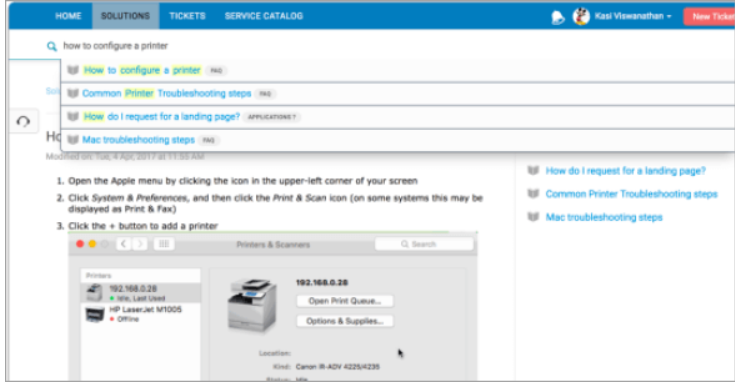 Freshservice is a company that offers an IT service desk solution that is simple to install and operate. It offers multi-channel help for automating the chores and offering support to the concerns that have been addressed via various channels such as email, chat, and the phone. Both Apple and Google's mobile operating systems are supported by the mobile app.
Features
It supports several methods for tickets to be raised and offers capabilities related to incident management.
It has characteristics for the administration of knowledge, including: Automatic drafting of an article for the knowledge base using the resolved incident as the source material.
It offers a platform for users to access self-service options.
Team Huddle allows employees to speak with one other and their peers without leaving the context of a ticket.
Service Catalog is an approach that is both user-friendly and capable of providing a variety of services to many departments.
SLA Management achieved by the establishment of numerous SLA policies.
The verdict is that Freshservice is a very feature-rich platform that will assist you in managing a wide variety of things, such as assets and issues. It offers characteristics that can accommodate both small and big teams, in addition to companies. IP Whitelisting and Audit Logs are two of the capabilities that are available for use by Enterprises.
#3) Zendesk ITSM
Pricing information for Zendesk ITSM may be accessed via a free trial. There are three different price options available, namely Support, Suite, and a plan to create your own custom solution. The cost begins at $5 per agent in most cases.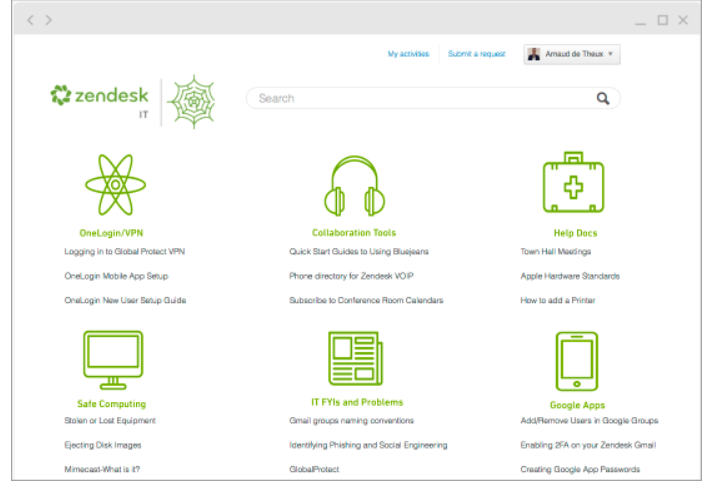 A customer service software and support ticketing system, Zendesk ITSM was developed by Zendesk. A real-time chat and messaging capabilities are included. Tracking, prioritising, and responding to client problems will become much easier with the support strategy.
Features
It has capabilities for the Knowledgebase.
Both external and internal self-service options are available via its utilisation.
It offers a digital kind of customer service help.
The Zendesk Suite includes a variety of tools such as live chat and messaging, reporting, and more.
Conclusion: This cloud-based help desk management system is a feature-rich option for developing an online community, knowledge base, and customer care portal.
#4) ManageEngine
ManageEngine – Best for Small to Large Businesses.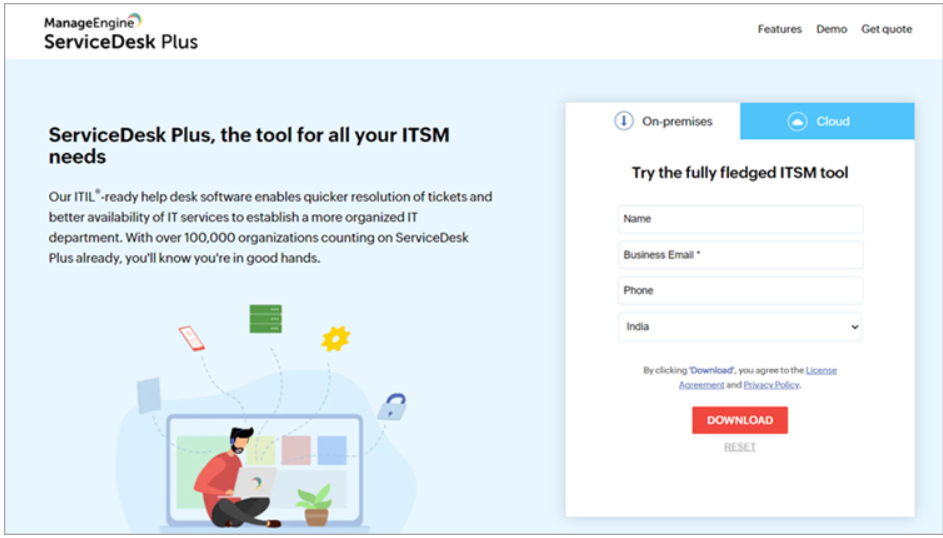 ManageEngine can satisfy all of your requirements in regard to IT service management (ITSM) because to its extensive capabilities. ManageEngine performs very well in terms of lowering the frequency of outages, raising the level of agent productivity, and controlling the whole of the lifecycle of an IT ticket.
The platform may also increase the efficiency of your IT help desk by conducting an investigation into the fundamental cause of an issue and lowering the likelihood of similar occurrences occurring in the future.
Features
Problem Management
Incident Management
Service Catalog
Visual Workflows
Advanced Analytics
The verdict is that ManageEngine enables you to put low-code, last-mile modifications to use in IT service management. In general, you are provided with all of the things that you need to have an ITSM that is both full and optimal.
Price: Contact for a quote.
#5) HaloITSM
Excellent for both small and big companies.
Pricing for HaloITSM may be found here. HaloITSM has a free trial period of 30 days. There are six distinct sorts of pricing plans, each of which is determined by the total number of agents. Prices range from £59 per agent per month for three agents to £55 per agent per month for ten agents, £49 per agent per month for twenty-five agents, £44 per agent per month for fifty agents, £39 per agent per month for one hundred agents, and £29 per agent per month for more than one hundred agents.

The IT service management software package known as HaloITSM is an all-in-one product. In addition to providing your teams with the capacity to provide the highest possible level of service to both customers and workers, it will also change your existing methods of doing work into processes that are both user-friendly and up to date.
Not only will it standardise your operations, but it will also give vital data, allowing you to tailor your IT service to the actual requirements of your company, both in the present and in the future.
Features
Streamline the whole incident lifecycle, beginning with the generation of tickets and ending with the resolution of problems.
You may see and edit incident data, including the ticket ID, priority level, problem description, and creation date, as well as the status of any events that have occurred.
Connect newly occurring problems with already existing requests, and utilise the knowledge base to discuss possible solutions with other members of the team or with end users.
Prior to the creation of requests, managers have the ability to establish default values for things like categories, priority, service-level agreements, and mailboxes.
Customer support representatives are able to observe forthcoming tasks on a calendar, and they may simplify approval procedures by asking validation on ticket creation or change.
You have access to a wide variety of popular integrations, including those with Office 365, Azure DevOps, Microsoft Teams, and a great deal more.
The verdict is that HaloITSM is an all-encompassing solution for IT service management that provides a contemporary and user-friendly experience. It helps organisations to simplify the whole incident lifecycle, from the generation of tickets to the resolution of issues, and it gives their IT staff the ability to provide service that is aligned with ITIL best practises in a quick and efficient manner.
#6) Wrike
Excellent for both small and big companies.
Pricing for Wrike has four different pricing plans: Free (for up to five people), Professional ($0 for a short time), Business ($24.80 per user per month), and Enterprise (Get a quote). There is an option for a free trial.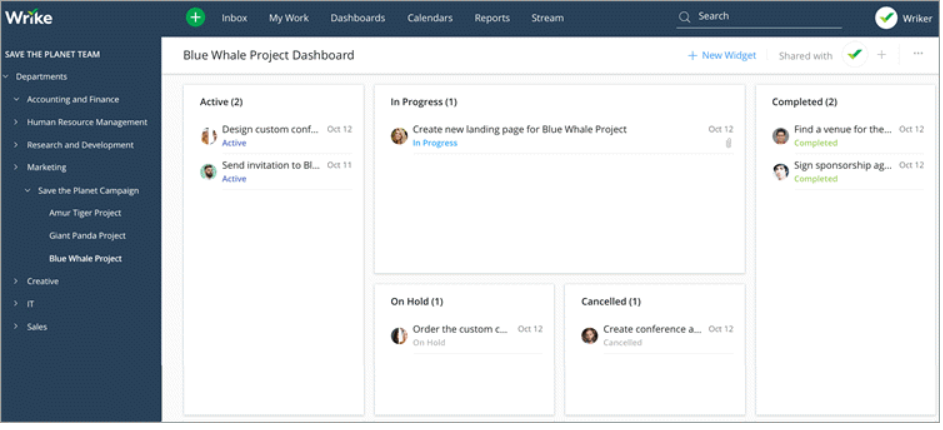 Wrike is a software company that helps users manage numerous workstreams at once. It enables continual follow-up with teams and gives you insight into the work that is being done thanks to its features. It is a unified, robust platform that contains all of the tools necessary for IT project management.
Features
Wrike offers standardised workflow templates for IT service management, which are the industry standard.
You will be able to develop bespoke processes to meet the specific requirements of your IT project management requirements.
It has an interactive Gantt chart that will provide you with insight into the status of your job in real time.
The verdict is that Wrike provides its users with a platform that includes a variety of views, tasks for IT projects, and status updates. Wrike may be integrated with more than 400 different products because to its native integrations and pre-built connections that are included in the software.
#7) ServiceNow
Pricing for ServiceNow: ServiceNow provides three different packages, which are referred to as ITSM, ITSM Professional, and ITSM Enterprise. The costs for each package are available upon request.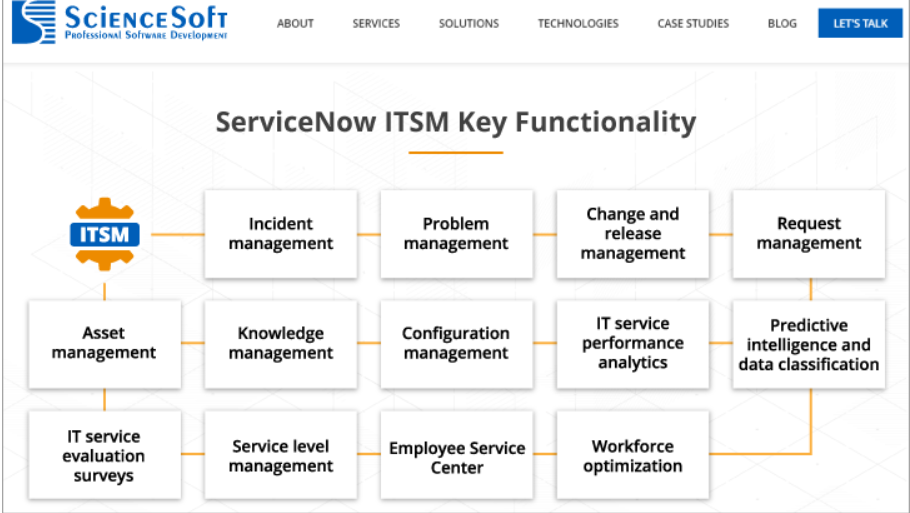 According to Gartner's Magic Quadrant for ITSM Tools, ServiceNow ITSM has been the industry leader in the market for IT service management (ITSM) for the past seven years in a row. This software is used for the centralised management of various IT processes, such as incident, request, problem, change, service level, knowledge, and configuration management.
Features:
Incident management
Problem management
Change and release management
Request management
Asset management
Knowledge management
Configuration management
IT Service Performance Analytics
Predictive intelligence and data classification
IT Service Evaluation Surveys
Service level management
Employee Service Center
Workforce optimization
Conclusion: ServiceNow is a cloud platform that offers a comprehensive collection of IT service management capabilities. This is made possible by the platform's use of machine learning in the categorization, routing, and prioritisation of problems; as a result, rapid incident resolution, decreased IT operating expenses, and increased IT services agent productivity are all achieved.
Video Guide
FAQ's
What is an IT Service Management tool?
IT operations organisations, in particular infrastructure and operations (I&O) managers, may better support the production environment using IT service management (ITSM) tools. The administration and delivery of high-quality IT services are made easier with the use of ITSM technologies.
What are ITIL tools?
These practises are aimed to assist enterprises offer their services more successfully via the use of Information Technology Infrastructure Library (ITIL). Individuals, processes, goods, and associates all work together to supply services via ITIL.
Is ITSM a software?
To keep track of all of their IT equipment and the networks and services that go along with it, companies employ IT services management software, or ITSM. As you may be aware, this is a broad definition.
Conclusion
The ITSM functionalities offered by all of the systems listed here are almost identical. Some elements, such as benchmarking, risk detection, reports, asset management, and so on, may be different. Among our favourite ITSM tools are Freshservice, Servicenow, SysAid, SolarWinds, and Zendesk.
Cost-effective pricing options are offered by ManageEngine and Jira. There are other plans from Freshservice and SolarWinds Service Desk.