5 Best Network Monitoring Tools & Software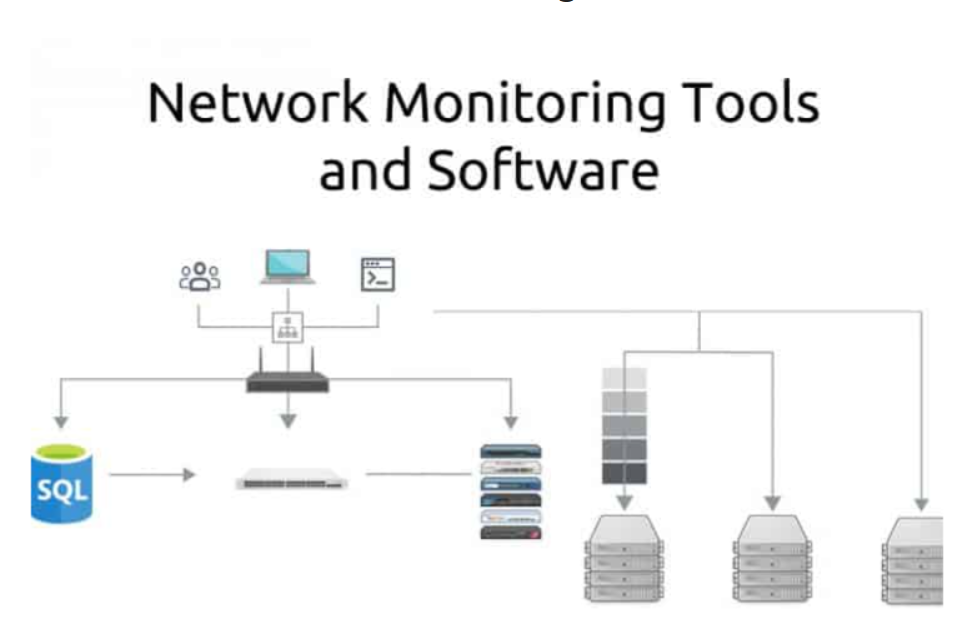 It would be an understatement to say that the market for Network Monitoring Tools, Software, and Vendors is Huge. In order to remain competitive in the ever-shifting market for IT monitoring, server monitoring, and system monitoring software, new software, tools, and utilities are being released on an almost annual basis.
We are now well into the new decade, and as we go forward into the year, it is imperative that you find a solution that satisfies all of your requirements.
We have combed through as many tools as we were able to locate, selected the most useful ones, compiled them into an easy-to-read manner, and described their primary benefits as well as the reasons why we believe they belong in the highest tier of tools for your IT infrastructure and company.
What should you look for in network monitoring tools?
We examined the software solutions available for network monitoring and appraised the market for such products based on the following criteria:
Unattended network monitoring performed by an automated service that doesn't need human intervention
A device discovery process that is capable of producing an asset inventory in an automated manner.
A service for mapping networks that displays the real-time states of all connected devices
Notifications in the event that difficulties occur
The capability of communicating with network devices by means of SNMP
A free trial or a demo for a no-cost evaluation
A bundle that offers good value for the money and monitoring for all network devices at a price that is not prohibitively expensive
Keeping in mind these criteria for selection, we have come up with a shortlist of network monitoring tools that are appropriate for use across all operating systems.
The Top Network Monitoring Tools and Software
You will find a current list of the latest tools and software below, which has been updated to guarantee that your network is continually followed and monitored at all hours of the day to ensure the greatest possible up-times. The majority of them provide free downloads or trials that may last anywhere from 15 to 30 days and help you determine whether or not the product satisfies your needs.
1. PRTG Network Monitor from Paessler – FREE TRIAL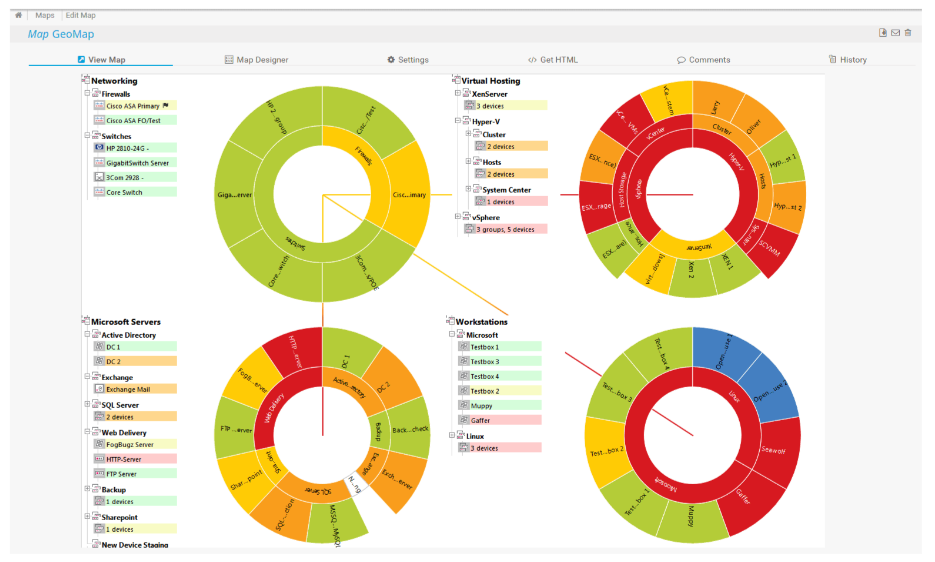 The PRTG Network Monitor software has gained a lot of popularity due to the extensive infrastructure management features it offers. A hierarchical view that highlights performance and warnings may be readily shown to include all of the devices, systems, traffic, and applications that are part of your network. PRTG utilises a wide variety of different technologies to monitor the complete IT infrastructure, including SNMP, WMI, SSH, Flows/Packet Sniffing, HTTP requests, REST APIs, Pings, and SQL, among many more.
It is one of the better options available to companies that have very little expertise in the field of network monitoring software. The user interface is quite strong while yet maintaining a very simple and straightforward design.
The ability of PRTG to monitor equipment in a data centre using a mobile app is a feature that sets it apart from other similar products. The physical hardware receives a printed out QR code that matches to the sensor, which is then affixed to the hardware. The code is scanned using the mobile app, and a brief description of the product is presented on the screen of the mobile device.
Features
Automatic discovery that builds and manages a catalogue of connected devices
There is a diverse selection of formats available for live network topology maps.
Monitoring of wired and wireless local area networks simultaneously
Multi-site monitoring capabilities
SNMP sensors to collect information on the device's overall health Ping to determine whether or not the device is available
Additional sensors that are optionally available to monitor servers and applications
overviews of the state of the whole system as well as routes to dig down to specific device information
A protocol analyzer that can discover apps with significant levels of traffic
A packet sniffer that may gather packet headers for further examination.
Graphs of real-time data, color-coded, shown on the system dashboard.
Assistance with capacity planning
Warnings about malfunctioning devices, depleted resources, and other performance concerns
Notifications that are produced in response to warnings and may be sent through email or text message
Accessible either for installation on Windows Server or as a cloud service that is hosted elsewhere.
PROS
The reporting of network performance statistics is accomplished by a mix of packet sniffer, WMI, and SNMP.
The fully customized dashboard is a fantastic resource for both individual administrators and NOC teams.
Utilizing the editor's drag-and-drop functionality makes it simple to construct individualized views and reports.
Provides support for a diverse selection of notification channels, including SMS, email, and third-party integrations with services like Slack
Each sensor is purpose-built to monitor a particular application; for instance, there are prebuilt sensors whose only responsibility is to record and track VoIP activities.
Offers a freeware download option.
CONS
Is a very comprehensive platform with many features and moving parts that require time to learn
2. SolarWinds Network Performance Monitor – FREE TRIAL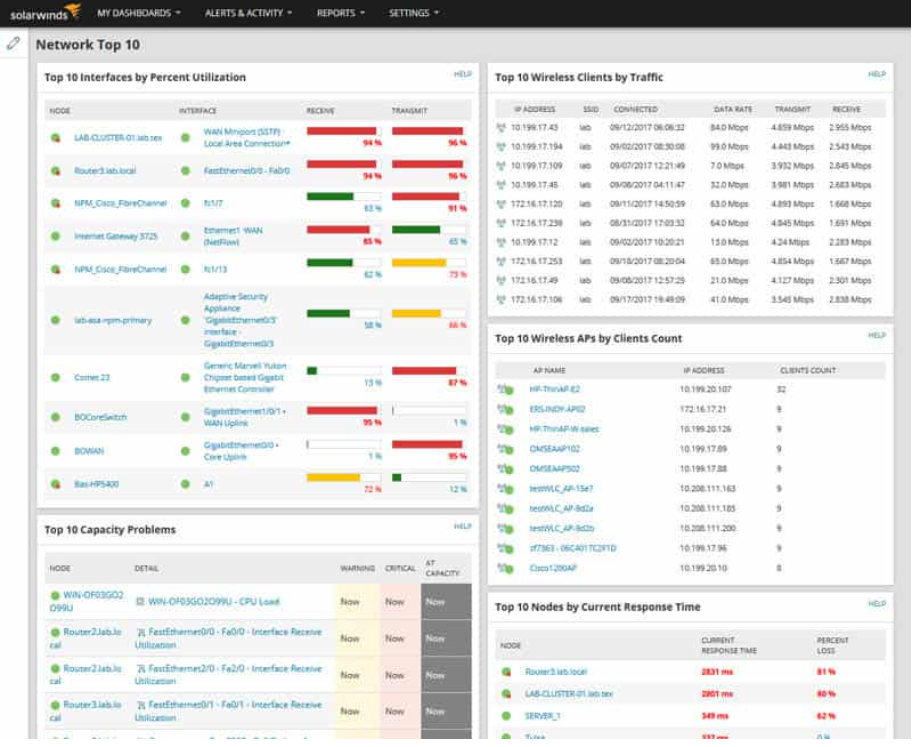 SolarWinds Network Performance Monitor requires little effort to install and can be up and running in almost no time at all. The gadget installs itself within an hour after autonomously discovering network devices and doing so. Because of the straightforward manner in which it monitors and controls a complete network, it has one of the most user-friendly and instinctive interfaces possible.
The product has a wide range of available customization options, and its user interface is simple to administer and adapt in a short amount of time. You have the ability to personalize the performance dashboards, charts, and views that are hosted on the web. You are able to devise a custom topology for the whole of your network's physical architecture. You also have the ability to generate individualized dependency-aware intelligent warnings, in addition to a great deal of other functionality.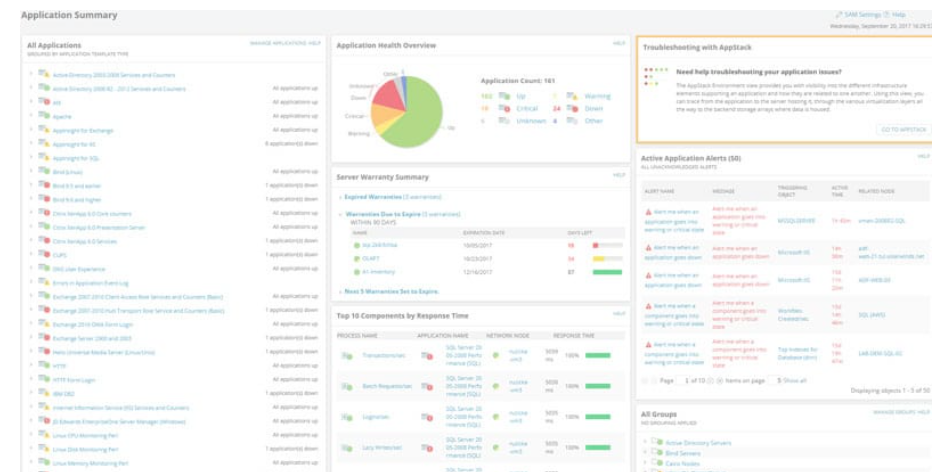 The program is offered as distinct modules, each of which corresponds to a certain function. The SolarWinds Network Performance Monitor has a starting price of $1,995 and is sold as a one-time license that also includes the first year of maintenance.
SolarWinds NPM is considered to be one of the top options for network monitoring solutions due to the extensive feature list that it has.
Features
Discovery and scanning of wired and wireless networks are performed automatically for connected computers and devices.
Forecasting and capacity planning support for a diverse selection of original equipment manufacturers
Using the Critical Path visualization function of NetPathTM, you can quickly identify problems with the performance of the network.
Performance Dashboard that is Simple to Use to Analyze Critical Data Points and Paths Across Your Network
Strong Notification System that gives Users the Option to Choose Between Simple and Complex Triggers
CISCO ASA networks may be monitored using their New Network InsightTM for CISCO ASA product.
ACLs, VPN, Interface, and the Monitor on your Cisco ASA should all be monitored.
Keep an eye on the Firewall rules by using the Firewall Rules. Analysis of Critical Network Paths and Components Conducted in the Browser Step by Step
Automated discovery of networks and mapping of such networks, together with topology views
Within the confines of the Dashboard, WiFi Networks may be Managed, Monitored, and Analyzed.
Develop HeatMaps of WiFi Networks to Determine Locations of Dead Zones in WiFi
Monitor the physical condition of the hardware of all servers, firewalls, routers, switches, desktop computers, laptop computers, and other devices.
Monitoring of Critical Network Components and Devices in Real Time throughout the Network and Its Netflow
PROS
Supports auto-discovery, which creates network topology maps and inventory lists in real-time depending on devices that are added to or removed from the network.
Contains some of the greatest alerting features available, which successfully combine efficiency and usability.
Because it supports SNMP monitoring in addition to packet analysis, it gives you more flexibility over monitoring than other tools of its kind.
Allows users to personalize the appearance and functionality of the dashboard via the use of drag-and-drop widgets.
Numerous examples, reports, and dashboards that have already been prepared
CONS
This is a feature-rich enterprise tool designed for sysadmin, non-technical users may some features overwhelming
In conclusion, SolarWinds Network Performance Monitor is able to monitor the performance of networks in an independent manner via the use of SNMP protocols, and it generates warnings if issues occur. If there is a drop in performance, as well as in reaction to any emergency messages that are given out by device agents, alerts will be issued. Because of this approach, technicians do not need to keep a constant eye on the monitoring screen. Instead, they can relax in the knowledge that they will get an email or text message alerting them to issues that need to be fixed.
3. Auvik – FREE TRIAL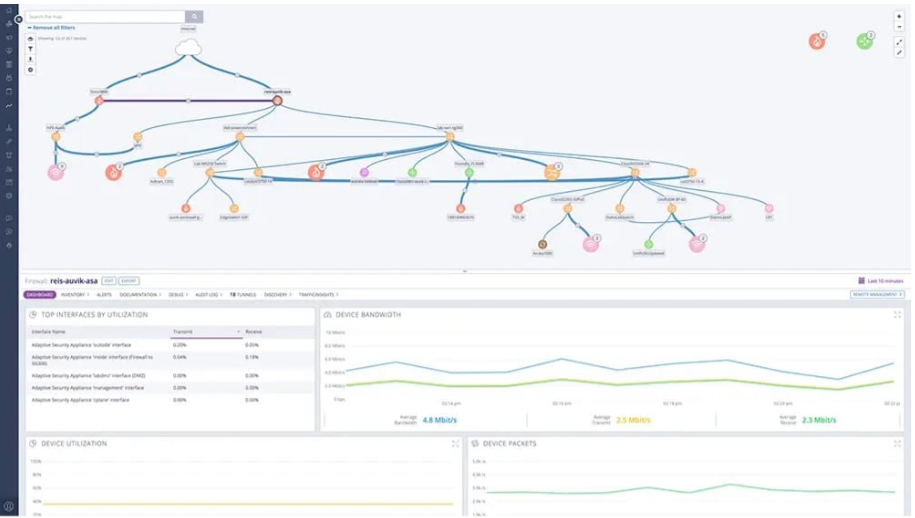 Auvik is a software as a service (SaaS) platform that provides users with a network discovery and mapping system. This system automates the enrollment process and then continues to run in order to detect changes in the underlying network architecture. The monitoring of different locations may be unified and centralized with the help of this technology.
Because it uses a thresholding technique, the network monitoring system that Auvik employs is fully automated. The majority of the metrics that are tracked by the network monitor have pre-configured criteria that are included with the service out of the box. Additionally, it is possible to set one's own unique thresholds.
When the monitoring service is put into operation, the system will sound an alarm if any of the predetermined limits are exceeded. Because of this technique, technicians are able to go on to other activities, secure in the knowledge that the thresholds provide them enough time to prevent issues with system performance that would be obvious to users.
Configuration management is one of the network management tools that are included in the Auvik package. This management helps to standardize the settings of network devices and prevents unauthorized modifications from occurring.
The processing power that is used by Auvik comes from the cloud servers that are part of the service. However, in order for the system to function properly, each monitored location must have collectors installed. Both Windows Server and Ubuntu Linux are supported by this software. Additionally, it is doable to operate the collector inside a virtual machine. The system manager may still access the service's console, which is based on the Auvik server and can be accessed with any normal web browser regardless of where the collector is physically situated.
Features
A software monitoring solution that is part of a software as a service (SaaS) package that also offers processing power and storage space for system logs
The monitoring of networks across many locations is centralized here.
Monitors the current condition of network devices
Offers two different packages: Both Crucial and Performance-Related
Analysis of traffic on the network is a component of the higher plan.
Monitors both virtual LANs and physical networks simultaneously.
Service of automated discovery
mapping of the network Alerts for automatic network monitoring
integrations with complementary systems provided by other parties
PROS
A specialist monitoring application for networks.
Utility programs for further network management
Management of configurations was incorporated.
A web-based service that may be accessed from any location using any regular web browser.
There are data collectors available for both Windows Server and Ubuntu Linux.
CONS
The system isn't expandable with any other Auvik modules
4. Datadog Network Monitoring – FREE TRIAL
The functionality of network devices is monitored and analyzed by Datadog Network Monitoring. The service is a cloud-based system that can investigate a network and identify all of the devices that are linked to the network. The information gleaned from this study will be used by the network monitor to compile an asset inventory and produce a topology map of the network. When this method is carried out, it indicates that the system will carry out its own setup procedures.
Because the autodiscovery process is always running, it is able to detect any changes that you may have made to your network and immediately bring both the inventory and the topology map up to current. In addition to recognizing virtual systems, the service is able to extend monitoring of connections all the way out to cloud resources.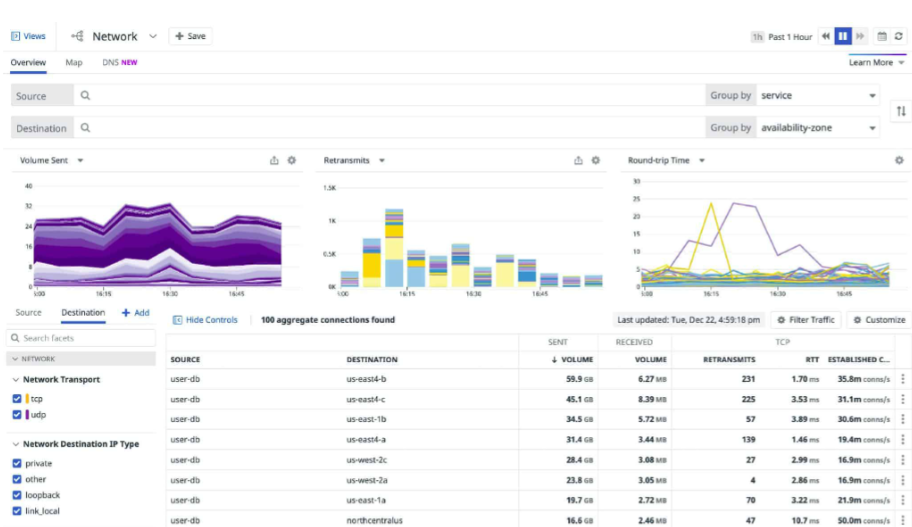 The end-to-end visibility of all connections is provided by Datadog Network Monitoring. These connections are also connected with performance concerns that are indicated in log messages. The system's dashboard is hosted in the cloud and may be viewed using any browser that is considered industry standard. This brings together information about the performance of the network from a wide variety of sources and encompasses the complete network, both link by link and end to end.
Features 
Monitors networks worldwide, especially those located in distant locations
Combines monitoring of resources located on a company's own servers with those located in the cloud.
Integrates with several other Datadog modules, including the log management module
provides an overview of the functioning of the whole network in addition to drill-down data of each device
Helps in problem-solving by pointing out where performance is dependent on other factors
Monitoring of the DNS server is included.
Obtains reports from SNMP devices.
combines the results of several different sources of performance information.
Including the monitoring of data flow
Utility programs for tag-based packet analysis are included in the dashboard.
Comprises protocol analyzers in its design.
Machine learning serves as the baseline for determining performance thresholds.
Warnings and alerts on developing problems with performance
The packages either include tools for monitoring the performance of the network (traffic analysis) or tools for monitoring the performance of the network devices.
Charges on a recurring basis, with no initial investment required
In a single moment, you are able to generate individualized graphs, metrics, and warnings, and the program is able to alter them in a dynamic manner in response to various situations. The free version of Datadog supports up to five hosts; the Pro version costs $15 per host per month, and the Enterprise version costs $23 per host per month.
PROS
Has, in comparison to other network monitoring programs, one of the simplest and most straightforward user interfaces
A cloud-based software as a service solution enables monitoring without the need for costly server installs or onboarding.
The ability to monitor both internally and externally provides network administrators with a comprehensive picture of the network's availability and performance.
Provides support for auto-discovery, which helps construct network topology maps in real time.
Any changes that are made to the network are reflected very instantly.
Provides organizations with the ability to reliably grow their monitoring efforts thanks to a variety of pricing choices
CONS
Would like to see a longer trial period for testing
5. ManageEngine OpManager – FREE TRIAL
ManageEngine OpManager is a piece of software that may be used for infrastructure management, network monitoring, and application performance management, sometimes known as "APM" (with an APM plug-in).
When it comes to the monitoring and analytic capabilities of network management tools, this software strikes a good balance between the two categories.
The solution can manage your network and servers, as well as configure your network and monitor its faults and performance. Additionally, it can examine the traffic on your network. Installing Manage Engine OpManager locally (on your own premises) is required before you can use it.
A notable feature of this product is that it comes with network monitor device templates that have already been pre-configured. These comprise monitoring settings and intervals that have been pre-defined for certain kinds of devices.
For $595, customers may get the Essential Edition product, which supports up to 25 devices simultaneously.
Features
Includes monitoring of servers in addition to monitoring of the network
The autodiscovery feature allows for the automated construction of network inventories.
Constant checks to ensure the availability of the gadget
A variety of approaches for mapping the topology of the network
Automated network mapping serves in the capacity of an SNMP manager, probing all connected devices incessantly to determine their current states of health.
Implements performance criteria and detects system faults while receiving SNMP Traps and generating notifications when device problems occur
Maintains vigilance on the availability of resources
dashboard that may be customized, with color-coded knobs and graphs that display real data
Notifies people by email or text message of any relevant notifications.
Linux and Windows Server versions are both available.
The creation of a whole stack supervisory system is made possible by the addition of an application performance monitor.
There is a version that is free to use.
Distributed version to monitor and manage several locations from a single point of control
PROS
Designed to begin functioning immediately, has over 200 widgets that can be customized to create one-of-a-kind dashboards and reports
Makes use of autodiscovery to locate, catalog, and map newly connected devices.
Makes use of intelligent alerting in order to cut down on false positives and do away with alert fatigue across bigger networks.
Provides support for many alerting channels, including email, SMS, and webhook.
Compatible with the other products in the ManageEngine ecosystem, with which it integrates nicely.
CONS
Is a feature-rich tool that will require a time investment to properly learn
FAQ's
How do I choose network monitoring tools?
Find a network performance monitor that gathers device statuses using SNMP and make advantage of it. In addition to this, you should make use of a bandwidth analyzer that is capable of communicating with the brand of switches that are currently deployed on your network.
How do I monitor everything on my network?
Because it is difficult to manually monitor the status of every device connected to your network around the clock, you will need to invest in a network monitoring solution that operates in an automatic manner. Invest in a monitoring system that keeps track of performance benchmarks and sends out warnings once they are exceeded. You are free to presume that the performance of the network is satisfactory so long as you are alerted otherwise by systems that send you notifications through email or text message. Because of these monitoring capabilities, the network will be taken care of, and you will be free to concentrate on other duties without risk.
How can network monitoring software help me to optimize my network infrastructure?
The activity on your network is recorded around the clock by network monitoring software, which identifies overloaded equipment without the need for you to sit and watch live events. This allows you to optimize your network infrastructure and get the most out of it. You are able to design a more effective use of your network and either remap devices or adopt traffic shaping techniques thanks to records of device performance. This enables you to get the most value out of your current infrastructure without having to invest in more hardware.