Best Office 365 Migration Software: EdbMails Features & Review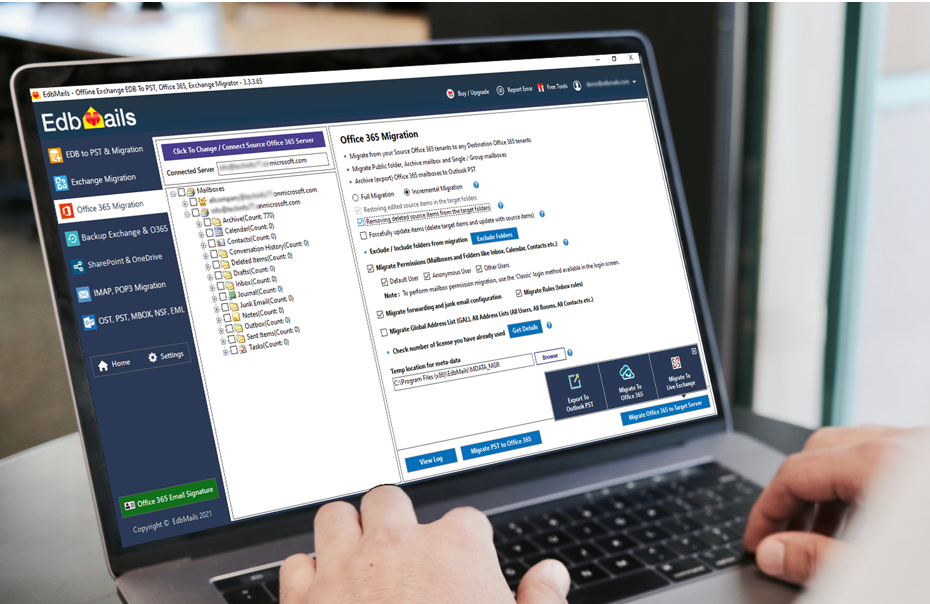 Introduction
A growing number of companies are turning to Office 365 for its cloud-based communication and collaboration capabilities due to the increasing prevalence of cloud computing.
Switching between new and old platforms while transferring systems, on the other hand, can be stressful and time-consuming if not properly planned. If your employees are abruptly told to switch email platforms, they may struggle to adjust to the new environment, and you must also ensure that your data is secure during the transition. Furthermore, actual migrations can take a long time, even months in some cases.
Without specialized migration software, you may be wasting more time than you realize. We will introduce and review one such migration software that can make the job easier and less expensive for you. Continue reading to learn more.
EdbMails Office 365 migration Overview
EdbMails tool to migrate to Office 365 completely simplifies cloud-based Office 365 and Exchange migration projects. Companies can now migrate data between multiple cloud workloads using EdbMails, an all-in-one solution for your needs. Let us get a better understanding of how this software can help you in such situations.
Features in Depth
In this section, we list a comprehensive feature set of EdbMails that can help many users and organizations with complex migration projects. Based on our experiences, we tested and reviewed each of them.
a.     Office 365 Tenant to Tenant Migration
If you need to perform Office 365 (Microsoft 365) tenant to tenant migration for reasons such as organization mergers, acquisitions, moving from one Office 365 provider to another, or changing the tenant's geolocation, EdbMails can assist. In contrast to the manual methods, no PowerShell scripts or lengthy procedures are required. Simply connect your source and destination mailboxes and you're ready to go. In our experience, the steps are fairly straightforward and should pose no difficulties for new users performing the migration for the first time.
b.    Migrating Office 365 mailboxes to Exchange server (Office 365 to Exchange) migration
EdbMails is your best bet if you already have an Office 365 account and want to migrate to an Exchange server or a hybrid environment. The software can help you migrate from or to a Hybrid Exchange from an Office 365 source. The migration is as simple as connecting to your source and target servers and allowing EdbMails to take care of the rest. Another advantage we discovered is that the tool is compatible with most Exchange versions, ranging from 2000 to the most recent 2019.
c.     Migrating Office 365 mailboxes  between same domains
This feature will be extremely useful for organizations looking to switch from GoDaddy and Rackspace to Microsoft. You will need to make extensive preparations if you use manual migration methods. However, with EdbMails, it is simply a matter of getting the domains right on the target and performing the migration without any complications.
d.    Public Folder and Shared Mailbox
Office 365 mailbox migration includes not only mailboxes but also Public Folders, Shared Mailboxes, and their associations. Because of the extensive folder hierarchy, migrating public folders is a difficult task in and of itself. We tested both migrations, and the graphical interface makes it simple to select the various contents and get all the items on the target with the click of a button.
e.     Selective Office 365 Mailbox migration
EdbMails' various filter options make it simple to filter specific mails and mail items and migrate them based on your needs. This saves time and allows you to migrate only the data you require. It is also possible to select individual folders like Inbox, Sent Items and exclude others such as Junk, Conversation History and so on.
f.     Office 365 (Microsoft 365) No-duplicate (Incremental) Migration feature
This is a feature in EdbMails that deserves to be mentioned and is at the top of our list. Incremental migration avoids duplicate mail items on the target account on subsequent migrations from the same PC to the same target. If you have previously migrated and would like to perform the migration again to get the newly arrived mails or changes, the incremental migration feature only migrates the new items without carrying over any items from the previous migration operation. This saves time and improves efficiency.
g.    Automatically map Office 365 mailbox for migration
EdbMails algorithms intelligently map the various mailboxes between the source and target based on the closest match. This feature is extremely useful for users who want to migrate a large number of mailboxes at once without having to go through the arduous process of manually mapping each one.
h.    Automatically set Impersonation Rights
When migrating mailboxes, an administrator must generally have impersonation rights in order to perform the migration on behalf of all users in the organization. Manually assigning these rights to large numbers of users and mailboxes may be time-consuming. EdbMails automatically configures impersonation rights for Office 365 migration, allowing you to start the migration immediately.
i.      Office 365 Mailbox migration from different languages
The vast majority of businesses around the world operate on a global scale. The only difference between organizations is the language used in their mailboxes. Anyone can use the EdbMails Office 365 Migration tool to migrate all of their data to Office 365 while maintaining their original mailbox language settings and encoding. The software perfectly retains Unicode and non-English special characters without messing them up, which was a feature we really liked.
j.      Migrate Calendars, Tasks, Emails
This requirement is essential for many businesses that want to migrate all of their calendar entries, tasks, or emails. EdbMails allows you to transfer all of them including calendars and contacts, distribution groups, task lists, notes, data journals, and even large mailboxes, to the target Office 365 tenant.
k.    Batch or individual migration
When you sign in to your source Office 365 account, EdbMails displays all of your mailboxes in the left pane for you to view. You can migrate all of the mailboxes at once in a batch or individually by selecting only the ones you need. This feature is useful when you want to leave the mailboxes of employees who are no longer with the company or when you need to quickly bring a few new mailboxes on board.
l.      Scalable and High performance migration
EdbMails Office 365 migration is perfectly scalable according to your requirements. You can purchase the mailbox licenses according to your usage and it can migrate 50% faster than other tools with its multithreading capability. Its precision and accuracy stem from the fact that it retains an exact replica of all the source mailbox contents on the target without making changes or losing data. Its incremental migration capability, combined with the various filter options, makes it a high-performance migration tool.
Privacy and Security Features
EdbMails has strong security features that don't rely on intermediaries or third-party applications. The software is completely installed on the environment in which the migration is to take place, and even the metadata stored on your PC is encrypted with AES-256 military grade encryption. It adheres to Microsoft's flow and employs the OAuth 2.0 modern login method for authenticating your ADAL-based Office 365 accounts. It also supports multi-factor authentication and ensures that no data is lost before, during, or after the migration.
EdbMails Review Conclusion and Rating
Office 365 migration can be both complex and time consuming. Without proper planning or assistance, the migration could take an extremely long time to complete. EdbMails Office 365 migration software is the best choice for any organization looking to perform quick migrations in less time and get personalized assistance from industry experts who have assisted countless migrations. We examined the software's various features and discovered them to be a useful bunch that supports a variety of scenarios including Exchange to Office 365 migration. In terms of pricing, the overall cost works out to be very economical compared to other similar software on the market. On the support front, you have nothing to worry about because EdbMails has a free live demo feature, free customer support available 24×7, and in-depth guides and how-that to's are more than enough to make your migration projects a success.
Another product, namely Sigsync Office 365 email signature software allows you to manage company-wide signatures and disclaimers in one location. Using a full-featured signature editor, you may create your own unique signature. With hundreds of pre-made templates, you can get started quickly. Using rules enables instant signature modifications for Senders and Recipients. Marketing campaigns can be tailored to specific customers or events.