Best Online Recharge App In India In 2021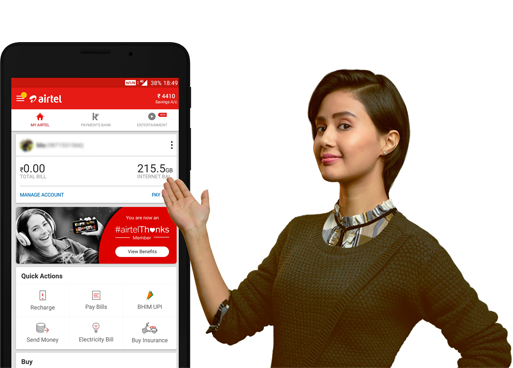 The digital payment and online recharge apps have been evolving over the last few years taking us closer than ever to a completely digital economy. For the customers in India, it is important to figure out their convenience and the features that they wish to have in the payments app of their choice. While some customers prefer to have minimal features and a sleek interface, others may choose a more comprehensive solution. However, one thing is sure, the online recharge apps are here to stay and the customers can benefit a lot from the exclusive offers, cashback, and other value additions. Here is a quick list of the top online payment apps and wallets that the customers can use for their outstanding features ease of use, and safety measures.
Airtel Thanks App – Airtel Thanks App is one of the Online Recharge Appbest options for Airtel customers. This is the one-stop solution for not only for Airtel Prepaid and Postpaid customers but also for anyone who uses any Airtel service including Airtel DTH and Airtel Broadband. You can recharge any mobile number of Airtel and other telecom carriers such as VI, and Jio, etc. The Airtel Thanks App also has got provisions for paying utility bills and unlocking exclusive Airtel Thanks Rewards for Airtel customers.
Airtel Payments Bank and Airtel Money Wallet – Airtel Payments Bank is the first payment bank approved by the RBI, and that makes it a lot more versatile than the regular recharge and payment apps. The customers can use it just like a regular Savings Bank account. By opening an account for the Airtel Payments Bank you can not only transfer and receive money but also earn interest on the amount kept in the Airtel Payments Bank account. The customers can also get a digital debit card for easy online transactions. The Airtel Money Wallet is the wallet app of Airtel Payment Bank and one of the specialties of this app is that it can work even without an internet connection through the USSD codes.
Google Pay – The in-house payment and recharge app of the tech giant Google is well capable of taking care of all recharges, transfers, and utility bill payments. One of the specialties of this app that sets it apart is that it not a wallet but only a UPI app. It is also one of the fastest payment apps in the market right now.
Amazon Pay – The great feature of Amazon Pay is that it can be operated directly through your Amazon shopping app. It also comes with free EMI options for your Amazon shopping experience.
PhonePe – PhonePe is one of the easiest apps to use due to the well-designed User Interface. Every action whether it is recharging a number or paying bills for one of the utilities can be completed in fewer clicks and steps than other apps.
There is no one size fits all when it comes to recharging apps and a lot depends on the preferences of the user. For most people using a well-designed app such as the Airtel Thanks App definitely provides great value. If you already use any of the Airtel services, you can easily go for the Airtel Thanks App and Airtel Payments App.