Cost to Make an App in 2023: Detailed Estimation
If you're thinking about creating your own app, you're probably wondering how much it could cost you. The development cost depends on many factors, such as the complexity of the application, the number of platforms, etc., so it's pretty challenging to give a definite answer. On average, the price of an app can range from $50,000 to $500,000 or more. 
We've created a guide for those who want to create their own app, which will help calculate the budget and explain the main factors influencing the cost. 
Cost to Make an App: Budget Template
You can use a particular template to calculate your app development budget easier and faster. We've gathered data from Clutch, GoodFirms, and industry statistical research. This template helps you to calculate the approximate budget to build your app more efficiently. So, the cost is influenced by these factors:
Form of collaboration (in-house or outsourced) 

Team's location

Development type (cross-platform, hybrid, or native) 

Number of platforms

Design complexity

Number and complexity of features

Additional costs (app store fees, third-party integrations, etc.)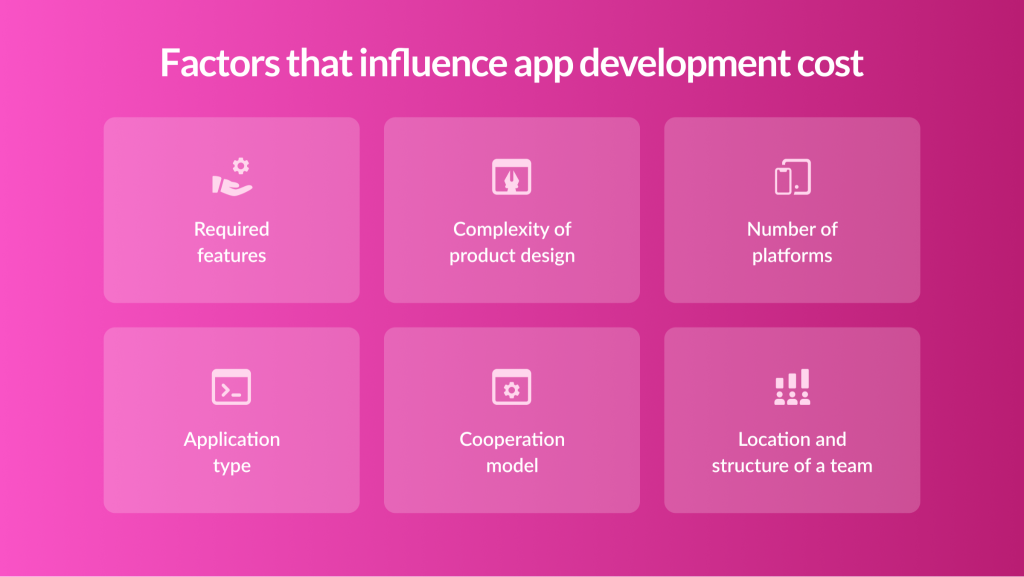 Software Development Costs Worldwide
The area you choose to cooperate with also dramatically impacts the app development costs. It is worth analyzing the hourly rates in different countries when considering where to find app developers. Explore the prices in some of the most popular outsourcing regions: 
US $120-$150

UK and Australia $100-$120 

Western Europe $80-$100 

Central and Eastern Europe $30-$50

India $20-$30 
Such a variety of prices is explained by the fact that each region has different average wages, taxes, etc. However, knowing that a higher price doesn't always mean better quality is also important. Therefore, to choose the best outsourcing team, it is essential to study the feedback from their clients and their expertise in mobile and web development. 
The Correlation Between Time and Cost
The cost of an app will depend on the number of hours spent on development. In turn, the time costs depend on the complexity of the application. Thus, a simple application can be built in 3-6 months, a medium complexity application in 5-9 months, and a complex application with a large number of functions and integrations in 8 months or more. 
Allocating enough time for development ensures that the application is of high quality, allowing it to run successfully after completion. It also gives you enough time to test and debug before launching. If you have a project that could revolutionize the market, take the time to turn it into something great. However, if you need to deploy an app faster and reduce your initial investments, you can build MVP with the minimum necessary features and add more advanced ones in later updates.
Calculator of App Development Cost
An app cost calculator can help you to estimate your product's cost quickly and accurately. By entering information such as the app's type, required functionalities, and other criteria, the calculator can generate a price range for you to consider.
App development cost calculators are also valuable tools allowing you to reduce costs or speed up the development process. By understanding exactly how much each feature or requirement will add to your overall budget, you can make more informed decisions about which components are worth investing in and which ones can be cut from your list.
The such calculator can help businesses estimate their costs for a project. Utilizing it enables them to optimize resources while creating applications that meet objectives and offer quality results.
How does Maintenance Impact Development Costs?
The maintenance costs of an app should be taken into account. Allocation of 15-20% of the original app's development costs yearly is typical practice. These costs could include bug fixing, new features, and preparation for newer OS versions. The amount spent on maintenance will depend on the complexity and number of added features per year.
Maintenance of an application is necessary even if there are no plans to increase its capacity or introduce new features. This is because the cost of your app will increase as it becomes more complex.
Maintenance includes the following:
Continuous bug fixing

Improving stability and performance

Code optimization

Adding support for the latest OS versions

Developing new features

Supporting the latest versions of third-party services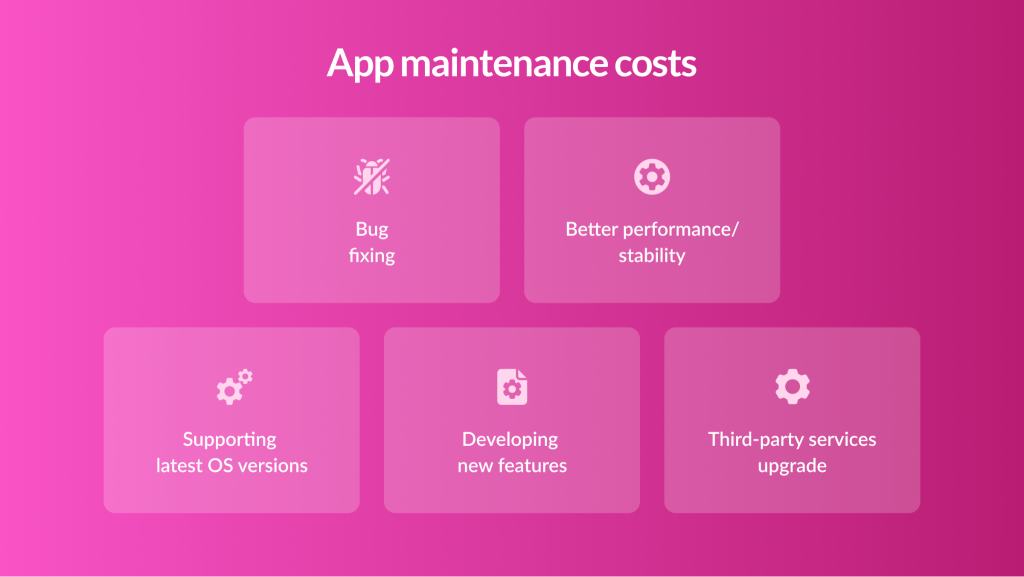 Therefore, the collaboration between your tech partner or development team continues even after the product is ready. In addition, post-release support is ongoing, and each software development company has its terms.
Approximate Estimate of App Development Cost 
App building usually involves several steps, and each involves certain specialists. Thus, there are five steps to making an app: 
Solution Design. Finding out the initial project requirements, business goals, and scope of work. 

Discovery Phase. In this phase, the team converts all the previously collected requirements into a clear development plan. 

UI/UX design. A team of experienced designers creates several design concepts and then builds the interface of the future application screen by screen. 

Development and testing. Experienced programmers and QA engineers work on the application, creating code and ensuring every function works correctly.

Release and maintenance. The finished application is moved into the app stores. Then, you can continue a partnership with your technical partner to provide further updates, add new features, etc.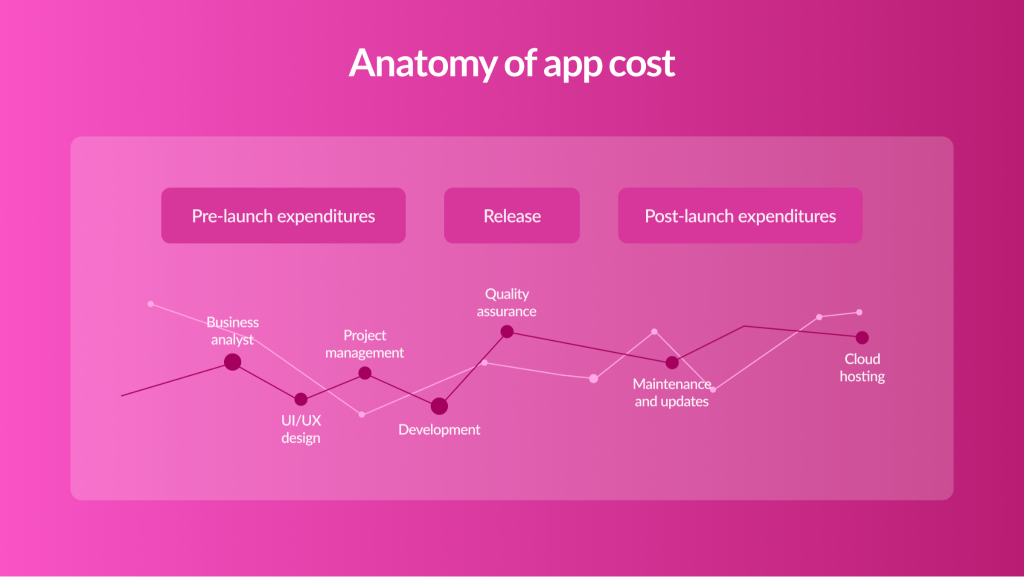 So let's calculate the cost of creating an app. Based on an hourly rate of $50 and development time of 4-6 months, the price could be:
Business Analyst $3000-$10000

Project Manager $7000-$21000

UI/UX designers $4000-$12000

QA Engineers $10000-$30000

Solution Architect $3000-$9000

Developers $39,000-$112,000

DevOps $2000-$7000
Thus, app development costs may vary between $68,000-$201,000. Yet, these figures are approximate. If you want a detailed estimate, contact a professional software provider who will consider all your requirements and calculate the exact costs. 
Cost of Well-Known Startups
We studied a few established startups that have received funding in their seed round to create successful projects. Examining these situations can give you a superior comprehension of the mobile app development cost.
Uber.

The organization began with $200,000. 

Instagram.

The first app's version's cost was $500,000.

Tinder.

Initial investments were $485,000. 

Postmates.

The startup started with $750000.

Snapchat

initial investment of $485,000 is now reaching $3 billion.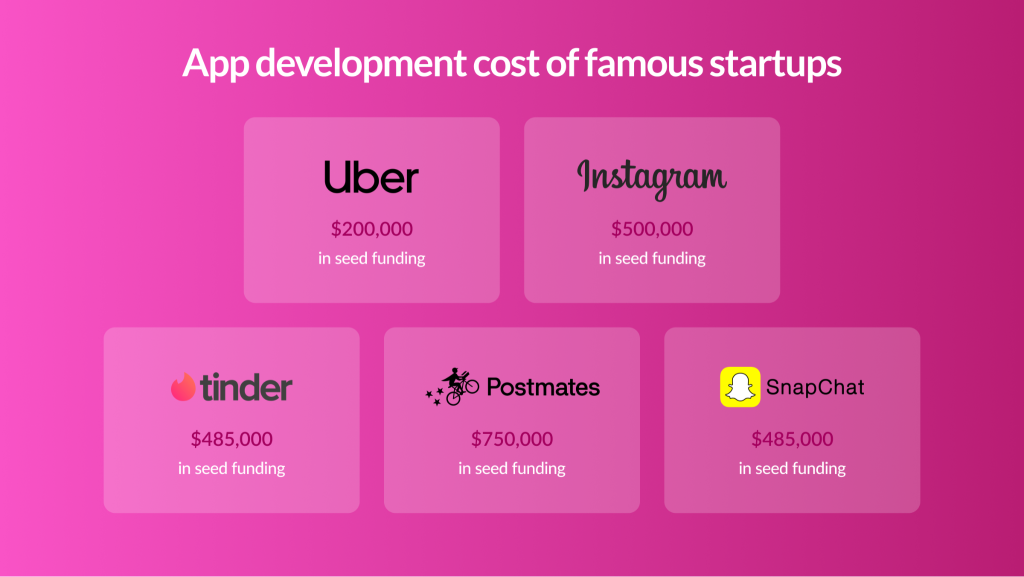 Summarizing
App development costs vary greatly, ranging from $6,000 to $8,000 for a simple app with basic features up to $240,000 and higher for complex apps. Factors influencing the cost include the app's complexity, the number of platforms developed, expenses on a development team, and maintenance fees. To get an exact estimate, turn to an experienced software vendor.
Author's bio:
Yuliya Melnik is a technical writer at Cleveroad. It is a web and mobile app development company in Ukraine. She is passionate about innovative technologies that make the world a better place and loves creating content that evokes vivid emotions.