Final Fantasy 14 won't have NFTs, is getting a graphical upgrade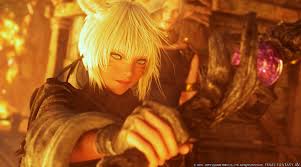 Yosuke Matsuda, the president of Square Enix, made a lot of gamers gasp when he said the publisher was considering adding NFTs to its games, despite the fact that "some people who 'play to have fun' and who currently form the majority of players have voiced their reservations toward these new trends," as he put it, in his statement.
It's been a long time coming, but Final Fantasy 14 players in particular have been tensely waiting for an announcement that their beloved MMO will be compelled to incorporate anything as obnoxious and disruptive as Worms NFTs or as potentially invasive as Stalker 2. People who play mostly for amusement will be pleased to hear the following piece of good news: The director of Final Fantasy 14, Naoki "Yoshi P" Yoshida announced that the game will not have NFTs.
With regard to the NFT aspect of Final Fantasy 14, Yoshida stated, via translator Aimi Tokutake, "Based on how FF14 is designed, we don't intend on incorporating any sort of NFT element in the game right now. Therefore, if anybody is worried or concerned, I can clearly state at this time that we do not have any intentions to incorporate this into the game." At this moment, Yoshida said, "We're not planning to include NFTs in [Final Fantasy]."
During the livestream it was also announced that FF14's free trial will return on February 22. Free trial registrations had previously been suspended due to server instability after the Endwalker expansion's launch.
In addition, a new graphical design was showed off for the upcoming version 7.0. Improved shaders will increase the quality of hair, skin, gear, and so on, but the overall appearance of the characters will be kept as close to the original design as feasible. Higher-resolution textures will also be added to the game's environments and dungeons, although they won't be striving for photorealism. After just one month of testing, the redesign is still very much a work in progress, but here are some of the examples that were exhibited.