Hogwarts Legacy PC vs PS5: Which is Better?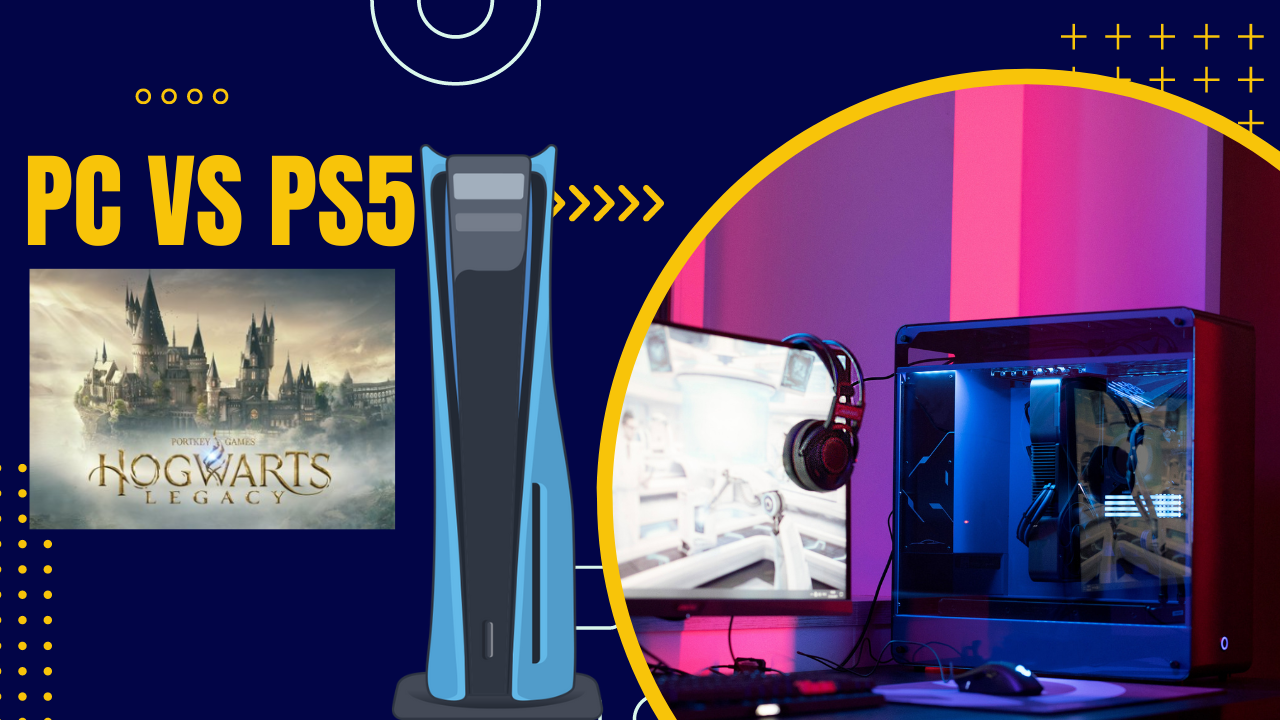 The choice between PC and PS5 will depend on personal preferences and the device the player uses most often for gaming. So if you are comfortable with PC gaming, then the PC version will be the best option. If you prefers console gaming, then the PS5 version will be the ideal choice. There are so many other things that you can consider from review given below.
Why PC is a Better Option for Playing Hogwarts Legacy?
If your PC is better than PS5 then PC is definitely a better option for playing "Hogwarts Legacy" compared to PS5. Because it offers better the graphics and performance according to the specs of your gaming PC. So better the gaming PC you have you will enjoy more playing Hogwarts Legacy.
Your PC should have ability to run the game with recommended specs and some mods. Most of the good gaming PC are even expensive than PS5 so you can save some cash and enjoy it on PS5 as well.
Why PS5 is a Better Option for Playing Hogwarts Legacy?
There are several reasons why PS5 may be a better option to play Hogwarts Legacy than PC:
Comfort: Playing on a couch with a big TV screen is more comfortable than playing on a computer chair and monitor.
Haptic Feedback: The PS5 controller provides haptic feedback, which enhances the gaming experience.
Visuals: An OLED TV provides better visuals than most gaming monitors, making the game more immersive. So if you have got OLED TV with your PS5 then it is a great option.
Exclusive Content: PS5 has exclusive content that is not available on PC.
History of mods: Depending on Warner Bros history with mods, there may be limitations to mods on PC.
Release dates and Price Difference for PS5 and PC
The release dates and prices of the game on both platforms are also similar, with PC and PS5 releasing at the same time and having similar costs.
How to Get hogwarts legacy 72 hours early access?
If you buy the Hogwarts Legacy Deluxe Edition then you will get the 3 days or 72 hours early access. 72 hours of early access is available for both physical copy and digital deluxe edition.
Each platform has different release dates and pricing options, making it important for players to consider which platform to buy the game on.
Hogwarts Legacy Price Difference Standard Vs. Deluxe
PC is the ideal platform for players who are concerned about price and release dates. The standard edition of the game will be priced at $59.99, while the deluxe edition will be priced at $69.99 for PS5 and Xbox X|S players.
Hogwarts Legacy Release Dates for Different Devices
It will be released on PC, PS5, and Xbox X|S on February 10, 2023.
When Can You Download Hogwarts Legacy Collector's Edition
While Xbox One and PlayStation 4 players will have to wait until April 4 and Switch players until July 25 to download Collector's Edition.
So, the decision between PC and PS5 should be based on the player's preference, such as their preferred gaming setup, history of platform use, and gaming habits.