How to Add Emotes on Twitch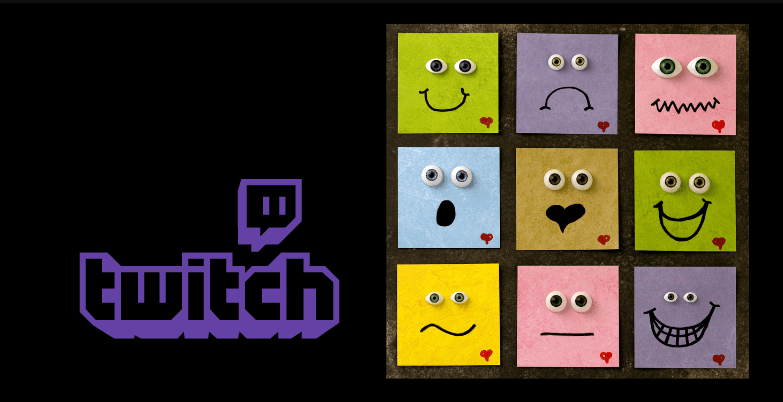 Emotes resemble Twitch's official language. In contrast to the majority of gifs and emojis, they are specific to the platform and cannot be used in other apps. You can make use of them to have fun in chat rooms or to help other creators. Additionally, it's a great method to distinguish your channel and attract additional subscribers. You may learn how to add emotes to Twitch from this page. Consequently, let's begin:
Read Also: How to Save Streams on Twitch
How to Add Emotes on Twitch
You can use some fantastic emotes from Twitch in chat across the entire platform, but creators may also add their own emotes. Emotes can be added to Twitch using the Creator Dashboard, and both Twitch Affiliates and Partners can use them. Before you may add emotes if you only have a basic Twitch account, you must level up to Affiliate or Partner status.
Here's how to add emotes if your Twitch account can do so:
1. Creator Dashboard can be accessed by clicking your avatar in the website's upper right corner.

2. Then select Viewer Rewards.

3. Choose Emotes.

4. Select + next to Tier 1.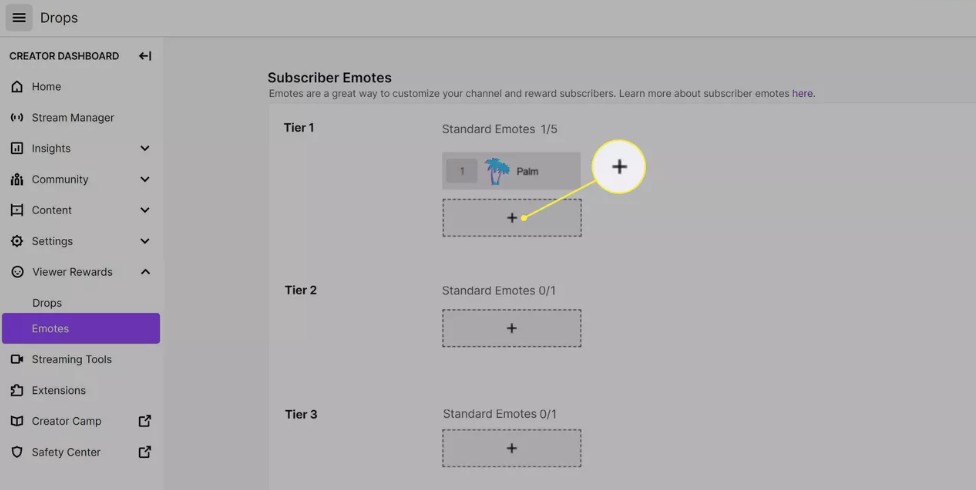 5. In the gray box's outline, click the upload symbol (arrow pointing up).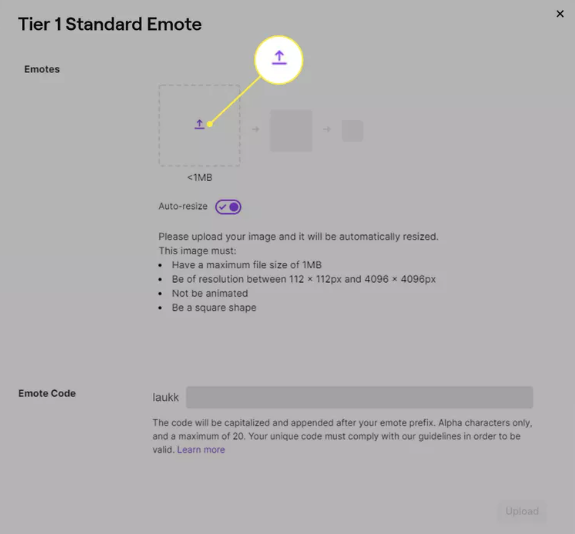 6. Click Open after choosing an emoticon file from your PC.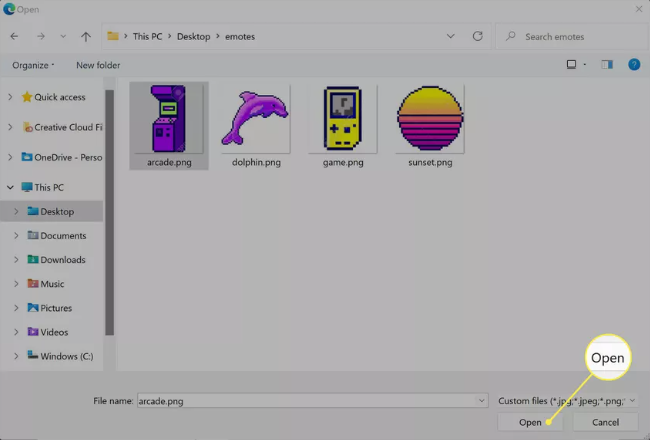 7. Once you're satisfied with how the emote appears, enter its code in the emote code area and click Upload.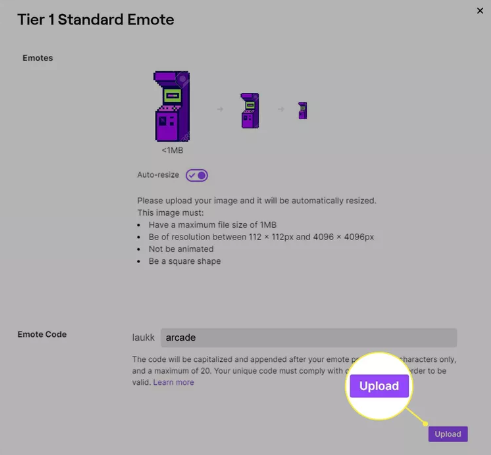 8. To add more emotes, repeat this process.
IMPORTANT NOTE: There is a cap on the number of emotes you can add, but when you reach milestones like adding more subscribers and streamers, you will be able to add more emotes.
When Can You Add Emotes on Twitch?
As soon as you are accepted into the Affiliate program, you are able to upload emotes to Twitch. You can only post a certain number of emotes for tier 1, tier 2, and tier 3 subscribers once you have affiliate status. Affiliates can now add bit tier emotes, but only after a certain number of bits have been cheered.
Emote modifiers can be added to tier 2 and tier 3 emotes once you reach Partner rank. Additionally, you can add cheermotes. Because Twitch raises the number of emotes you're allowed to add over time as you accomplish milestones, Partners often have the opportunity to add a lot more emotes than Affiliates.
FAQs
Can anyone add emotes to Twitch?
Once you become an Affiliate, you can purchase custom emotes. You may upload and manage your emotes right in your dashboard under settings, provided that they adhere to our emote guidelines and are the required size and quality.
How much do Twitch emotes cost?
You will receive the following sizes for each emote: 112 x 112, 56 x 56, and 28 x 28 pixels. For $10 per, larger, higher-resolution files are offered for purchase. A social media graphic for showcasing your new emotes is included with every order.
Are Twitch emotes only for affiliates?
You must achieve affiliate or partner status on Twitch in order to receive emotes for your channel. Then you can post creative artwork to your channel for usage by your viewers. Emotes are a fantastic method to grow your audience and advertise your channel.
Can Twitch mods add emotes?
The broadcaster can use the Editors tab on the left to add the mod as an editor. After that, input the mod's Twitch userid and submit. Easy! Emotes can now be added or removed from the broadcaster's BTTV palette by both the broadcast and the mod.
Do Twitch affiliates get verified?
To be confirmed on Twitch, a streamer must sign up as a Twitch Partner. The badge may be given to those who are not partners, although Twitch reserves the right to do so.