How to Apply Chat Filters on Twitch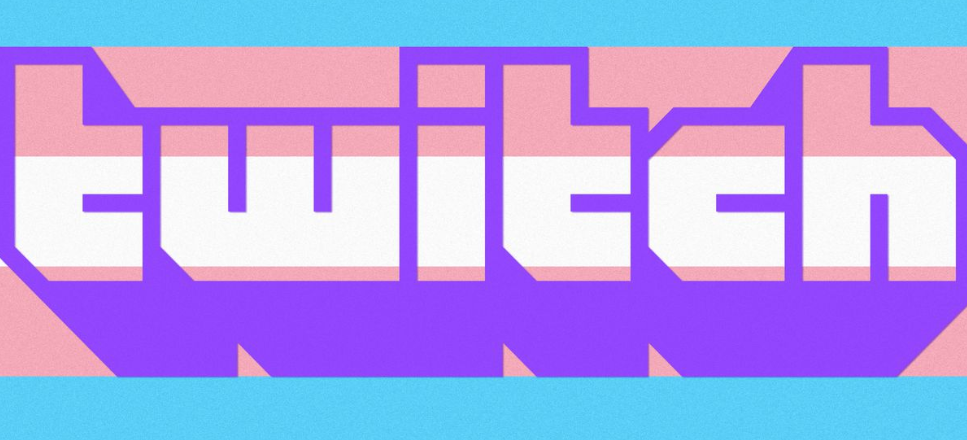 You have the choice on the Twitch platform to prevent yourself from viewing potentially harmful, offensive, or abusive language in the conversation. Some people prefer to view all that is said in chat, even though it is recommended that the "Chat Filter" option be activated for younger users. The Twitch chat feature may be one reason why the app successfully turned streaming into a viable career option for many content creators. You run the risk of being harassed by other users when you are streaming on Twitch. This is very typical for the majority of live-streaming chat applications, particularly those that allow users to maintain their anonymity. You will learn how to implement chat filters on Twitch by reading the following article:
Read Also: How to Claim Any Twitch Drops You Have Earned
How to Apply Chat Filters on Twitch
It's possible that you wouldn't want to miss out on all of the entertaining conversation that's taken on in the live broadcasts that you've subscribed to. You may avoid the bad users by filtering the chat on your Twitch channel instead. By selecting this option, you will have the opportunity to maintain lovely connections with other users. To enable chat filtering on your Twitch account, follow the procedures that are outlined below:
1. Select "Chat settings" from the menu to change your chat preferences.

2. Proceed to the item on the menu titled "Chart Filters."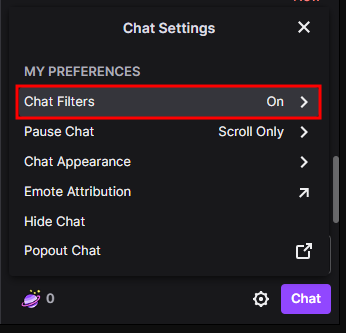 3. Make sure the toggle is turned on for all account options you do not want to view or go through. This will prevent them from being displayed or used.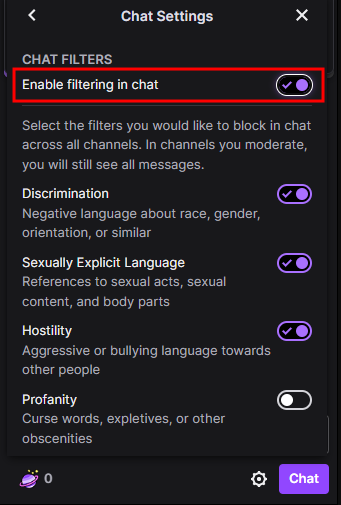 Keep in mind that Twitch does not support or condone any sort of discrimination or harassment that occurs on the platform. You can lodge a formal complaint and create a formal report against any account that violates our guidelines.
FAQs
Does Twitch have a chat filter?
Chat Filters, often known as your personal AutoMod, allow you to hide undesirable messages in any Chat throughout Twitch. You are able to make changes to your choices for global Chat Filters right within the Chat settings of any channel. There are options for enabling or disabling discrimination, sexually explicit language, hostile language, and profanity.
How do I filter Twitch chat language?
Click on the three dots that are arranged vertically at the very bottom of the chat window. Tap the "Hide Offensive Language" option found under "Chat Settings." In the "Enable filtering in chat" option, you can deactivate the filter by moving the toggle to the off position.
Does Twitch allow NSFW?
On Twitch, sexually suggestive content is not allowed because the platform strives to cater to a wide range of demographics and user preferences. Evaluations of the sexual suggestiveness of a behavior or action are made regardless of the user's apparel and are instead based on the general framing and context of the environment in which it occurs.
Is it OK to play music on Twitch?
If you play music without having a permission, you are breaking the law of copyright. It really is that easy! The Terms of Service and Community Guidelines for Twitch state quite clearly that users are not permitted to include any music in their Twitch streams or VODs that they do not own.
Does Twitch pay daily?
If the remaining sum from your most recent payment is greater than either $50 or $100, you will be paid out at the end of each month. We will carry over any remaining amount from one month to the next provided that it is not exceeded in any given month.