How to Browse Reddit Anonymously on an iPhone App
It is possible to use the Reddit app without having an account or by utilising the private browsing mode in Safari and accessing it from the web. However, the vast majority of Reddit users do have accounts, and they are typically logged in when using the Reddit app to browse content. Reddit provides an easy way for you to access the site anonymously by allowing you to create a hidden anonymous account, even though you have the option to browse the site without logging in. You can avoid associating your behaviour on Reddit, such as searches and communities you frequent, by switching to this account and browsing the site's content. This account does not need you to log out. Here's how to surf Reddit on the iPhone app without revealing your identity:
Read Also: How to Turn ON NSFW on Reddit App
How to Browse Reddit Anonymously on an iPhone App
Even though we will be focusing on the iPhone throughout this video, you can still utilise these exact same steps with an iPad even though our primary focus will be on the iPhone. First, make sure that the Reddit app you're using is signed in to the account that you wish to use, and then proceed with the procedures below:
1. Once you have the Reddit app up and running, head to the top left corner of the screen and tap the icon that looks like a person's face. This will bring up your profile.

2. This operation will bring up the primary menu of the application. Touching your Reddit username in this section will take you to additional configuration options.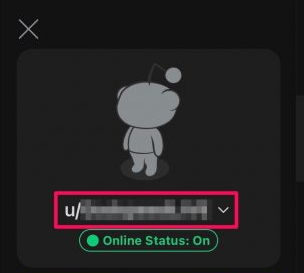 3. You will now be able to see the option to switch between accounts, with the Anonymous Browsing account positioned just below the main user account in the hierarchy of accounts. Tap on it.