How to Change Activity Status on Discord PC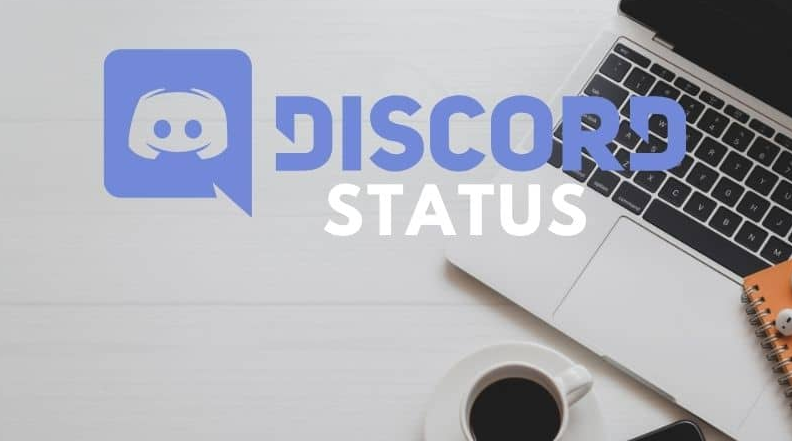 Discord is one of the most well-known and commonly utilized communication applications in the gaming community. It is intended to function in the background of any game while preserving the best level of compatibility possible, and it gives players access to a substantial number of helpful perks and settings. You will get the knowledge necessary to alter the activity status on your Discord for PC client within the scope of this tutorial. So let's get started:
Read Also: How to Turn On Developer Mode on Discord on Mobile
How to Change Activity Status on Discord PC
Despite the fact that Discord does not provide us the opportunity to create a Library, it does give us the option to create an Activity Status. We are in the fortunate position of being able to change that status in order to say anything we choose.
If the games you're presently playing aren't listed in your game Library, adding them is a straightforward technique you can do to rectify the situation. How to go about it:
1. Launch Discord on the device you're using and then return to the game you were previously playing before continuing.
2. To adjust your user settings, you need to click the gear icon that can be found in the lower right-hand corner of the screen.

3. Scroll all the way to the bottom, then click the "Registered Games" link at the bottom of the page (formerly Activity Status).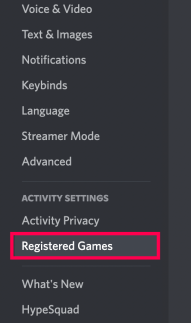 4. There is a link that says "Add it" that may be found in the Activity Status section. Make sure you click on it.
5. From the selection that drops down, select the song or songs that you want to play.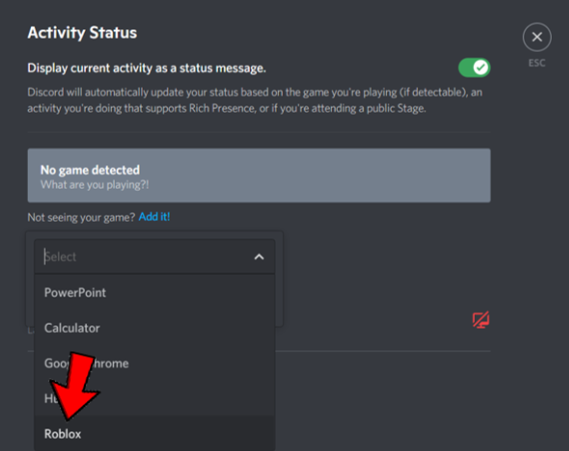 6. To add a game, you need to select the "Add Game" option that can be found in the lower right-hand corner of the pop-up window.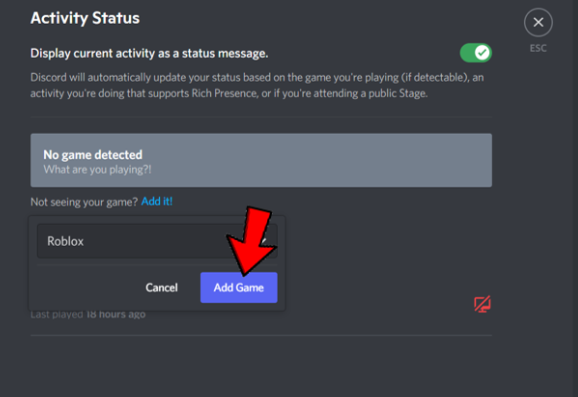 This is a reasonably simple process that will not consume more than a few of your precious minutes of your time. You can use this to pull pranks on your friends, or you can use it to hide the fact that you are truly participating in a different game.
FAQs
Why doesn t Discord show my game activity?
Make sure that the Activity Status feature of Discord is turned on.
Only if you enable the activity status feature will Discord make an effort to determine what game you are playing and display that information to your friends. When it is turned off, Discord will not be able to recognise the game that you are now playing.
Why does Discord show what game I'm playing?
Your buddies will be informed immediately on Discord of the games you are now playing. If the game you're playing employs the Rich Presence feature of Discord, your friends will even be able to see where you are located in-game. While you are gaming, you can improve your level of privacy by disabling this feature in the following way.
Does Discord show game activity invisible?
This is why our brand new icon is so shiny! The purpose of the crown icon that we have provided is to assist your server members in… No, I'm offline even though I'm connected to the internet. As a side point, if I am playing games while I am in invisible mode, will it display that I am doing so? When you are invisible, the game that you are now playing will not be shown.
Can Discord detect mobile games?
You may enable Mobile Game Detection and have it automatically adjust your status to the game you're playing on mobile for the very first time if you link your Discord account with your Samsung account. This is a first in the history of mobile gaming. Before this, the only people who could use this feature on Discord were those who used a personal computer or an Xbox console.
Can Discord servers steal info?
Discord as stolen data storage
Webhooks make it possible for outside parties to post messages to a channel on Discord. They can be used by hackers to generate URLs that are used to deliver messages. Webhooks are becoming an increasingly popular means of extracting data from a user device that has been compromised. A hacker can extract stolen data from a compromised system by syncing webhooks with the system and doing so using Discord.