How to Change Your Roku Account on TV
Roku is an American firm that develops both hardware and software, and it specialises in the production of streaming devices. You are required to have a Roku account in order to get started with a Roku device or TV. This guide will assist you in changing your existing Roku account if you currently have one and are interested in doing so. You'll be able to find out how to change the owner of your Roku and how to switch accounts on Roku by reading this article, which will also answer any other questions you have, such as whether or not you can have multiple accounts on the same Roku device, how to switch accounts on Roku, and how to change the owner of your Roku. So, let's dive in!
Read Also: How to Get TNT on Your Roku
How to Change Your Roku Account on TV
There are a few different ways in which you can modify the Roku account that is associated with your device. You have the option of resetting your device, unlinking your device, or making advantage of the function known as guest mode.
by Linking & Unlinking Your Device
When setting up a new Roku device for the first time, you will be needed to link the new Roku device to an existing Roku account that you already have. This step is part of the initial setup routine. After the account has been joined using the connection code, you will have the option to modify it by either disliking the device or removing it from your Roku account. This option will become available after the account has been joined successfully.
In order to accomplish that, you will need to carry out the actions that are outlined in the following section.
Step 1: The first thing you need to do is fire up a web browser on your computer or mobile device, and head over to the my.roku.com website.
Step 2: In order to sign in and gain access to your Roku account, you will need to provide your Roku account credentials.
Step 3: Once you are logged into the website, navigate to the "My Account" page.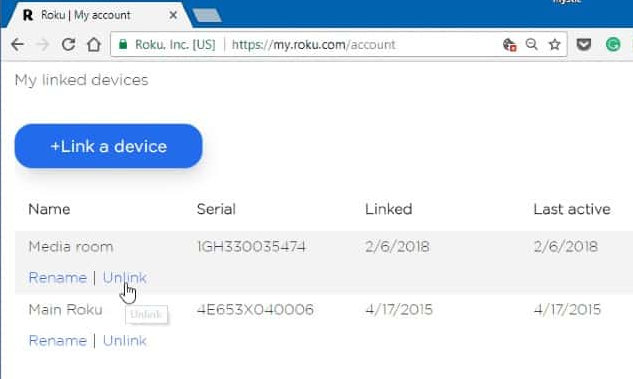 Step 4: When you have navigated all the way to the bottom of the page, select the item from the list of connected devices that corresponds to the one you wish to detach.
Step 5: Click Unlink. You will no longer have a connection between your Roku device and your account.
If at any point in the future you decide you would like to use your Roku device once more after having it disabled, you will be required to input the new account details and proceed with the connecting process.
By using Guest Mode
You can establish a new Roku account by turning on guest mode on your Roku device. This is useful if you are renting out your home through Airbnb or if another person wants to use your Roku device. By utilising this technique, your Roku account will remain logged in, and future users will have the option of using their own Roku account on the same Roku device.
On your Roku device, your guest can now sign in using their own account if they have one. And after they depart, you can turn it off simply pushing the star and the asterisk button on the remote control. It has been decided to reactivate your account.
By Factory Reset
Use the option to "factory reset" your Roku device if you wish to delete all of the information that has been saved on it as well as entirely terminate your Roku account. Using this procedure, your Roku device will be disconnected from your Roku account, and it will be reset so that it functions as if it were a brand new device. Navigate to the Settings menu, then select System, then Advanced system settings, and finally Factory reset.
FAQs
How can I make a new user profile on my Roku device?
It is not possible for the owner of a Roku device to keep any of their settings even after executing a factory reset because Roku does not provide this feature. Signing up for a brand-new Roku account and doing a factory reset on the Roku device are the only two options that are still available. You can utilise the technique for conducting a factory reset that is explained in this guide in order to reset your Roku TV.
How can I link a new Roku account?
After you have completed the initial setup of your new Roku device and have powered it on, you will be prompted to enter an activation code before you can use it. When you see the Roku link code, you will need to go to the website roku.com/link, where you will enter the activation code in the space that is provided. After that, you'll need to login in to your Roku account. After that, you'll be able to stream all of your favourite shows on Roku TV!