How to Change Your Spotify Payment Plan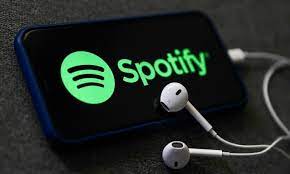 There are other payment plans available for Spotify, and each one comes with the same advantages, including commercial-free music, high-quality streaming, the ability to listen to music offline, and even more features. The only difference between these options is the total cost that you will be responsible for. There are three different plans available for Spotify Premium: the normal plan costs $9.99 per month, there is a plan for students that costs $4.99 per month, and there is a Family Plan that costs $14.99 per month and covers up to six users. Follow the instructions below in order to modify either your Spotify payment plan or your method of payment.
Read Also: How To Upload Songs To Spotify
How to Change Your Spotify Payment Plan
It is not possible to complete this task using either the desktop or mobile applications; rather, you will need to accomplish it through an internet browser on your Mac, PC, iPhone, or Android device.
1. Launch your favourite web browser and navigate to https://www.spotify.com/us/. Click the "Sign Up" button.  If you aren't logged in already, you may do so by selecting "Log In" in the top-right corner of the page.
2. Once you have successfully logged in, pick "Account" from the drop-down menu that appears when you click the Profile icon located in the top-right corner of the screen (the icon resembles the head and shoulders of a person).

3. Scroll down until you reach the submenu that is called "Your Plan." Here, you will discover the option to upgrade your Spotify plan as well as the option to update your payment details. There, you may either update your payment method by clicking the "Update" button, or you can alter your payment plan by clicking the "Change Plan" button.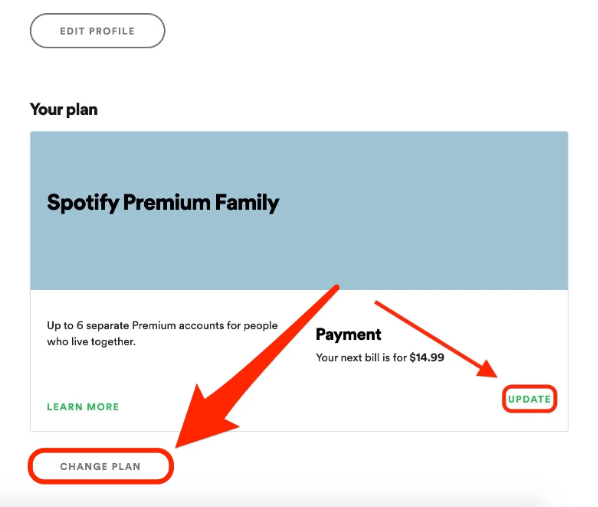 4. If you select "Change Plan" from the menu, you will be sent to a website that provides information regarding all of the available Spotify payment plans. You can return to the free, ad-supported streaming by clicking the "Cancel Premium" button at the bottom of the page. If that is not the case, click the "Select" button that is located next to the new plan that you want.
5. You'll be prompted to validate that you intend to make the transition in the first place. When applying for the Student plan, you will also be required to submit the name and email address of your educational institution.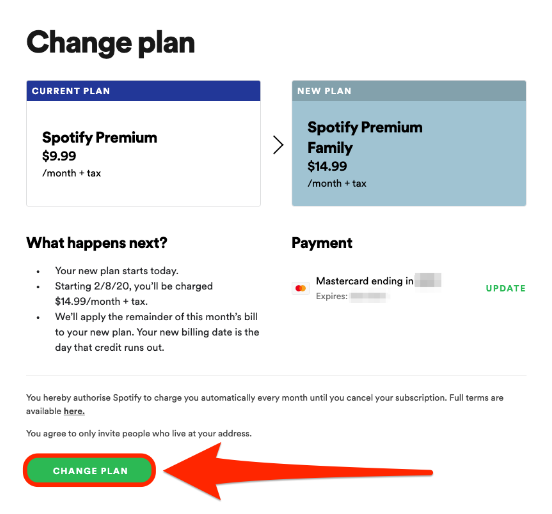 When you do this, your payment schedule will be adjusted accordingly. You will be billed for the updated total on the following day that you are scheduled to be billed.
FAQs
How do I remove my payment method from Spotify?
Modify Your Modes of Payment
At this point, the only Spotify plan available to you is the free one. Select "Manage subscriptions and Payment" from the drop-down menu. After that, choose the option that says "Change payment method or card details." On this screen, you will have the option to delete the information associated with your card or add any alternative payment method, such as PayPal.
Why can't I edit my payment method on iPhone?
The Edit button on the payment method will not be available.
Information that is generic You should be able to alter or verify it once you have logged into your account in the App Store or iTunes, where both of those services are located. Alternately, you may access the edit payment methods page by clicking the blue button in the article that follows. You will arrive at the credit card page once you have logged in and the website has loaded completely.
Your Premium subscription will remain active until the next time you are billed, after which your account will revert to its free status. When you delete your account, your previously saved playlists and music are not deleted.
Which payment method is the best?
When it comes to online shopping, credit cards are, by and large, the most reliable and risk-free mode of payment that can be used. Your credit card accounts and personal information are protected from theft by using online security features such as encryption and monitoring for fraudulent activity.