How to Connect AirPods to Samsung TV
These days, wireless headphones are quickly becoming the norm rather than the exception. The Apple Airpods are the most cutting-edge and advanced pair of wireless earbuds currently available. Following the product's launch, it quickly rose to become one of the wireless earbuds with the highest sales in the world. Because AirPods are an Apple product, they operate exceptionally well with all Apple devices, including the iPhone, iPad, and any other Apple device. You may also connect AirPods to non-Apple devices; the only drawback is that you won't be able to utilise Siri on such devices because it is only compatible with Apple products. AirPods are compatible with a wide variety of platforms, including Android, Windows, and Mac computers, as well as game consoles and smart TVs. You can connect any iteration of AirPods to a Samsung Smart TV if you have one of those televisions.
Read Also:: How to Connect AirPods to Vizio TV
How to Connect AirPods to Samsung TV
1. Power on your Samsung Smart TV and then press the Home button located on the remote control.
2. Make your way to the Settings menu using the controller. In addition to that, you can use the button labelled Settings on your remote.

3. Select Sound Output after clicking on the Sound menu.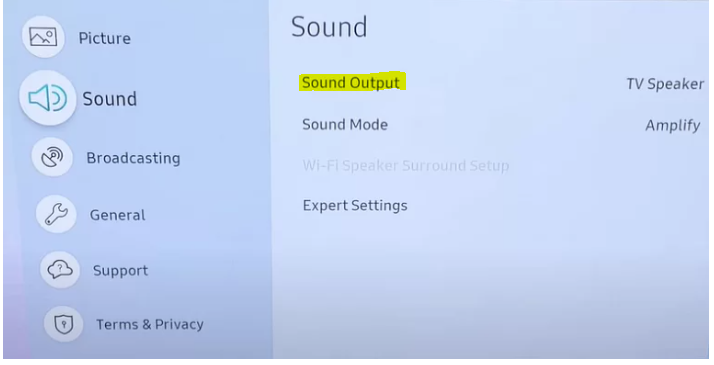 4. Select Bluetooth Speaker List from the drop-down menu located in the Sound Output section.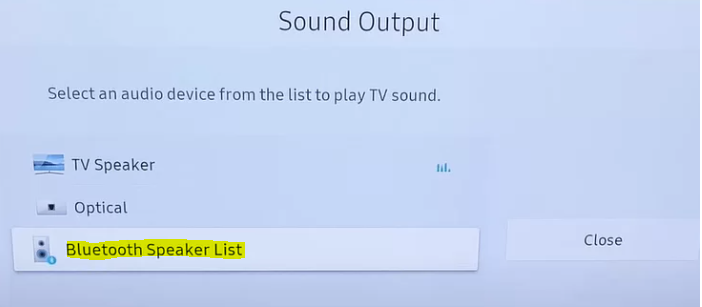 5. Now, on your AirPods, press and hold the Pairing button that's located on the back of the case for your AirPods until you see a flashing LED light. This indicates that the device you're using is ready to be paired.
6. After that, look for the name of your AirPods on the Samsung TV, and then click on it.
7. Choose Pair and Connect from the menu, and your TV and AirPods will be linked together.

FAQs
Can my AirPods connect to my TV?
Simply pair your TV and AirPods together using Bluetooth in order to make the connection between the two devices. You can make use of a Bluetooth adaptor in the event that your TV does not have Bluetooth connectivity built in.
Will AirPods work with Samsung?
Yes, it is possible to use AirPods with an Android device. Since the AirPods are merely Bluetooth earphones, they are compatible with Samsung handsets as well as other Android devices. The earbuds are compatible with any device that has Bluetooth compatibility, which includes the vast majority of Windows computers and certain smart TVs.
What are AirPods used for?
San Francisco — Apple today introduced AirPods, an innovative new pair of wireless headphones that use advanced technology to reinvent how we listen to music, make phone calls, enjoy TV shows and movies, play games, and interact with Siri. These headphones provide a wireless audio experience that was not previously possible, and they provide this experience in a way that is truly revolutionary.
How long do AirPods take to charge?
The following is a rundown of how long it took each model to fully charge: Between thirty to sixty minutes for the first generation of AirPods. AirPods, second generation: between forty-five and one hundred minutes. One hour to two hours with the AirPods Pro and the AirPods of the third generation.
Are AirPods waterproof?
Absolutely not. To set the record straight, AirPods are not water resistant in any way. They will not allow you to go swimming with them. It is not a good idea to wear them when engaging in activities that cause you to break a sweat, such as going for a walk in the rain (unless you are protecting yourself with an umbrella) or working out at the gym.