How To Delete A Tumblr Account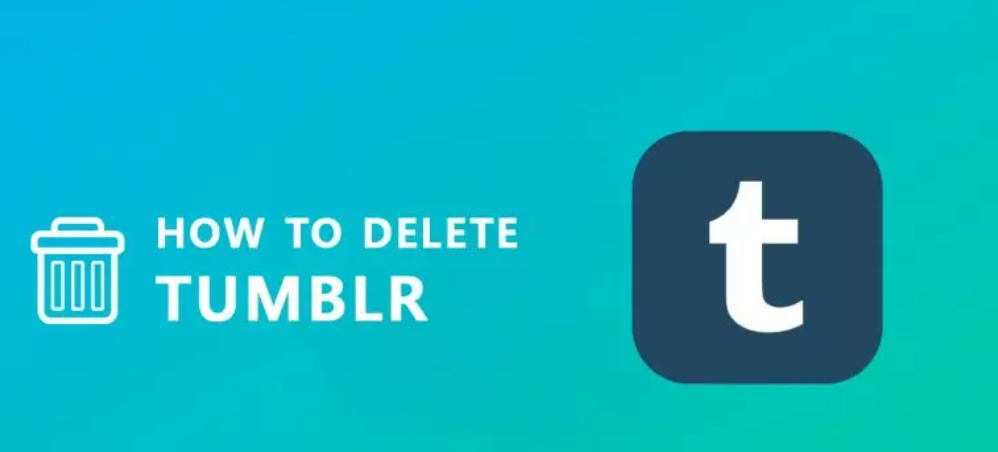 It was declared at the end of last year that all 'adult material' will be banned. When Tumblr was revealed to be used to distribute child pornography, the iOS store temporarily removed the app. In the blink of an eye, Tumblr lost its reputation as a platform where "everything goes," as well as many of its users. In addition, people are worried about more than simply pornographic material. In addition, there have been a number of privacy breaches.
Tumblr stated in 2016 that hackers had gotten their hands on user addresses and passwords that had been hashed and salted since 2013. Hackers now have access to Tumblr users' email addresses, which may be used to send malware or phishing emails that seem to come from the site. Tumblr then revealed that they had corrected an issue that could have exposed users' usernames and passwords again, as well as their specific IP addresses, near the end of last year. In the 'Recommended Blogs' function of the desktop app, debugging software might be used to disclose sensitive account information if a blog appeared in this module.
Even if Tumblr claims that no data was exposed, the presence of such a problem is still a cause for concern. In the end, we arrive to the wacky privacy settings of this company. Disabling data sharing with ad partners requires users to go to great lengths. This means that you'll have to switch off data sharing with more than 300 different partners if you want to adjust your settings before accepting their cookies policy (which is required before you can use your account). Many users' choices have been returned to the default after logging out, so there's no assurance they'll stay. If you've had one privacy issue with Tumblr too many, you may choose to deactivate your account altogether. You may permanently erase your Tumblr account by following the instructions in this page.
Deactivating vs Deleting: What You Need to Know
With a Tumblr account, you'll be able to submit material to your own blog, as well as follow the blogs of others. Setting up subsidiary blogs, which may be set up as private membership groups to control who sees your information, is an option after creating your main blog. Every single blog is linked to the original Tumblr account from which it was originally created.
You have the choice of deleting your Tumblr account in its whole or only the secondary blogs that were created under your account. Tumblr and your main blog will not be affected if you delete a secondary blog. Only removing your Tumblr account will allow you to deactivate your main blog. A removal from all groups and the loss of accrued Tumblr credit are the natural consequences of this action. When you remove your Tumblr account, your username and blog URL will be put back into the pool for others to use. As a result, if you decide to return to Tumblr at some point in the future, you may not be able to find your old posts.
Read More: How To Make My AirPods Louder
Deleting A Secondary Tumblr Blog
In order to deactivate a secondary Tumblr blog, just follow these steps:
On the smartphone app:
Select the 'Account' icon (the person-shaped symbol) in your Tumblr account.
Select the blog you wish to remove from your list of blogs.
Swipe left on the blog and choose 'Delete' from the menu that appears. This Tumblr may be deleted from the Android app's settings by selecting the gear icon (settings).
On a web browser:
Select 'Settings' from the dashboard menu after logging into your Tumblr account.
To delete a blog, choose the one you want to remove.
At the bottom of the page, click 'Delete Blog.'
As of now, you've erased your Tumblr blog but you'll still be able to access your account and all of your messages as well as likes and themes. Please continue to use Tumblr in the same manner as before.
How to Delete Your Tumblr Account
The software does not allow you to permanently erase your Tumblr account. Following these easy steps in a web browser will get you there:
To begin, go to your Tumblr blog and sign in with your account. For two-factor authentication (TFA), use the code delivered to your mobile device to authenticate yourself.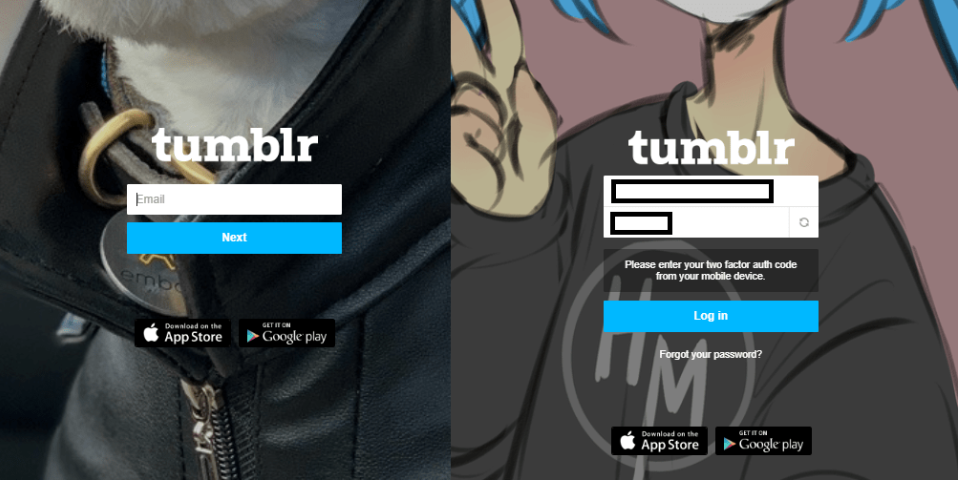 Select 'Settings' from the 'Account' icon.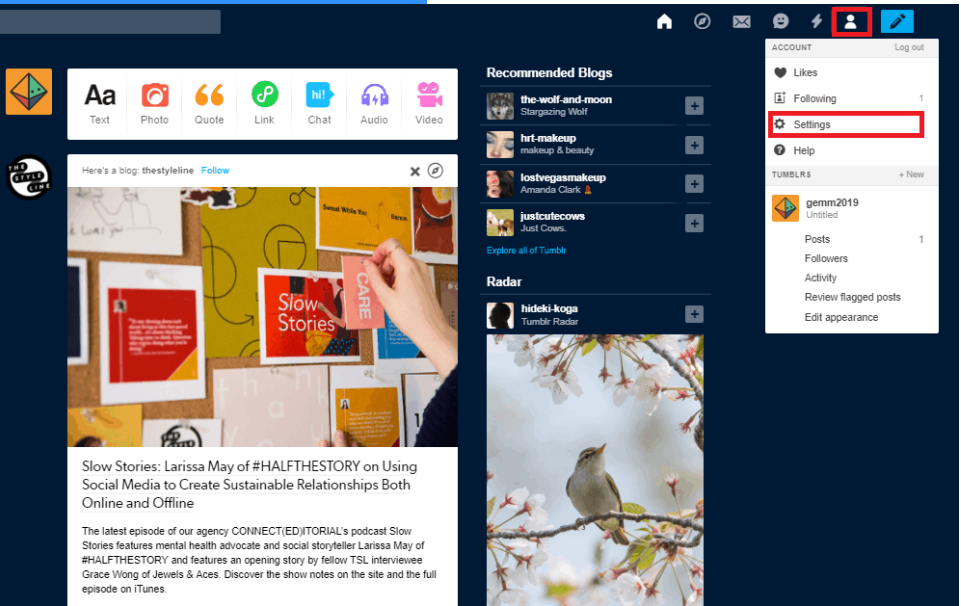 Clicking on the "Delete Account" option will remove your account.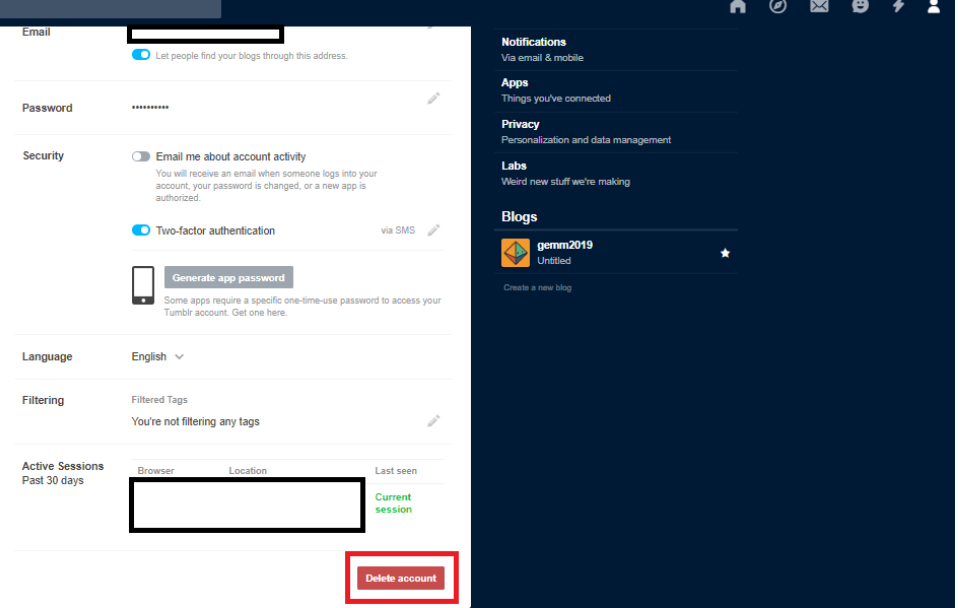 You'll be sent to a screen that asks whether you're sure you want to proceed. In order to delete anything, you must confirm by providing your email address and password. TFA-enabled accounts should re-enter their email address and the code issued to their mobile devices.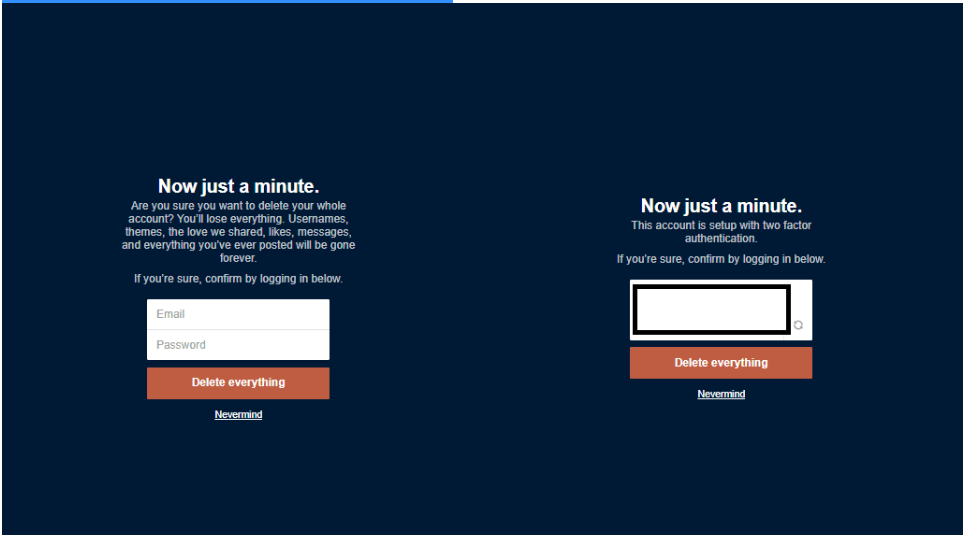 You will be notified of Tumblr's Terms of Service and Privacy Policy, which details how its partners and merchants utilize cookies. If you are okay to continue, click 'Accept'.
Your Tumblr account has been erased, including with any linked blogs and data.
FAQ's
In order to remove my Tumblr account, I'm having trouble.
Tumblr's mobile app does not allow you to deactivate your account. Tumblr is the only place where deletion is feasible. Delete your Tumblr account and your main blog will be erased as well. If you're the sole member of a secondary blog, it's also erased.
Deleted Tumblr accounts are a common question.
After an account is deactivated, all blog entries are removed from Tumblr. It's too late to get those posts back, but if you sign up for the same blog address again, you can use your old email address to connect your new Tumblr account.
Can you deactivate Tumblr?
If you no longer want to have a presence on Tumblr, you may easily erase your whole account and all of its associated data. Right-click on the Tumblr profile symbol in the upper right corner. From the drop-down box, choose Settings. Select Delete account at the very bottom of the page.