How to Download Kali Linux on Windows PC
The main Debian-based Linux distribution used for information security tasks, including security analysis, penetration testing, password cracking, and other things, is called Kali Linux. White hat or ethical hackers mostly use it to check the reliability of a system or network. If you arcannotnstall Kali Linux directly on your computer, you can quickly do it by using a virtual machine on Windows. You may learn how to install Kali Linux on a Windows computer from this post. Consequently, let's begin:
Read Also: How to Clear Spotify Queue on Windows and Mac
How to Download Kali Linux on Windows PC
Install a Virtual Machine:
Making a virtual machine on your Windows computer and downloading Kali Linux are the first two steps in the installation process. Because Oracle VM VirtualBox is dependable, cost-free to use, and provides exceptional performance, we strongly advise utilizing it.
Here's how to set up VM VirtualBox:
On the VirtualBox website, get the Windows hosts binary setup.

Launch the VirtualBox installation setup after the download is finished, and if requested, confirm administrator access.
Follow the installation wizard's instructions, and then click Finish to finish.
You can restart your computer if you want to make sure VirtualBox is installed properly.
Download the Kali Linux Virtual Machine
After setting up a virtual machine, we must download the Kali Linux virtual machine image. You may use your current Windows computer to run the Kali Linux operating system, thanks to the VM image. Kali Linux can be installed on a virtual machine in one of two ways: by downloading and using a pre-built VM image or by installing Kali through an ISO image. We will concentrate on utilizing the pre-built virtual machine image for Kali in this post because importing a pre-built VM is considerably simpler than installing Kali from scratch.
To get the Kali Linux virtual machine image:
To download the pre-built VM image, go to the Kali Linux website.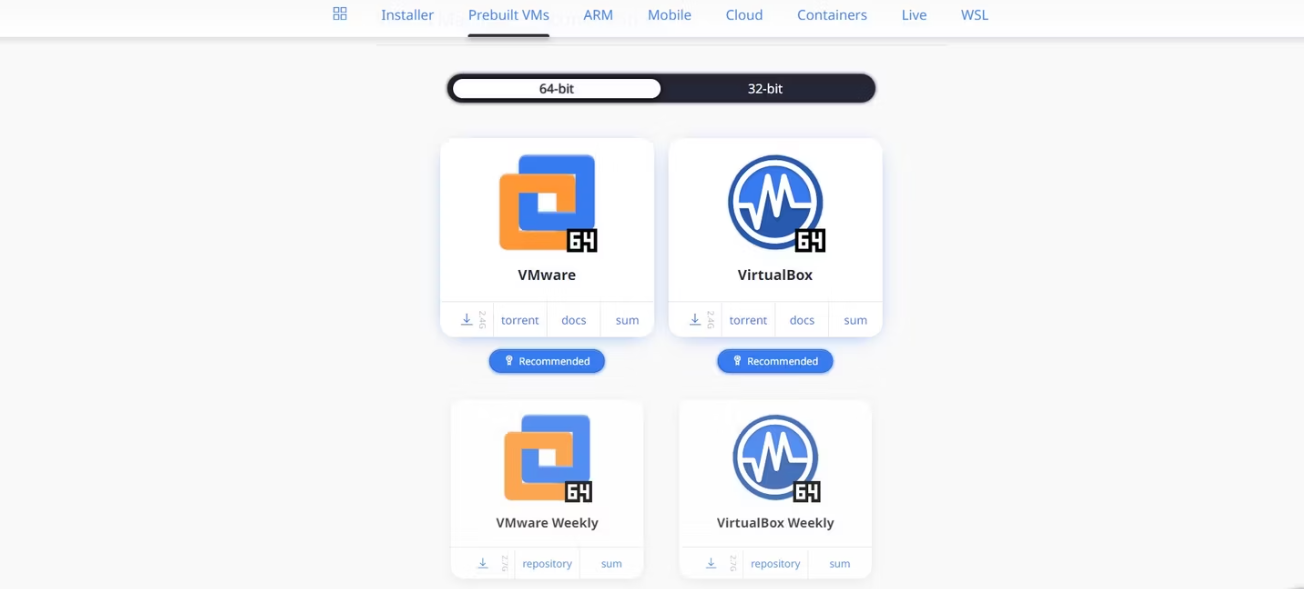 We will download the VirtualBox image now that VirtualBox has been installed.
Verify your computer's architecture to see if it is 32- or 64-bit, then download the stable version (not the weekly version).
Install the 7z program if necessary to finish the extraction process, then extract the contents of the downloaded file.
Now that Kali is prepared, we may import it into VirtualBox.
Import Kali Linux VM
We can import our VirtualBox and Kali Linux VM image into our VM at this time. The pre-installed Kali Linux image can be imported into Oracle VM VirtualBox using the following procedure:
Launch the Best match after performing a search for Oracle VM Virtual box in the Start menu.
Select Add by clicking on the green plus sign.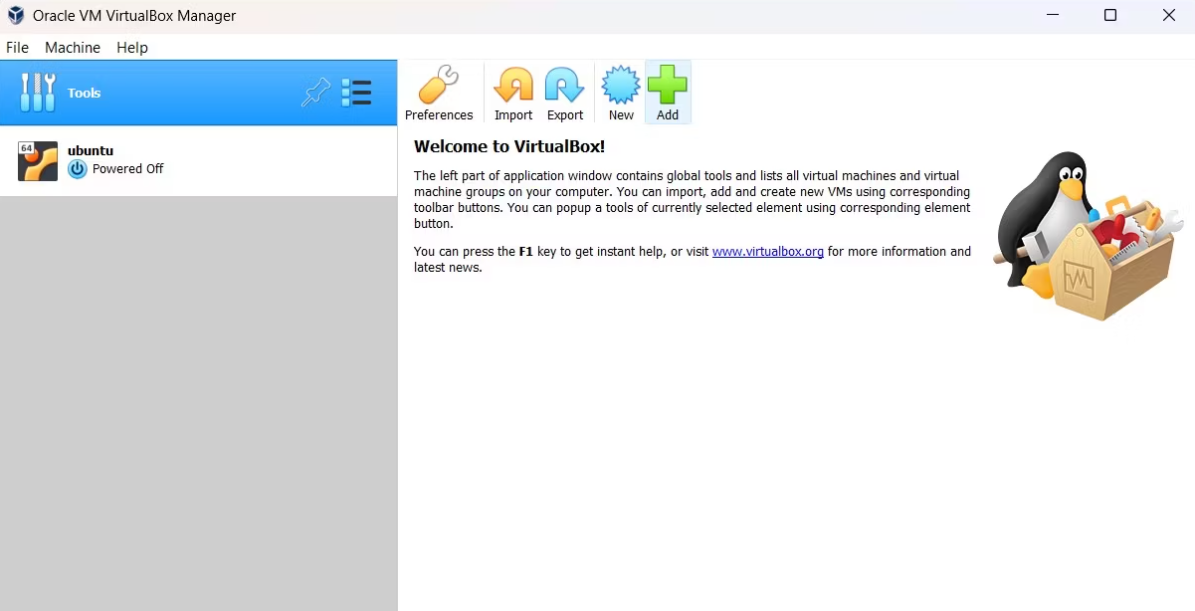 Go to the location where you extracted the Kali Linux image. Look for a file with the extension.vbox.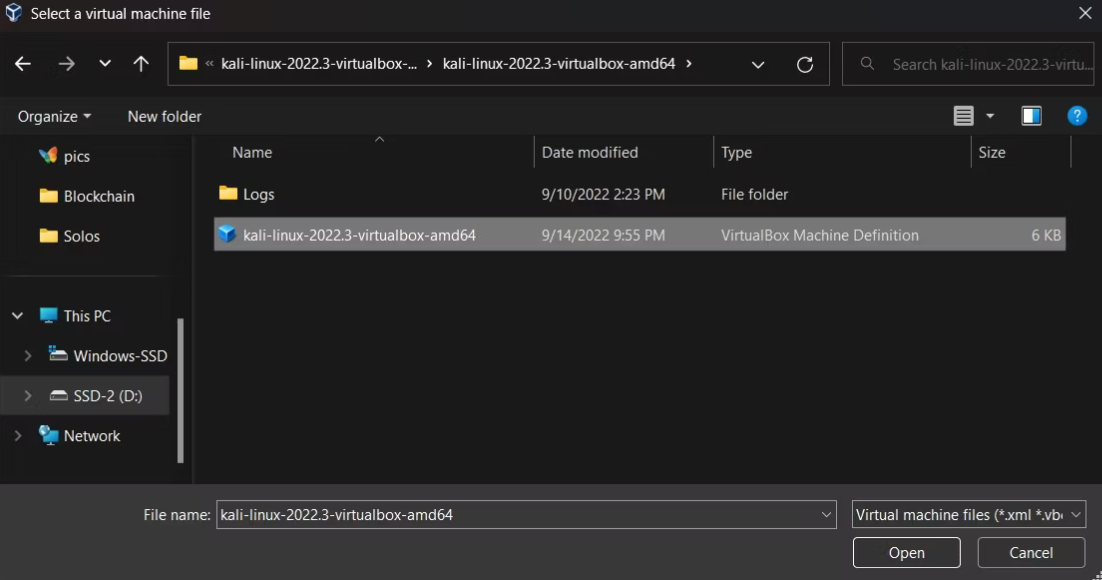 Click Open after selecting the.vbox file.
The VM will show up in VirtualBox once it has loaded.
Kali Linux can be launched by clicking the green Start symbol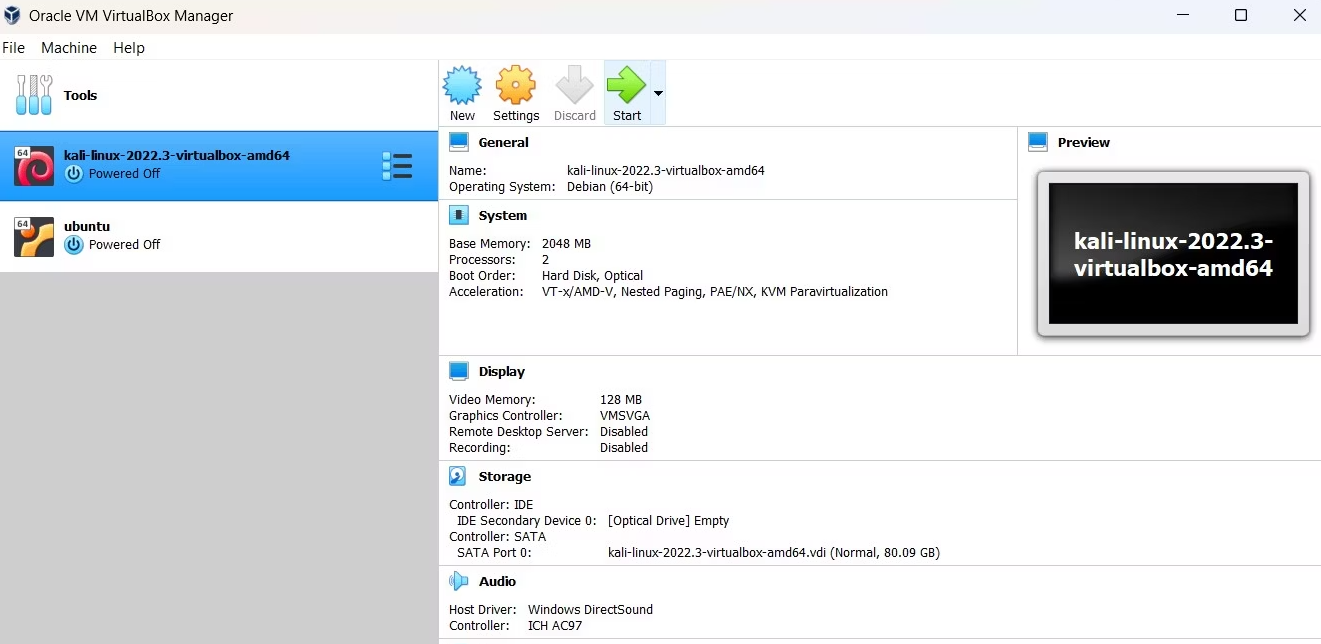 Using the password kali, you can sign in using the default Kali user profile.
Download the Kali Linux ISO:
You can obtain the official ISO from the Kali website and use that to install Kali Linux instead. Once the ISO has been downloaded, mount it in VirtualBox and launch the virtual machine. You can successfully install Kali Linux on Windows after finishing the VirtualBox installation instructions for Kali.
FAQs
Is Kali Linux free?
Free (as in beer) and always will be: Kali Linux is totally free of charge and always will be, much like BackTrack. Never, ever will you be required to pay for Kali Linux. Git open source tree: We adhere to the open source development model, and everyone can view our development tree.
Is Kali Linux hard for beginners?
It's not necessarily that difficult to learn Kali Linux. Therefore, it's a great option for both experienced users who need to get things going right away and beginners who want to learn the ropes. In particular, Kali Linux is constructed very well for penetration testing.
Why is Kali Linux illegal?
By itself, Kali Linux is not unlawful. It is only an OS after all. However, it can also be used as a tool for hacking, and doing so is against the law.
Do I need antivirus for Kali Linux?
Yes, antivirus software is required for Linux devices. Although Linux is thought to be more secure than other desktop operating systems, Linux machines are nevertheless susceptible to malware and viruses.
How long will it take to learn Kali Linux?
A strong and thorough cybersecurity tool is Kali Linux. It takes less than two months to learn the tool and become proficient with its principles.