How to Enable Scribble on an iPad
With the assistance of an Apple Pencil, the user-friendliness and functionality of an iPad may be significantly extended, and this is especially true when the Scribble feature that is included in iPadOS 16 is engaged. If you have Scribble enabled, you can write text by hand with the Apple Pencil in any text field, and the operating system of the iPad will automatically convert what you write into standard text. This article will detail how to enable and use Scribble on iPads running iPadOS 14 or later, including instructions on how to produce and modify text:
Read Also: How to Remove Remote Management From iPhone/iPad
How to Enable Scribble on an iPad
To begin using Scribble, you will only need to complete a few straightforward steps.
1. To get started, head to the menu labelled "Settings" on your iPad.
2. Select the Apple Pencil option from the menu.
3. Once the toggle has been activated, you can access the Scribble feature.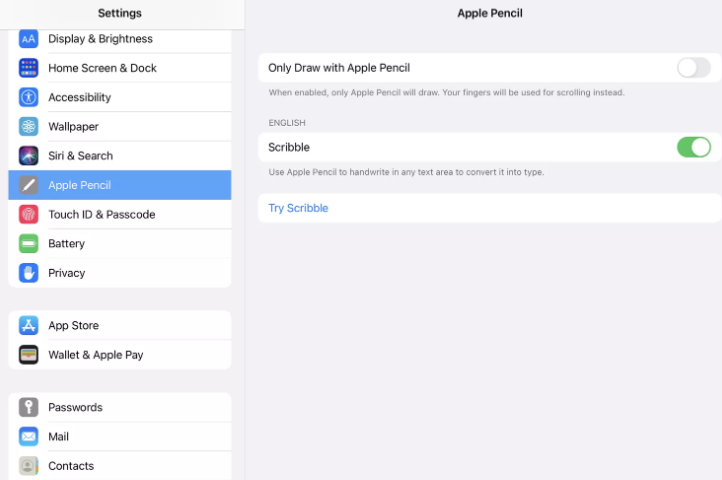 There should be a link that says "Try Scribble" somewhere on this screen for you to click. If you select this, you will be presented with some instructive pointers regarding making the most of the feature. It is a wonderful approach for starting, and it may also be used as a reference later. Both of these uses are possible because to this strategy.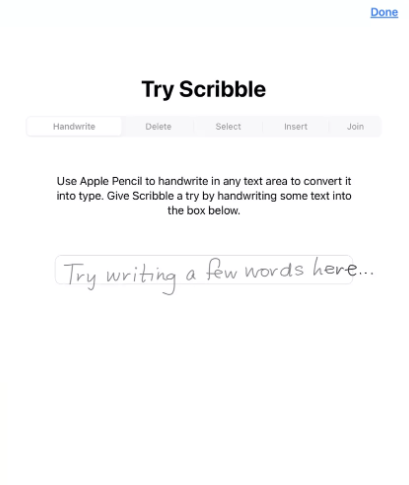 TIP: When the Scribble feature has been activated, and only then is the option to Try Scribble shown to the user.
Edit Text With Scribble
If you are used to crossing out words that you do not require or drawing a line to separate characters, you will adore how you can do this using Scribble. In addition, Scribble enables you to combine characters and add space, which is impossible when writing with a physical piece of paper and a pencil.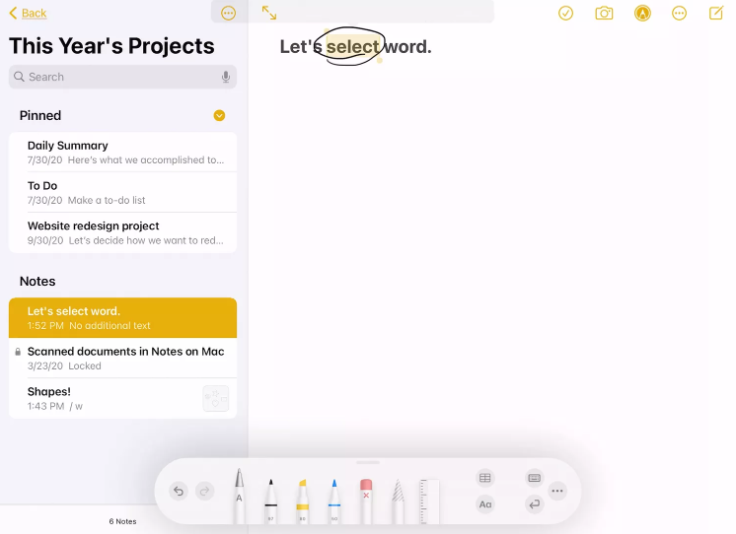 Choose some text: To emphasize a particular word or phrase, draw a circle around it or underline it. After it has been identified, you can take the necessary action.
Pick one of these words: If you would rather double-tap a word to choose it rather than circle it or underline it, you can do that.
Choose a sentence or paragraph from the following: To choose a particular word inside a sentence or paragraph, triple-tap on the word. Dragging your Apple Pencil, you may also move across a sentence or paragraph.
Draw a vertical line between the characters you want to join or divide in the text. This will allow you to do either.
Insert text after adding space for it: You can create some space by tapping and holding between the words and then inserting your text afterwards.
Take out this text: Using a pen, scribble across one or more of the words to eliminate them. You'll see it is no longer there in a few moments.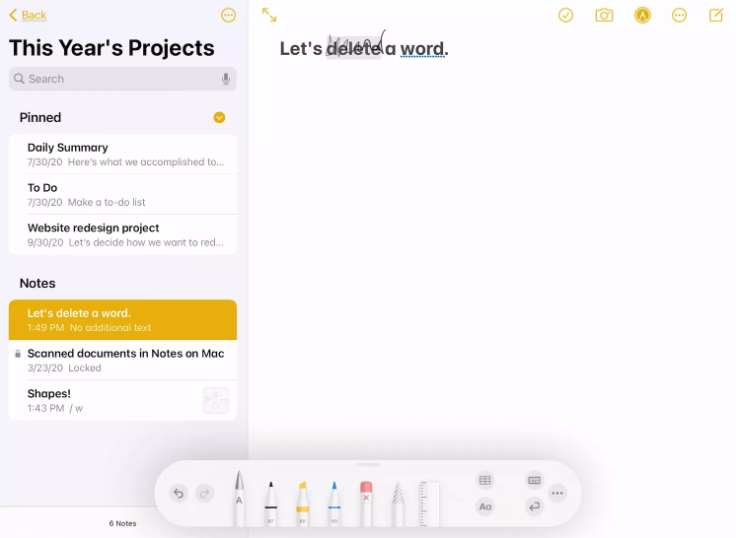 Scribble Supported Devices
For you to be able to use Scribble with Apple Pencil, you will need to have one of these compatible devices.
Apple Pencil, first generation, compatible with the following iPad models:
iPad mini (5th generation)
iPad (6th generation or later)
iPad Air (3rd generation)
iPad Pro 9.7-inch
iPad Pro 10.5-inch
iPad Pro 12.9-inch
Apple Pencil, second generation, compatible with the following iPad models:
iPad Air (4th generation)
iPad Pro 11-inch
iPad Pro 12.9-inch (3rd generation and later)
FAQs
What is scribble iOS 14?
Scribble is an app that helps you keep your writing secret by converting your handwriting to text immediately on your iPad. Note that Scribble can be used in a number of different languages. Check out the webpage for iOS and iPadOS Features That Are Available.
Why can't i write with Apple Pencil?
You can try charging the pencil by either putting it into your iPad (Pencil 1) or by resting it on the side of your iPad (Pencil 2) and allowing it to do so for around ten minutes. Then give it another shot with it. It is possible that you will require re-establishing a connection with your iPad. Try turning Bluetooth off and then back on again on your iPad, as this may cause the connection to be reestablished.
Is Apple Pencil breakable?
It is going to depend on how it falls. If it happens to land on the tip like it happened to mine, there is a strong risk that the tip will get curved. This may or may not render it unusable, but it will definitely make it difficult to use. In addition, if it were to fall from a significant height, the plastic casing would crack and/or the Bluetooth module might become inoperable.
What is Apple scribble?
Using Scribble and an iPad that is compatible with the Apple Pencil, it is possible to convert handwriting into text. Scribble is activated automatically on an iPad whenever an Apple Pencil is paired with it. Go to Settings > Apple Pencil on your iPad in order to verify the Scribble setting or to turn it off if you don't want to use it.
How long do Apple pencils last?
If you just use the tip of your Apple Pencil occasionally, you may anticipate it lasting for many years. On the other hand, if you are an avid user of Procreate and you draw every day, it will last you for about half a year. In general, the tip of an Apple Pencil should be replaced at least once every two years by the typical user of the device.