How to Enable Sleep Timer on Samsung TV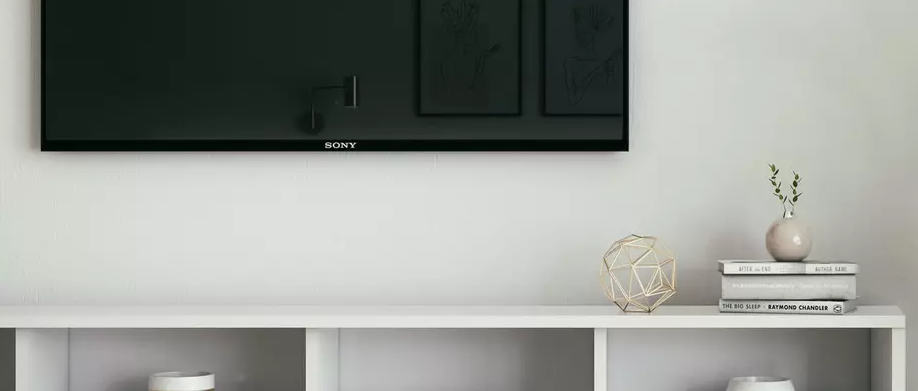 The Sleep Timer is one of the one-of-a-kind features that Samsung Smart TV makes available to its customers. By activating this option, you can reduce the amount of power consumed by your Smart TV whenever it is not in use. In addition, the Sleep Timer will switch off your Smart TV if it has not been used for an extended time and will do so even if you are dozing off while watching your preferred material on a streaming platform. The feature's most useful aspect is that you may set the time on Sleep Timer for up to 180 minutes at a time. You may also bring your Samsung Smart TV out of sleep mode by pressing the Power button on the remote control. This guide will walk you through configuring and activating the sleep timer on your Samsung TV. So let's get started:
Read Also: How to Watch TNT on Your Samsung TV
How to Enable Sleep Timer on Samsung TV
1. After the television has been powered on, use the remote control for your Samsung Smart TV to select the Home button.
2. You can enter the Settings menu in one of two ways: navigate to the Settings menu on the Home screen or press the Settings button on the remote control.

3. The drop-down menu that can be found under Settings allows you to select either the General > System Manager or the Privacy > System Manager option.

4. When you go to the next screen, select the Time option from the menu.
5. To configure your Smart TV to automatically power off after a predetermined amount of time has passed without it being used, go to the Settings menu, pick Sleep Timer, and then choose the right amount of time.
6. The Sleep Timer gives users the option to choose from the following times:
30 minutes
60 minutes
120 minutes
180 minutes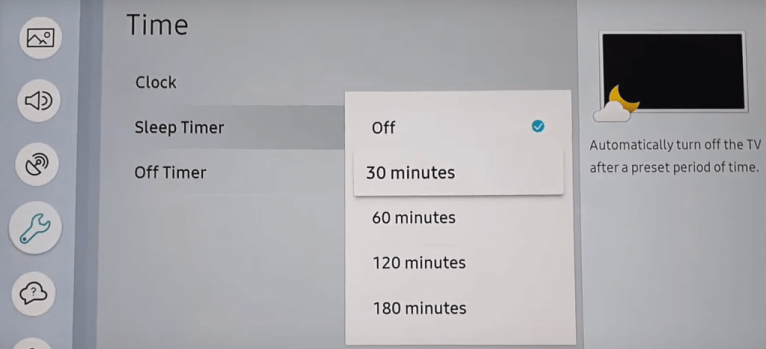 7. The timer can be activated by selecting the required time and then choosing OK from the remote control. If you want to turn it off, use the "Off" option from the menu.
FAQs
Can you set a Samsung TV to turn off at a certain time?
After turning on your television, use the button on the remote control labelled "Menu" to access the on-screen menu. Use the arrow keys to scroll down, then select System when you get there. Keep scrolling until you reach Eco Solution. To select the "Auto Power Off" option, scroll down.
How do I turn off sleep mode on my Samsung TV?
Navigate to Home > Menu > Settings > All Settings > General & Privacy > System Manager > Time > OFF Timer utilizing the remote control that came with your TV. If the Sleep Timer has not been turned on, check to see if the Auto Power Off or Off Timer feature has been turned on, and then turn those features off.
Why does my Samsung TV turn off after 4 hours?
There is a possibility that a Sleep or Off Timer is to blame if you find that your Samsung TV turns off at regular intervals at a predetermined time. In addition, Samsung TVs come with a feature known as Auto Power Off that is activated by default. This is a setting that will save electricity by reducing the brightness of your TV screen and turning it off after a period of inactivity that lasts for four hours.
Why does my Samsung TV turn off after 15 minutes?
When there has been no input for an extended time, the Eco Solution function will switch off the television to save power. After a predetermined amount of time, the Sleep Timer switches off the television. Make sure the software on your TV is always up to date.
What is auto power off on Samsung TV?
Auto Power Off is one of the features of a Samsung Smart TV that gives you greater control over the amount of time you spend in front of the television. You can program the TV so that it will turn off at a predetermined time.
How many hours can a Samsung TV last?
It takes an LED around 40,000 to 60,000 hours, which is roughly 4.5 to 6.8 years, to reach its average lifespan when it is set to its maximum or close to its maximum brightness.