Pipedrive vs Salesforce : Which One Is Better for You?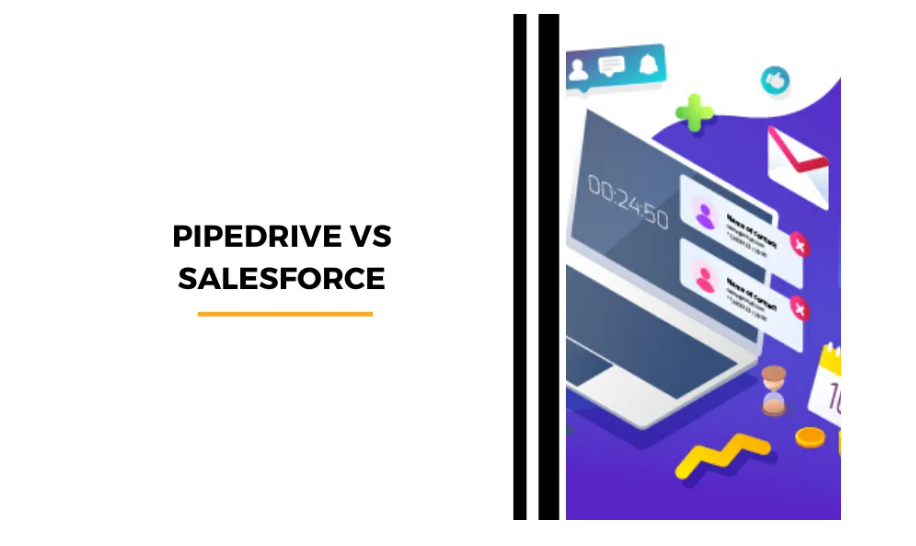 In this section of our Pipedrive vs. Salesforce comparison, we will be analysing and contrasting two very effective CRM (customer relationship management) systems to assist you in making an informed decision on which solution is ideal for your company.
CRM solutions provide access to a broad variety of helpful features, each of which is designed to make your life simpler. You will be able to quickly follow the development of pipelines and see the success of your sales team since their primary purpose is to centralise all of the information that pertains to clients and sales in an one location.
The CRM software is meant to make the life of the sales team simpler since there are a lot of complicated duties involved in completing sales. It does this by enabling the sales team to coordinate their efforts and focus on particular tasks in order to achieve their objectives.
They also save wasted time by automating some operations, which is why it is so crucial to consider making an investment in CRM software if you want to be more efficient. If you want to be more efficient, you need have a better understanding of your customers. Small eCommerce firms and large enterprises alike will find that managing sales is much less difficult and stressful after using a reliable CRM platform.
First, let's take a look at the many ways in which Pipedrive and Salesforce vary from one another.
Main Differences Between Pipedrive vs Salesforce
The following are the primary distinctions between the two:
Pipedrive is simple to use, even for inexperienced users, while Salesforce may be challenging to master.
Pipedrive provides customer relationship management software, while Salesforce provides CRM in addition to a wide variety of other products.
Pipedrive excels in working with straightforward enterprises, but Salesforce's capabilities extend to the management of even the most complicated organisations.
Pipedrive provides just the most basic lead management features, but Salesforce's lead management solutions may be customised to a greater depth.
In contrast to Salesforce, Pipedrive does not include social media monitoring capabilities.
In contrast to Salesforce, Pipedrive does not provide its team members with access to leadership boards.
In contrast to Salesforce, which provides more sophisticated features, Pipedrive prioritises making things as simple as possible. Pipedrive is very simple to take up, however Salesforce is more difficult to use and is somewhat more difficult to traverse. Both of these factors contribute to the fact that their learning curves are different.
Nevertheless, they have a great deal of similarities as well.
Pipedrive vs Salesforce: The Similarities
Both systems provide you with an unmistakable picture of active transactions.
Both systems enable you to effortlessly manage calendars, goods, and contacts. Additionally, both systems enable you to automate time-consuming administrative procedures.
Both of these platforms offer app stores.
Both offer applications for mobile devices.
Both provide reporting and forecasting that is transparent as well as thorough.
Both provide a variety of price levels as well as free trials.
Both systems, as you can see, have a lot to offer sales teams in the way of tools and resources that help simplify their work and make their lives simpler.
Let's have a look at the characteristics of each one, beginning with Pipedrive, so that you can acquire a better understanding of how each one functions. Pipedrive is our first stop.
Pipedrive vs Salesforce: What is Pipedrive?
Pipedrive was established in the year 2010. It is a tool for the sales funnel that allows users to successfully conclude transactions (up to 28 percent more after the first year, according to their website). This indicates that it is a popular platform, since it is used by 90,000 sales teams throughout 179 countries.
Users are able to configure their own pipelines with actions, monitor their progress toward their objectives, and set up automation to reduce the amount of time spent on administrative activities. It asserts to be the first CRM platform created for salespeople, by salespeople, and it is designed for sales teams of any size who want to keep track of their pipelines by using a platform that is both straightforward and visible.
Pipedrive vs Salesforce: What is Salesforce?
Since Salesforce was established in 1999, the company has a total of more than 20 years of expertise. Salesforce is a customer relationship management (CRM) system that combines various functions onto a single platform, providing users with capabilities for marketing, sales, commerce, and customer care. It features a booming app store that allows users to further personalise their experience, and it is utilised by more than 150,000 clients all over the globe, including some very large businesses.
It works very well for bigger businesses that want to provide a unified, branded experience for their consumers as well as for the members of their sales teams.
Pipedrive vs Salesforce: Features of Pipedrive
Lead and Deal Management
Pipedrive provides many different options for managing leads and deals.
The sales pipeline builder is without a doubt the most apparent tool. The user may quickly design a customised pipeline that is tailored to their needs by using an interface that consists of drag-and-drop functionality; features and tools can be toggled on and off as necessary.
The pipelines are transparent, allowing users to view everything in its entirety; it provides a rapid assessment of the pipelines' health and places a strong focus on the parts that need improvement. Users have the ability to browse pipelines using filters and receive sales analysis (more on this later).
The pipeline builder makes it possible for sales teams to maintain organisation, which eliminates the need to spend time looking for information. New team members may be added at any moment, and even the most complicated sales funnels can be seen in their entirety and understood.
It is not difficult to include information such as notes, activities, significant information, and contact data in connection with each sale.
Users are granted the ability to qualify fresh leads at any given moment, and the chatbot may even automate the arranging of appointments. Users have the ability to specify questions and replies, which will then direct leads to display in Pipedrive in the appropriate places. The chatbot is able to schedule meetings in accordance with the availability of the sales representative and will do so by automatically synchronising with their calendar.
There are also further features available. Members of the sales team have the ability to develop unique online forms for the purpose of capturing information from prospects. Additionally, they have the ability to create a product catalogue that includes information that is specific to each product. Products may be associated with certain business transactions, customers, and relationships.
They also provide transaction probability, which is an additional estimate of the likelihood that the deal will be won. When a contract has been inactive for a certain amount of time, sales teams may be automatically reminded about it.
Communications Tracking
Users have the ability to create a large contact database that includes both persons and organisations. Importing contacts from spreadsheets, other customer relationship management systems, Google Contacts, or Microsoft Outlook is possible.
Users are able to send and receive emails from either their work email or personal Pipedrive inbox thanks to the two-way email sync feature, which also allows users to see both inboxes at the same time. In addition, they provide real-time alerts whenever emails sent through Pipedrive are viewed, as well as email templates that may be used to save time when corresponding in the future. Emails may also be sent in bunches, which is analogous to lead segments.
Hands-free calling is an option for when users make phone calls straight from inside Pipedrive. This makes taking notes a little bit simpler, and calls can be automatically entered as completed tasks in the sales funnel. This makes taking notes a little bit easier. Calls may be recorded and the resulting audio files can be downloaded.
Users are able to establish their availability using the scheduler and then share that link with the other people on their team and with contacts. Additionally, it makes it much simpler to organise gatherings.
Users are able to effortlessly plan emails, phone calls, and meetings with the help of the built-in calendar, which syncs with a number of different providers including Google and Outlook. You also have the option of setting reminders to be sent to you via email or as a notice via the website or mobile app.
Automations
Pipedrive provides a sales assistant in the form of individualised recommendations and suggestions based on your pipelines. These might include advice on performance and automation.
Time-consuming activities related to sales administration may be automated. This involves generating new deals whenever a new contact is added, transferring ownership of existing deals to other sales people, generating new activities if a transaction advances in the pipeline, and sending emails whenever new deals are generated.
You are able to simply define triggers and desired results, which will save you a significant amount of time that would otherwise be lost on administration.
Reporting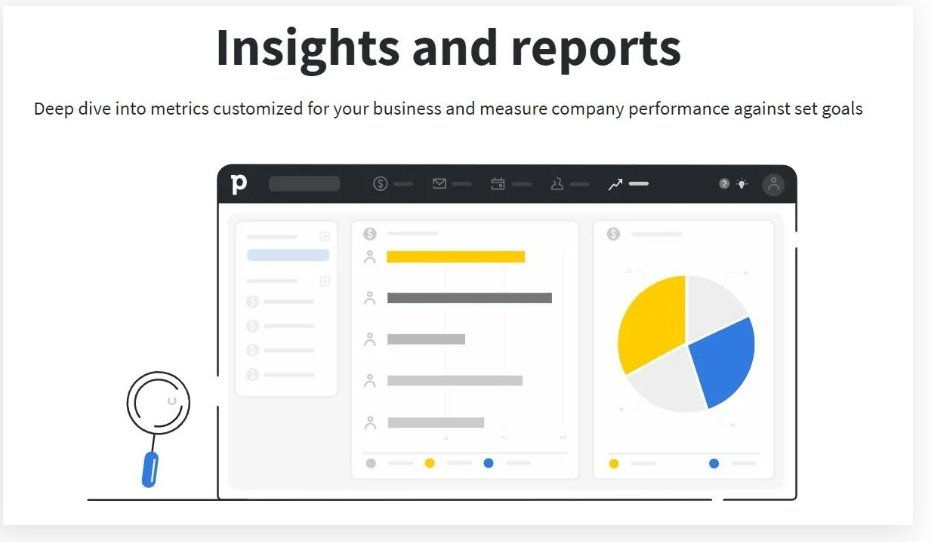 Users have the ability to design charts that are both easy to understand and aesthetically beautiful to look at. These include activity reports that illustrate how well the team is functioning, reports on completed sales activities, and sales reports that sync with the product calendar so that it is easy to examine goods that are selling the best.
In addition to this, they provide forecasting to present a prognosis of the amount of money that your company should earn (based on a variety of factors including expected close date of some deals, and the probability of currently open deals).
This is a useful tool for sales teams because it gives them the ability to either locate new offers to replace existing ones or modify the course of current deals that are unlikely to be successful.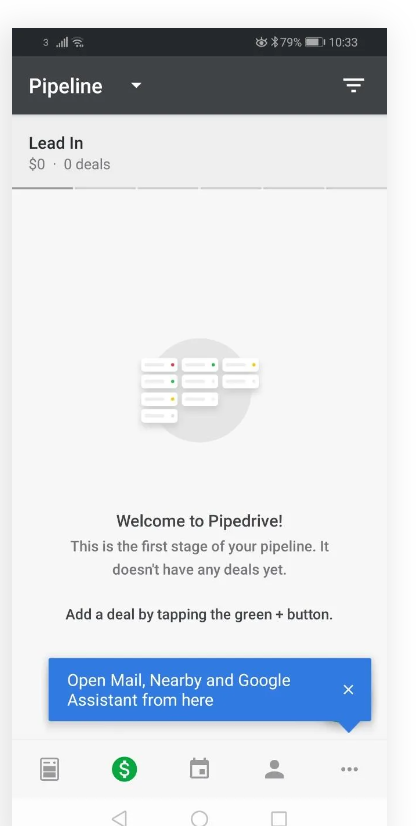 The Pipedrive mobile app is not only free, but it also enables you to access your pipelines, calendar, and contacts when you are on the move. Additionally, the app is quite easy to utilise.
They also provide a marketplace for apps, which enables you to further tailor your experience to your preferences.
This paves the way for further integration possibilities inside the experience, despite the fact that it does not offer nearly as many applications as Salesforce does (as you will see in the next paragraphs). They do provide connectivity with well-known email marketing systems as well as social networking platforms in the form of an API.
Pipedrive vs Salesforce: Features of Salesforce
The primary sales application offered by Salesforce is known as Salesforce Sales Cloud. It is possible to subscribe to it on its own or in conjunction with other Salesforce plans, and it provides capabilities that are comparable to those offered by Pipedrive. Let's look into Sales Cloud in depth.
Opportunity Management
Opportunity management in Salesforce Sales Cloud provides you with a schedule of actions for each offer, providing you with a kind of sales management perspective very similarly to the pipeline approach that Pipedrive provides. Users are able to track activities, monitor where they stand in various transactions, and get notifications when actions are done all from the convenience of a single look.
When compared to Pipedrive, the fact that you may get accurate quotations right away by keeping track of items sets this apart from the competition (including quantity, standard price, quoted price, and product codes).
You have the ability to build up revenue schedules that will match payment terms, and you can also have an automated quotation generated based on client data. The Salesforce Sales Cloud will save you time by automatically generating a PDF based on a template that you choose.
The timeline function will provide you with information about the performance of your rivals as well as the actions you need to do in order to come out on top, including automatic updates indicating when you need to take some kind of decisive action.
You can also simply draw in colleagues to work on a sale with just a few clicks. This is ideal if you know a specific team member is talented in one area that needs development and you want to enhance it.
Lead Management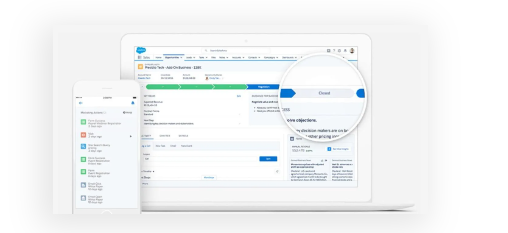 The way that Sales Cloud handles lead management is one of its primary strengths. Users have the ability to see where the lead originated, to appoint the lead to a particular salesperson, and to compose and monitor emails directly from the platform. The scoring of leads may be automated, and sales people can be prompted to get in touch with leads as soon as possible.
There is the ability to monitor marketing efforts across all platforms. This enables you to manage, measure, and observe the direct effect that your social media and email marketing initiatives are having on sales from a single location.
Contact Management
Data pertaining to customers may be accessed with little effort, and this includes essential contacts, a history of conversations, and social insights. You can also bring in social data from LinkedIn, Facebook, YouTube, and Twitter, which enables you to see what consumers are saying about your business on those platforms. This gives you the ability to proactively address any difficulties that clients may be experiencing or fill gaps in their requirements.
The Sales Cloud provides a variety of email integrations as well as PDF templates that can be used for a variety of reasons. This will save you time in the long run when it comes to developing specific emails. Both PDFs and emails may be modified to reflect your company's identity.
Sales Collaboration Dashboard
The Sales Cloud is a platform for collaborative work. Users are able to quickly contact other members of the sales team for assistance in completing tasks, and they are also able to effortlessly exchange persons, files, and information inside the context of the website or mobile application. The ability to search for and locate experts on certain topics is one of the many benefits of doing so.
Automations
Sales Cloud automates a lot of admin tasks – this includes sending emails automatically and sending out quotes without you needing to create them manually.
Reporting Dashboard
Users are able to generate reports via the use of a drag-and-drop interface, which makes it simple for them to generate charts and tables, which can then be sent to other members of the team.
Users are also able to examine consumer metrics when they are on the road thanks to the mobile app.
The forecasting on Sales Cloud is rather detailed, and it provides managers with frequent updates to assist them in deciding what actions to take next. These are acts that can be simply communicated to representatives. You are able to monitor the progress of individual players (through real-time leaderboards) as well as the progress of the squad as a whole.
Overlay Splits enable you to examine the forecast based on overlays, which makes it possible for more complicated enterprises to evaluate how each department contributes to total sales.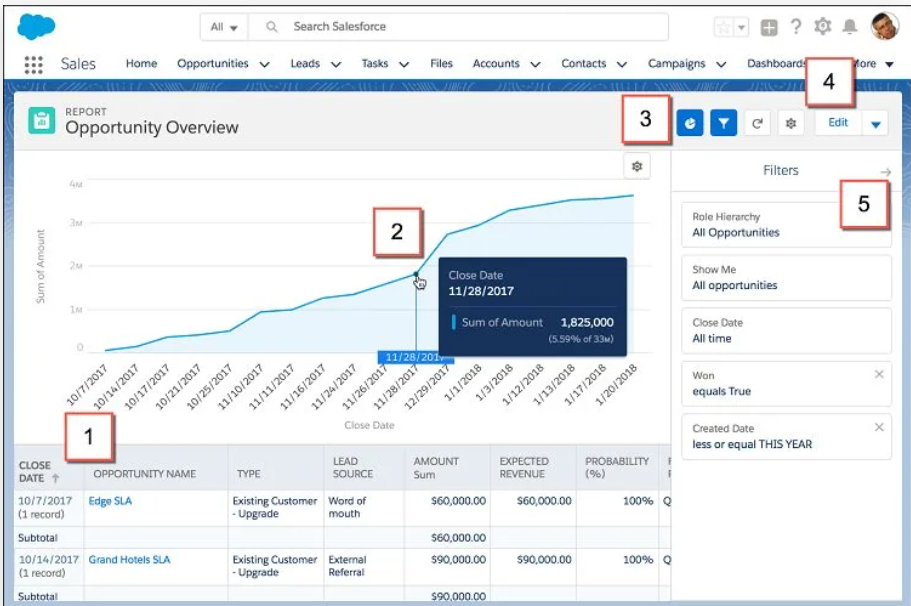 Users are able to generate reports via the use of a drag-and-drop interface, which makes it simple for them to generate charts and tables, which can then be sent to other members of the team.
Users are also able to examine consumer metrics when they are on the road thanks to the mobile app.
The forecasting on Sales Cloud is rather detailed, and it provides managers with frequent updates to assist them in deciding what actions to take next. These are acts that can be simply communicated to representatives. You are able to monitor the progress of individual players (through real-time leaderboards) as well as the progress of the squad as a whole.
Overlay Splits enable you to examine the forecast based on overlays, which makes it possible for more complicated enterprises to evaluate how each department contributes to total sales.
Mobile App
Users of Salesforce may edit data, see information, and keep track of their calendars using an app that is available for download on the Salesforce website. However, due to the fact that it incorporates a large number of functionality into a single programme, some users have complained that it is rather difficult to use.
Other Dashboard Features
Sales Cloud is simply one of several divisions that make up Salesforce. There is also something called Support Cloud, which is primarily geared at companies who provide comprehensive customer service and is packed with capabilities that cater to that need. You have the option of using either Sales Cloud or Sales Force, or you may combine the two.
In addition to that, they provide access to a massive and continuously expanding app market, which enables you to tailor your experience even more. (If you want to learn more about some of the top Salesforce applications, check out our guide here.)
Pipedrive vs Salesforce – Pricing
Pipedrive Pricing
Pipedrive has four pricing plans:
Essential Plan – $15 per month – includes basic features to organize activities and pipelines
Advanced Plan – $24.90 per month – includes basic features plus sales force automation
Professional Plan – $49.90 per month – includes most features including forecasting
Enterprise Plan – $99 per month – includes custom onboarding and customer support
Salesforce Pricing
Salesforce Essentials – $25 per month – includes account and contact management, customizable sales actions, opportunity management, task management, and basic features
Lightning Professional – $75 per month – includes deeper lead management features, the sales console app, mass emails, and campaign management
Lightning Enterprise – $150 per month – includes many more features in lead management, customer management, and forecasting.
Lightning Unlimited – $300 per month – includes the sales process builder tool to make unlimited profiles and page layouts, full sandbox components for coding, and premier resources.
Service Cloud is another component of Salesforce's platform, and it is responsible for providing customer support. In order to realise cost savings, it is possible to subscribe to both this and Sales Cloud simultaneously.
Customer Support Compared
Pipedrive Customer Support
The knowledge library offered by Pipedrive is very user-friendly and extensive, consisting of setup manuals, webinars, videos, and frequently asked questions.
They provide a lively forum with a community of people that may be connected with.
They also provide something called the Pipedrive Academy, which is a series of courses designed to teach consumers how to get the most out of using their services.
In addition to that, they provide help via both email and live chat.
Salesforce Customer Support
The knowledge base offered by Salesforce is less user-friendly; while it has videos, frequently asked questions (FAQs), and tutorials, it is more disorganised and difficult to use.
They provide several programmes covering a wide range of topics, such as classes geared for users, administrators, marketers, and developers respectively.
You may get in touch with Salesforce either using their live chat feature or by leaving a note for one of their representatives to respond to.
FAQ's
Which companies use Salesforce?
Salesforce is used by a number of large firms, including Toyota, U.S. Bank, Spotify, and Amazon Web Services, among others.
Is Salesforce good for beginners?
Beginners may struggle using Salesforce – it's got a fairly steep learning curve.
What is the difference between Sales Cloud and Service Cloud?
Sales Cloud is designed for sales teams who want a centralised location to handle all of their accounts, contacts, leads, and transactions. Care Cloud is a cloud computing platform that assists businesses in managing their customer service departments by providing a wide variety of capabilities that are geared at enhancing the customer experience.
Conclusion
So, if you want to monitor sales, keep an eye on deadlines, assign tasks, manage contacts, and produce extensive reports and projections, any one of these systems would be ideal for you.
They vary in terms of the sort of enterprises they may service.
If you are a smaller firm, you're new to CRM, or you simply want to keep things simple, Pipedrive is excellent. It simplifies a lot of business process functionality, will save you a tonne of time on admin activities, and offers you a basic, easy-to-understand overview of your pipelines.
It makes organising the calendars of each team simple, too. Despite being aesthetically pleasing, it's no lightweight in terms of capabilities – and the extensive reporting and forecasting is a great tool to employ for any sized firm.
It's also a simple platform to utilise. With a small learning curve and enough of guidance from the support centre, Pipedrive is fantastic for novices and hassle-free for professionals in CRM skills, too.
However, Salesforce is a power to be reckoned with. Used by big enterprises throughout the world, it's considered as one of the most powerful CRM systems out there.
Even the most complicated of organisations with numerous distinct missions can readily view and track their sales, and the flexible nature of the software means you can work with Salesforce to develop something that genuinely meets your needs. The app marketplace is enormous, meaning greater customisation, and the reporting and forecasting are just as strong as Pipedrive's.