How to Fix Roblox Technical Difficulties (7 Reasons)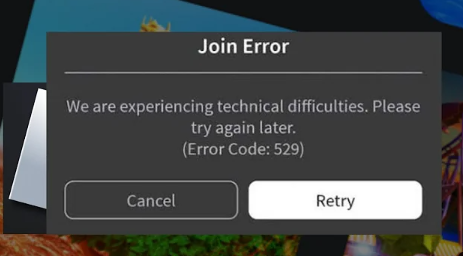 There are several possible reasons why a player may encounter the message "we are experiencing technical difficulties" when attempting to play Roblox.
Seven most common causes include:
The player's internet connection is unstable or too slow.
The player is using an unsupported browser or an outdated version of the browser they are using.
The player's device does not meet the minimum system requirements to run Roblox.
The Roblox servers are experiencing high traffic or are undergoing maintenance.
Issues with the player's account, such as a temporary ban or account deactivation.
Issues with the player's device, such as an outdated operating system or outdated hardware.
Issues with the player's network, such as a firewall or security software blocking access to the Roblox servers.
There are so many error codes that you might face every another day. Sometimes you need to fix these errors and sometimes just trying to play roblox after sometime can simply fix the problem.
What is error code 529 on roblox
Error 529 is a common issue that can occur when playing Roblox.This error can indicate a variety of issues, including an HTTP error. Which means the client is having trouble connecting to the web service, or a technical issue with VIP servers. It could also be due to a server outage or scheduled maintenance. So, you don't need to worry.
Method #1
One solution is to check the internet speed by using a speed test tool.
If the internet connection is poor or not strong. You should restart the router or contact their broadband provider.
Method # 2
Another solution is to log out and log back in Roblox Mobile app or PC.
Follow these steps:
Tap the "More" option on the navigation bar
Select "Settings"
Tap the "Log Out" button
Tap "Log Out" again in the pop-up window
Log back in by entering the username and password
Method # 3
You can try restarting your device and wait for a few minutes before launching the game again. You can also switch from using the web-based version of the game to the app version this might help you.
If none of these solutions work, it is likely that the problem is on the company's end. You should check the roblox.com the official website and their social media accounts for more information and updates.