How to Fix Unexpected Client Behavior Roblox PC – Error Code 268 (Fixed)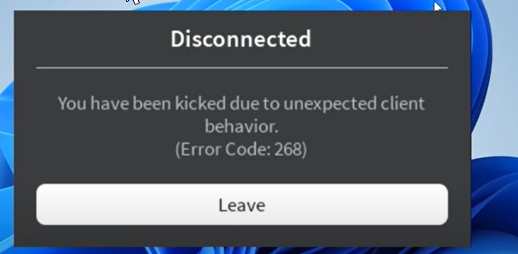 If you have been just kicked out of roblox game because of unexpected client behaviour issue then don't worry we have got you covered. Welcome to irnpost.com we will discuss here how you can fix the issue and never get kicked out of roblxo again because of any issue.
First of all why did this happen and you got kicked out of roblox?
It most probably happened due to some bug in your system or some cache loading issue but we have the solution for it. All you have to do is just to follow the procedure and resolve this issue forever.
Is Roblox Server Down?
Check if roblox server is down, visit roblox website and find out. If it is their server is not down then it means its all good it was just little bit issue from your side.
Delete XML files From App Data in Roblox
Deleting xml files from your app data in roblox folder will help you if the issue is not from the side of roblox server. There are 3 number of xml files that you need to delete. Right click on roblox, select open file lcoation and navigate to roblox folder, now delete files with extension .xml, and cfg.
Roblox just made an update in which it automatically kicks out roblox user randomly and to fix this issue you need to delete temporary files.
To do this go to the temp folder and delete all the temporary files. Note that it will not delete any of your personal files after doing this procedure just restart the PC and see roblox working again.
Other than this procedure we have got another way to fix the error code 268. To fix this error you would need to flush all the dns server and for that you would need to use command prompt and delete all the cache files.
How to Run Command Prompt and flush dns server?
Press the widnows button from your keyboard and type cmd, then press enter. A black screen will appear it is command prompt. Now type or copy paste this command into it ipconfig /flushdns. It will flush all your dns and config files now execute netsh winsock reset. After doing this you must restart your system and also restart roblox game. It will work smoothly now and you won't get error code 268 again and you won't get kicked out of roblox again.
If the given above method doesn't work for you then try changing the dns settings.Now make changes in your dns setting, set your dns setting to 8.8.8.8 also change alternative dns server to 4.4.4.4. After updating dns server now restart your system and launch roblox.
Go to your control panel in windows click on wifi or Wlan settings. There you can find the option to change DNS. Use the given above dns record changes and your issue of error code 268 would be resolved in a blink of an eye.