How to Delete Your YouTube Channel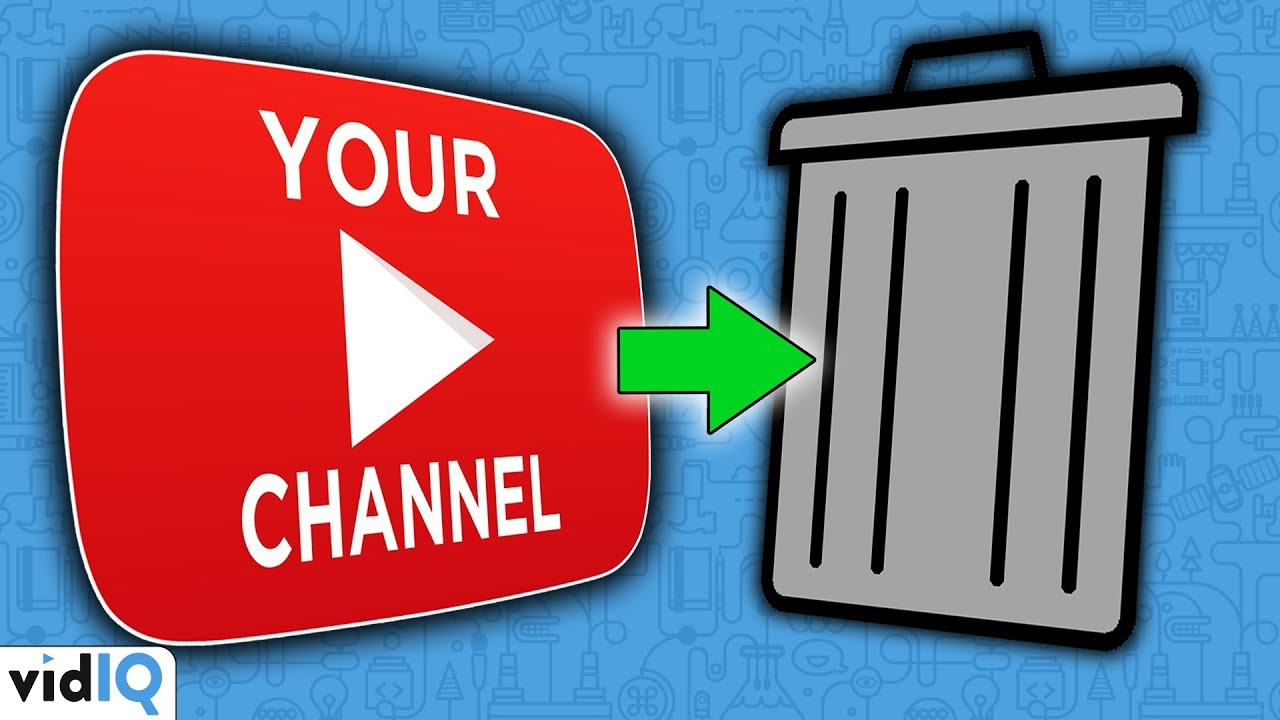 YouTube has been operating for about two decades at this point.. And if you've been around since the beginning, it's possible that your channel has some humiliating old videos that you don't want anyone to view. Whatever the cause, it doesn't take much work to deactivate a YouTube channel. When you delete your YouTube channel, you also delete all of your videos, comments, playlists, and other content. And after you've deleted your account, you'll lose access to all of your previous data, which will be lost forever.
In the event that you desire a less permanent option, you may also choose to conceal your channel, which will make everything on your account private to everyone else but you. Your private channel can be made public again at any time, but all of your comments and responses will be permanently removed.
Here's how to either permanently remove or temporarily conceal your YouTube channel.
Read Also: How To Lock The iPhone Screen When Watching YouTube
How to Delete or Hide your YouTube Channel
The procedures for deleting and hiding your YouTube channel are substantially identical.
1.Launch a web browser and sign into the YouTube account that you wish to erase from the system.
2. Scroll down to the bottom of the left-hand side of the site and choose Settings.
3. In the Your channel section of the Account tab of the Options menu, select the View advanced settings option under the Account tab.
4. Select Delete channel from the drop-down menu. If necessary, you may be required to enter your password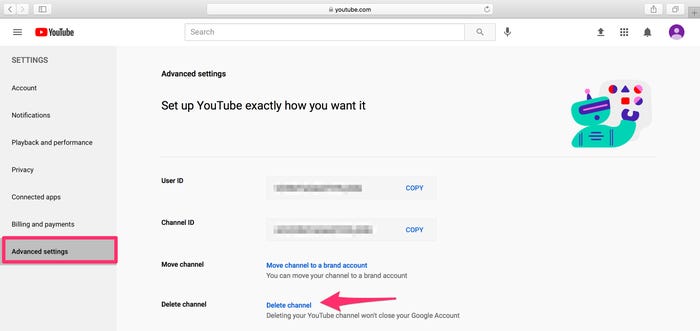 5.The following screen will give you two options: I want to conceal my material and I want to permanently remove my content. Choose the first option to hide your content. Select the one that best suits your needs.
6. A drop-down menu will appear, allowing you to select which items will be permanently removed or hidden. To proceed, you must select all of the boxes and then click on either the Delete My Content or Hide My Content option in the bottom right corner.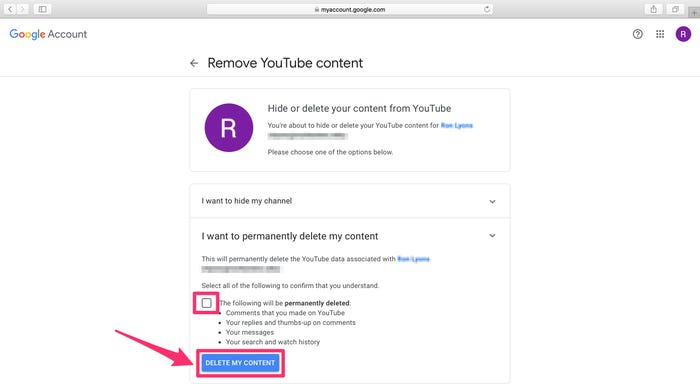 7. A pop-up window will appear, requesting confirmation that you wish to have your material hidden or removed. It is possible that you will be prompted to provide your email address as well.
8.Delete My Content or Hide My Content should be selected once more.
The moment you click on the final button, your channel will be permanently removed. Channels containing a large amount of content may take a little longer to erase, but it should just take a few seconds in the majority of cases.
Keep in mind that once an account is deleted, it is gone for ever. However, if your channel has been hidden, you may always make it visible again by filling out a form on the website.
What Happens When You Delete Your YouTube Channel
When you deactivate your YouTube channel, all of your posted videos, comments, messages, playlists, and history are removed from the site. This does not, however, result in the deletion of your YouTube (Google) account.
YouTube will also terminate your YouTube TV, YouTube Premium, and any channel membership subscriptions that you may have had with the company. You will be allowed to continue to utilize these subscriptions until the end of your paying cycle has been reached.
It is possible that thumbnails from your channel's videos will continue to surface in some places on YouTube. This is due to the fact that YouTube will require some time to completely remove all of your content off the site. The analytical data for your channel will continue to be included in YouTube Analytics, but it will no longer be associated with your specific channel.
Video
FAQS
How do I delete YouTube videos from my Android phone?
Step 1: Log in to YouTube using your mobile device.
Step 2: After that, select Library, followed by My videos.
Step 3: Select More from the drop-down menu next to the video you wish to remove, and then touch on Delete.
How do I remove videos from my YouTube channel?
YouTube's legal online forms are available for use by anybody who wishes to have a video deleted from the site due to copyright or trademark infringement, defamation, or any other legal cause (link in Resources). Choose the relevant sort of legal complaint and complete the form in the appropriate manner.