How to Get and Check Accolades in Fortnite (Chapter 4 Season 2)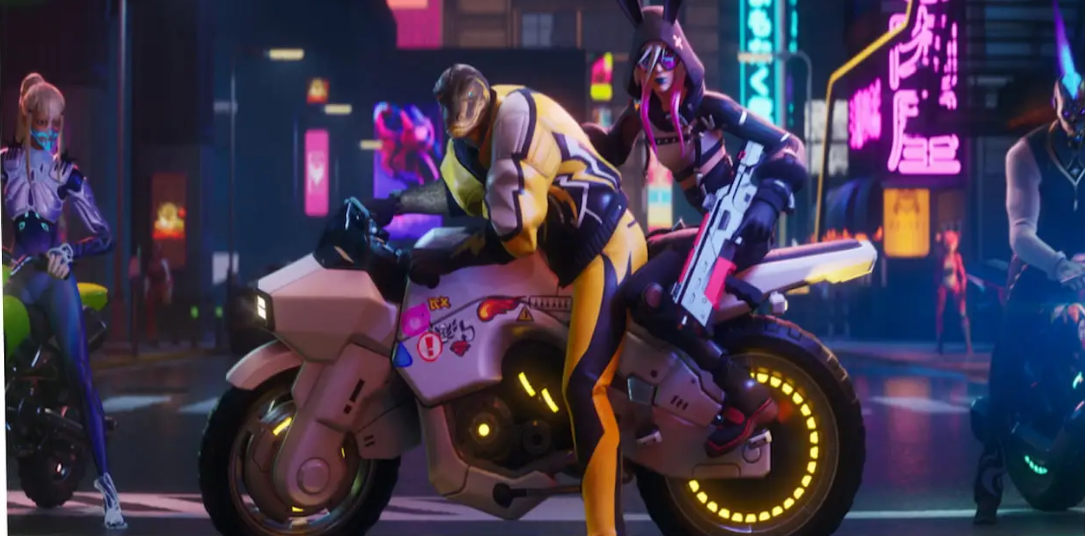 Accolade gathering is one of the numerous tasks that have been put before you to perform in Fortnite during this season. Accolades are considered to be 'Milestone Quests,' which indicates that there are many rewards in store for you if you are successful in gathering them. If you've looked through the Milestones missions in Fortnite, you've probably noticed the 'Acquire Accolades' quest that became available to players at the start of Chapter 4 Season 2 and may be completed at any time. Accolades are a desirable commodity in the game Fortnite, and this article will show you how to obtain them. So let's get started:
Read Also: How to Defeat Boss Cube Monster in Fortnite
How to Get and Check Accolades in Fortnite (Chapter 4 Season 2)
How to Get Accolades
Earning accolades requires nothing more than unlocking them by fulfilling the requirements outlined for each individual honour. It might be as easy as making it to the final 25 players, becoming the first person in a match to search a chest, or discovering new landmarks or designated locations on the map, for instance, as a way to earn this achievement.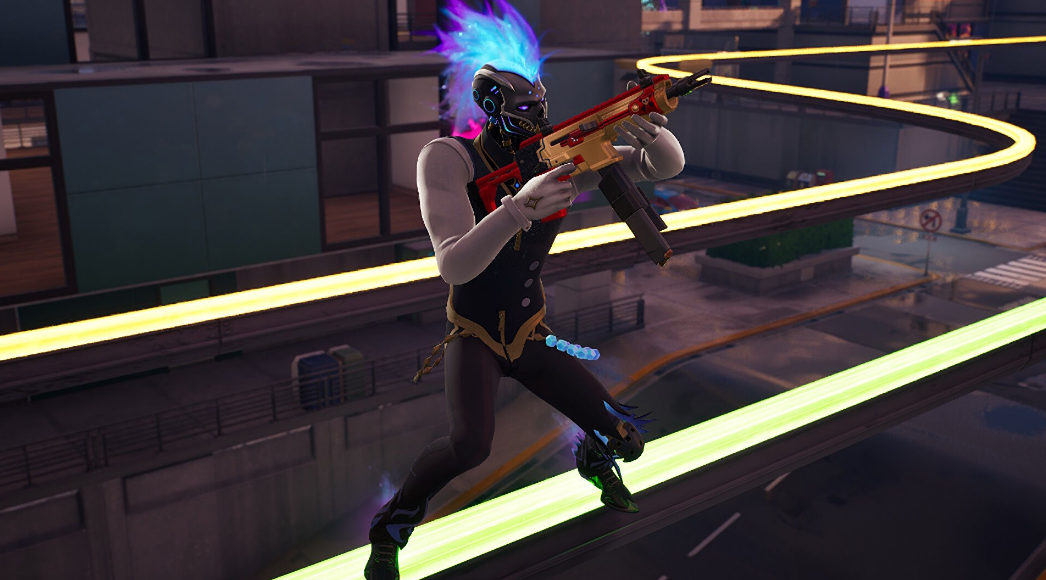 The following is a list of the awards that we unlocked as a result of just one match:
Survivor III – 10 Players Remaining.
Monumental Monarch – Claim a named location.
Survivor II – 25 Players Remaining.
Survivor I – 50 Players Remaining.
Headshot – Knock or elim with a headshot.
Shotgun Expert – 500 Shotgun damage in a match.
AR Expert – 500 Assault Rifle damage in a match.
Gilded Glory – 100 Bars collected in a match.
Checking Accolades
A notification in the form of a small gold star will appear at the very top of the screen once one of the game's achievements has been completed. This message will inform you of the name of the accomplishment, what you needed to perform to get it, and how much experience you have gotten as a direct result of achieving it.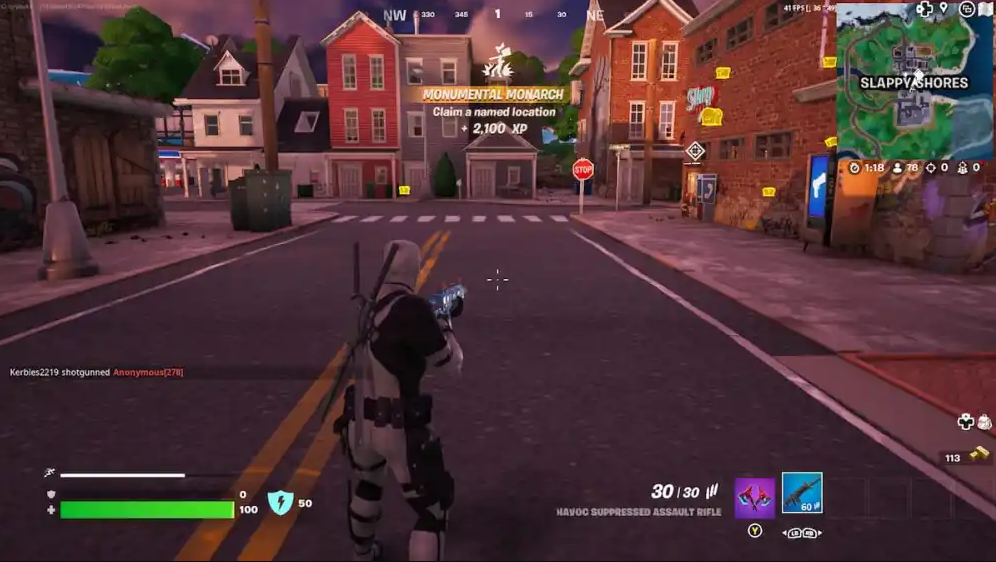 If you select the Match Stats option when a match is over, you will be given access to a list of all of the achievements that you have earned while playing that particular game (by pressing X on Xbox, Square on PlayStation, Y on Nintendo Switch, or E on a personal computer).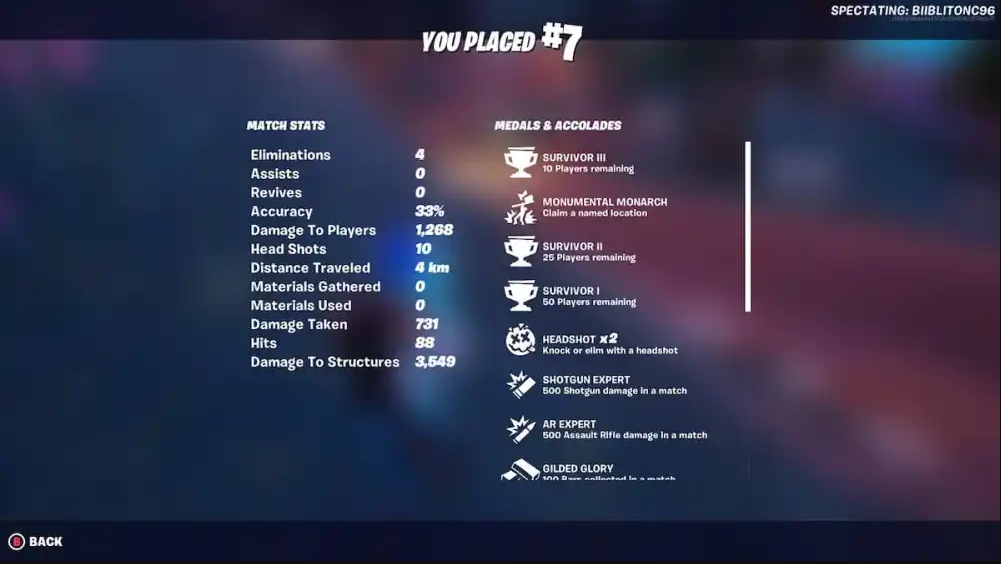 FAQs
When was accolades last in the item shop?
The Fortnite Item Store is where you'll find the option to purchase the Accolades Emote. On February 11th, 2023, Accolades were made available to customers for the very final time. It is currently uncertain when or if it will be available again in the Fortnite Item Shop in the future.
What is the XP cap for accolade in Fortnite?
The Accolade XP Cap costs a hundred thousand. This experience is simply the experience gained by completing the mission. Quests have a maximum XP cap of 417k. You can acquire this through completing Weekly Quests, Daily Quests, Event Quests, and so on.
Do you get a reward for reaching level 100 in Fortnite?
Note: If you purchase the Battle Pass, you can continue to level it up beyond level 100; but, there are no additional rewards for levels beyond level 100. If you do not buy the Battle Pass, you will not be able to advance your level beyond 100.
What is the free XP Island code in Fortnite?
Join other players on the Fortnite XP map.
To accomplish this, either go to the Creative mode hub or select the game mode selection from the main menu and then select the Island Code tab. To join the island, you will need to input the code 1004-5222-9786 and do so using the private matchmaking service. It is not possible to enter the Fortnite XP map by using the public matchmaking service.
Why do I get less XP in Creative?
When someone uses an award, the amount of experience points they gain is reduced. If they refrain from using the same honour for a period of time, their XP gain will gradually increase. In order to enhance the functionality of this mechanism, Epic Games added a daily reset system.
Who has the highest XP in Fortnite?
The more you play each mode, the faster you will get, and the less time it will take you every day to achieve the cap of 600,000 XP, which is equal to eight battle pass levels. If you have already reached this cap, continue playing each mode until you hit the cap.