How to Get Forerunner in Destiny 2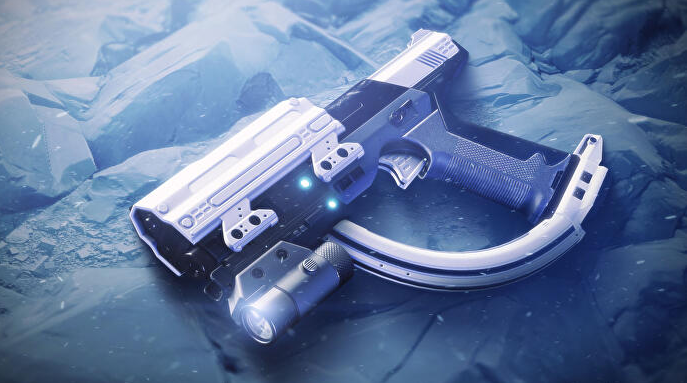 In Destiny 2, players who have completed the Magnum Opus objective will have the opportunity to obtain a new Exotic Sidearm called Forerunner. For those who have been playing Bungie games for a while, it may come as a pleasant surprise to learn that the Forerunner was really modelled after the magnum from Halo: Combat Evolved, which is well-known for its capacity to shred adversaries. Let's get started on one of the things you should try to complete as soon as possible, which is unlocking the Forerunner ability.
Read Also: How to Get Without Remorse in Destiny 2
How to Get Forerunner in Destiny 2
To gain Forerunner in Destiny 2, you must finish the Exotic mission, Magnum Opus. Within his Treasure Hoard, Xur will present you with the opportunity to accept this mission. You will not be able to acquire the quest until you have finished the previous one, "To the Daring Go the Spoils." When you purchase the Bungie 30th Anniversary Pack, you will automatically receive this bonus item.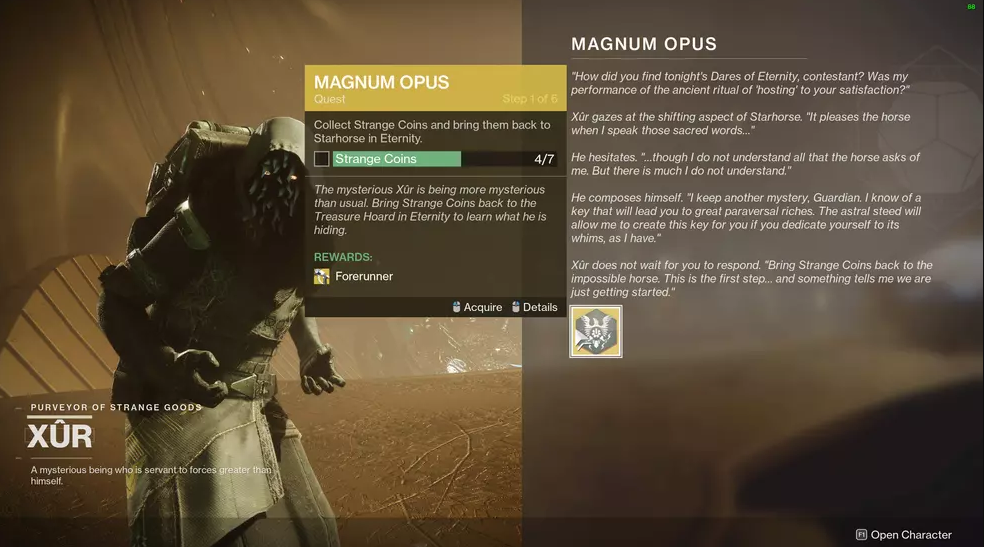 The following is a rundown of the procedures required to complete the quest "To the Daring Go the Spoils":
Obtain a successful completion of the Dares of Eternity.
Xur's Treasure Hoard contains a chest that must be opened.
Talk to Xur about it.
You will be able to obtain the Magnum Opus quest after speaking with Xur and reviewing the other notifications that have been given to you.
1. Accumulate a total of 7 Unusual Coins
The first step in completing the Magnum Opus quest for the Forerunner is to amass a collection of Strange Coins. You'll need to get some fresh air and get seven Strange Coins in order to advance to the next difficulty level.
2. Complete three different Starhorse-related bounties.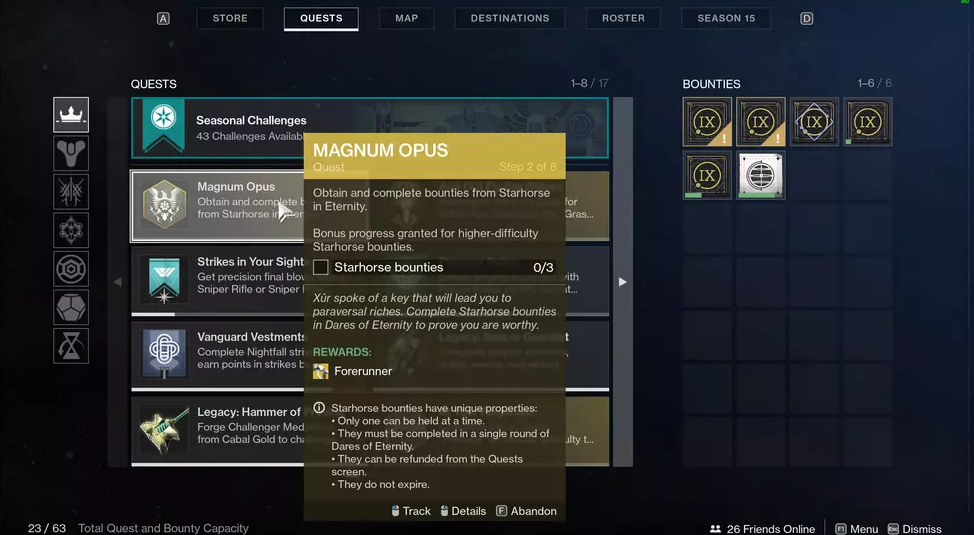 You have been given the task of completing three different Starhorse bounties. You can purchase these from the horse that is located inside of Xur's Treasure Hoard. You can only hold one of these at a time, and they cost Strange Coins, so make your selection carefully. In addition, the bounties have to be accomplished in a single attempt through the Dares of Eternity.
3. Strange Favor rank Brave
To finish this step, you need to raise your level of Strange Favor to the Brave level. This can be accomplished by completing the bounties offered by Starhorse, by Xur, and by taking part in the Dares of Eternity. When you reach rank 4, the Strange Key will become available to you.
4. Communicate with the Starhorse
That's right, you need to visit the spectral horse and have a conversation with him in order to finish this phase.
5. Strange Key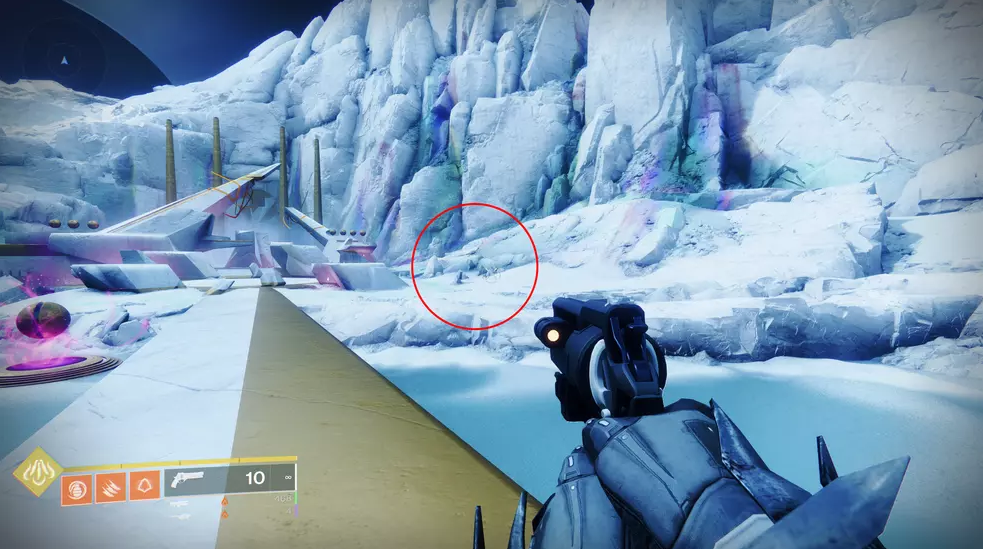 You will need to make use of the Strange Key that you obtained earlier at this point. Proceed out into the Valley and turn right when you reach the area where there is a jumble of rocks. You'll need to look for the small, smooth, rectangular stone that protrudes from the rock; here is the location where you'll utilize the key.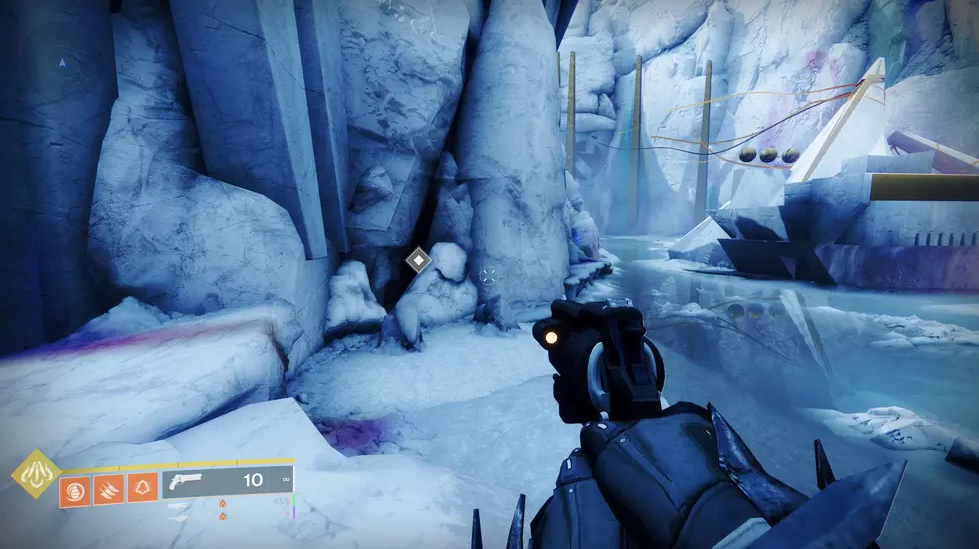 Following that, you will be tasked with solving a short jumping challenge located within a nearby cave. There will be a waypoint displayed on your HUD that will take you through a small opening in the wall. Proceed into the cave and explore it to the best of your ability. There will be floating spheres arranged in a circle; you'll need to jump over them to reach a wall with a series of little ledges. As you make your way up the slope, you'll need to hop from ledge to ledge until you reach a small area with movable pieces on the wall. If you keep climbing these blocks, you will finally reach a small cave that has a cryo pod lying on the ground inside of it. You will acquire the item you need for the task once you open the cryo pod.
6. Communicate with the Banshee-44.
To get the Forerunner Exotic Sidearm, you will need to make your way to the Tower and have a conversation with Banshee-44.
What does the Forerunner do?
The Magnum, a weapon featured in Halo: Combat Evolved, is widely regarded as one of the most powerful and iconic firearms ever featured in a video game. It fires Special ammo, and it has two notable benefits to offer players in Destiny 2. When you tap the trigger, the Forerunner's inherent perk, "Pace Yourself," activates, giving the weapon more accuracy and reduced recoil as a result.
Full Stop provides Forerunner increased range and higher damage rounds. It is possible to fire it in full auto, and unprotected targets take extra damage from its improved precision. Additionally, Forerunner possesses an Exotic Catalyst (which requires more Xur level ups). The Exotic Catalyst bestows upon players a new perk known as "The Rock," which enables them to expend reserve ammo after scoring a kill in order to convert their subsequent grenade into a frag grenade in the style of Halo.