How to Get Rid of Low Memory on Roblox 292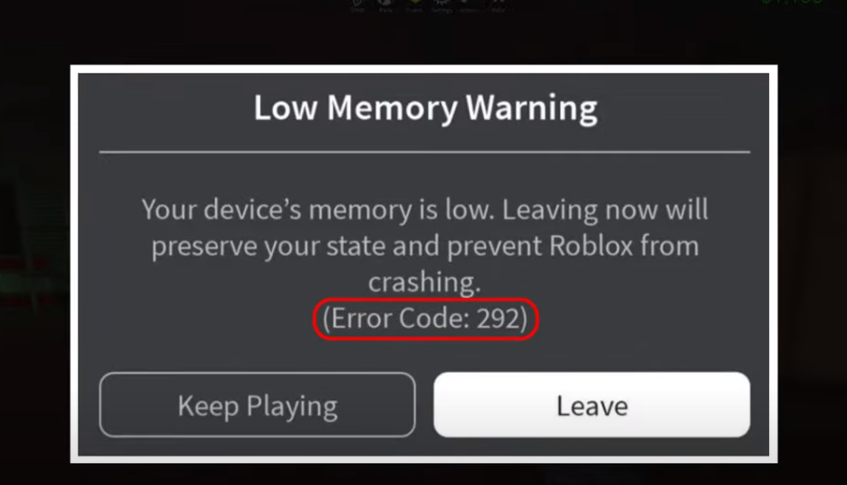 If you're an avid Roblox player, you may have encountered error 292, often accompanied by a "Low Memory" warning. This error can be frustrating, but fear not – we've got you covered with four effective methods to resolve it.
Method 1: Check Your Device's Memory
The first step in addressing error 292 is to ensure your device has sufficient memory. This error often occurs when your phone or PC is running low on storage. Here's how to check and free up space if needed:
Check your device's available memory.
If you're running low, consider uninstalling unused applications or transferring files to an external storage device.
Method 2: Clear Local App Data Cache
Clearing the local app data cache can help resolve the error. Here's how to do it:
Press the Windows + R keys to open the Run dialog.
Type "%localappdata%" and press Enter.
Navigate to the "Temp" folder and open it.
Locate the "Roblox" folder.
Right-click on the "Roblox" folder and select "Delete." This action will not affect your in-game settings.
Method 3: Close Unnecessary Background Apps
Running too many background apps can consume your device's memory and lead to error 292. Here's how to close unnecessary apps:
For Windows:
Right-click on the Taskbar.
Select "Task Manager."
In the "Processes" tab, identify any unnecessary processes.
Right-click on them and choose "End task" to close them.
For Phones:
Open your app drawer.
Ensure no apps are running in the background.
Apps like Discord, GeForce Experience, Google Chrome, and Nvidia Shadow Play are known memory hogs, so consider closing them before playing Roblox.
Method 4: Reinstall the Game
If the previous methods don't work then you need to try reinstalling Roblox:
For Phones:
Press and hold the Roblox app icon.
Select the "Uninstall" option.
Wait for the uninstallation to complete.
Download and install the game from your phone's designated app store.
For Windows:
Press the Windows + R keys to open the Run dialog.
Type "appwiz.cpl" and press Enter to open "Programs and Features."
Right-click on the Roblox desktop app and select "Uninstall."
Follow the on-screen instructions to complete the uninstallation process.
Open the Microsoft Store and search for Roblox.
Install the Microsoft Store version of the app.
And there you have it – four methods to resolve the Low Memory Error 292 on Roblox. Remember to subscribe to our channel for more tech solutions and join our Facebook group for direct tech support. Leave a comment to share which solution worked for you and help others facing the same issue. Your support fuels our dedicated team of troubleshooters and editors, enabling us to continue assisting you with your tech problems. Thanks for tuning in, and always remember that irnpost.com team is here to help you out.