How to Hide Your Inventory in Roblox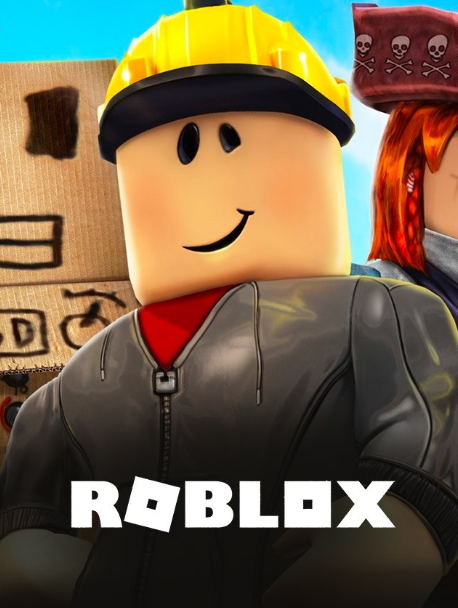 Anyone who visits your Roblox profile has the ability to scroll down and view your inventory. As a consequence of this, they are able to view the goods that you now possess, including the one that you have produced. You have the option to adjust the privacy settings for your inventory if you want to conceal the things you have in your Roblox account from other players. You have the option of not only concealing it from the other users of the platform but also choosing which other players are allowed to see the stuff you have. The following is a guide on how to conceal your Roblox inventory:
Read Also: How to Wear More Than Two Hairs on Roblox
How to Hide Your Inventory in Roblox
On Desktop:
1. Navigate to the Roblox website using the web browser of your choice and sign in to the service.
2. To change the settings for your account, locate the gear icon in the upper right corner of your screen and click it.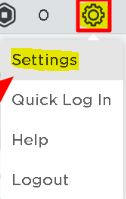 3. Navigate to the tab labelled Privacy.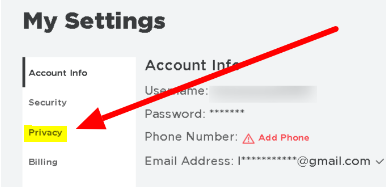 4. Find the "Other Settings" area by scrolling down to its location. You can select which users are able to see your items by opening the drop-down menu that is located under "Who can see my inventory?"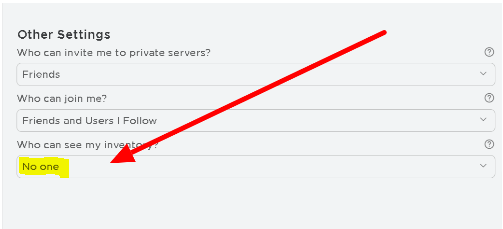 5. If you choose "No one," your inventory will become private, and only you will be able to view the objects that are contained within it.
It is important to keep in mind that hiding your inventory will not prevent other players from seeing what your avatar is wearing. It will only hide the stuff that you already possess.
On mobile:
For those players who access Roblox through their mobile devices, you can modify your inventory settings by visiting Roblox through your web browser. On the other hand, you also have the option of doing so through the mobile app. Learn how to do it by following our detailed tutorial step by step.
1. Launch the Roblox app on your mobile device and log in to your account.
2. Click the ellipsis button in the bottom right corner of your screen, then select Settings from the drop-down menu  that appears.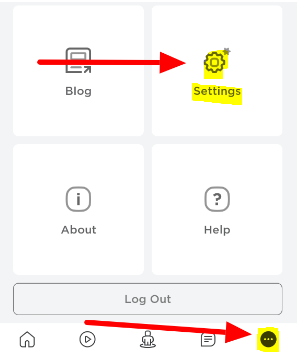 3. After selecting Privacy, navigate to the section labelled Other Settings.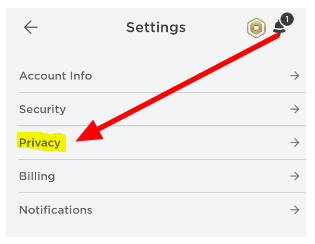 4. You can select which group of players are able to view your items by using the drop-down menu that is located under the heading "Who can see my inventory." If you choose to make your inventory invisible to everyone on the platform, including your friends and followers, select "No one" from the drop-down menu.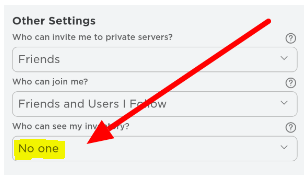 Following the selection of the privacy setting that best suits your needs, Roblox will immediately implement the changes to your account. If you choose to make your inventory private, other users will not be able to see the items that you have in it when they visit your profile page.
FAQs
Can I sell my Roblox inventory?
How to Make Money Off of Your Own Roblox Creations At this time, participation in private sales is restricted to accounts that also have a membership. In addition, much like with trading, the only things that can be sold are those that are labelled as Limited or Limited U.
Can Roblox see your inventory?
In Order To Keep Your Inventory Hidden From Other Players
To access the Privacy menu, go to the Settings menu. In the Who can see my inventory? drop-down box, select the user groups from whom you want your inventory to be viewable by other people. If you choose No one as your visibility setting, your inventory will not be accessible to any users.
After making a purchase in Roblox, there is currently no way to get your money back in the form of Robux. Before you go ahead and complete your purchase, we strongly suggest that you first make use of our Try On feature and then read the item's description to get a better idea of what the item is like. This includes items from the Avatar Shop and Experiences that were purchased inadvertently, lost, or were never used.
Do you need Robux to sell items?
Making Money on Roblox by Selling Clothes You've Designed Yourself
When it comes to selling clothes on Roblox, there are a few things you should keep in mind, and these include the following: To sell any item on Roblox, you will need a minimum of 10 Robux on your account.