How To Learn Cloud Computing

For today's enterprises and consumers, cloud computing provides a cutting-edge answer. Sharing and using resources from a cloud server through the Internet makes this technology more cost-effective for everyone while also increasing its efficiency.
You'll be astounded to learn how how burgeoning this field's employment prospects are. With so much information available, it might be beneficial to focus on a certain area.
You may be interested in cloud technology but can't afford to take pricey courses.
For anybody who wants to learn about everything and everything, the Internet is really an ocean of knowledge.
However, finding the resources to eventually get started with cloud computing requires much investigation. Fortunately, you won't have to: the resources listed below make it easy to get started with cloud computing for free.
How much time are you willing to devote to learning?
Learn with AWS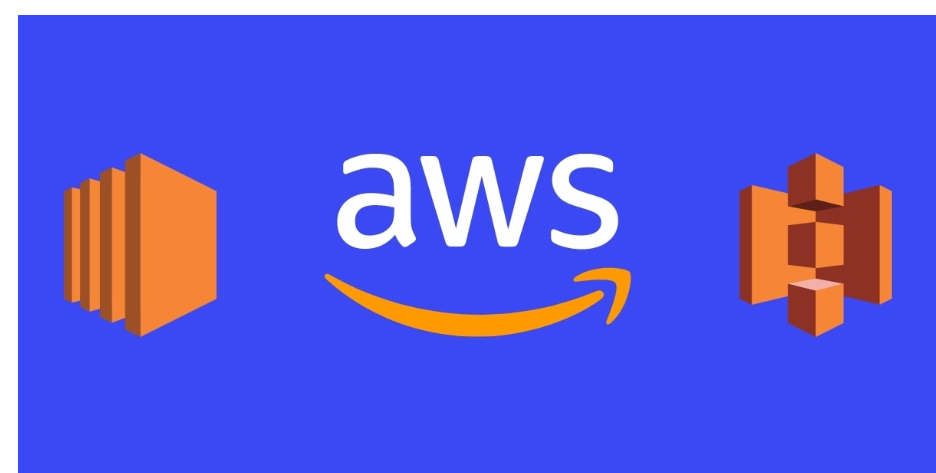 The cloud computing market is dominated by Amazon Web Services (AWS). And, of course, mastery of it is a need.
Once you land on the AWS training page, then you'll find plenty of courses related to cloud technology.
https://youtu.be/xglUUVa3rQ8
You'll fall in love with the course materials since they're so simple to understand.
Courses like Cloud Practitioner Essentials, Introduction to AWS Secrets Manager, Big Data Technology Fundamentals, and AWS Analytics Services Overview can help you learn and apply the topics on your own.
Everyone who wants to get started with cloud computing, particularly those who want to specialise in AWS, may benefit from AWS training classes.
If you're interested in learning more about AWS's different cloud deployment and other cloud services, be sure to visit their training website. Following the courses, you may expect to have a thorough understanding of the fundamentals of cloud computing.
Introduction to Cloud

The Linux Foundation, a non-profit organisation, has placed this fantastic course on edx. This course promises to educate a novice how to create and manage cloud computing infrastructure.
Even if you don't know where to begin, this course is an excellent starting point. You should anticipate a considerably better learning experience, both conceptually and practically, since the lecturers are cloud computing professionals.
The fundamentals and features of several cloud technologies are covered in this course. In addition to this, it teaches you about cloud-based solutions that may be used in today's contemporary businesses. Once you complete this course, you will have a solid understanding of how to build a career in cloud computing.
Being an introduction to cloud technology, anybody may start here and obtain a quick overview of this exciting, yet future-proof, area of expertise.
You may take the course for free, but if you want a certificate, you'll need to pay. Purchasing the certificate would add $200 to your total, but it is not required.
From Scratch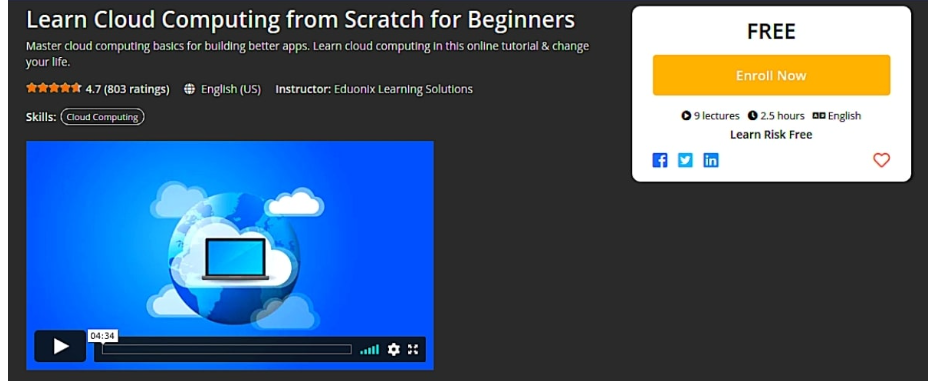 This course isn't just an introduction to cloud computing. Other crucial issues are also covered, including an easy-to-understand introduction to cloud technology. Module two will introduce you to SaaS service models and Linux/cloud operating systems, respectively.
You'll learn about AWS and Google's cloud services in the third module of this course. Besides that, you'll also discover the significance of visualisation architecture and get to see real-world applications.
To have a good sense of how cloud infrastructure works and which portion of it you should focus on further, you need complete the nine yet in-depth courses.
When it comes to cloud computing, this training may help you make an informed decision. You'll get a quick rundown of the most well-known cloud computing service providers, as well as some real-world instances.
It's simple to make a decision. And since it's free, there's nothing to lose; all it takes is your time and attention to get started. Consider trying this one out to have a better knowledge of the subject.
Udemy

As of the present, Udemy is the largest online course site.
Right?
There are several free as well as paid courses to choose from. And it's one of those free courses on cloud computing that are so popular.
In little under an hour, you'll learn almost everything a complete novice needs to know. In three separate parts, this course covers service models, essential qualities, and deployment models.
It's ideal for someone who wants to learn the basics of cloud computing but doesn't know where to begin. This course will give you what you've been looking for instead of sifting through a tonne of blogs and YouTube videos.
To complete the course, you will need to purchase an Udemy Certificate, although this is not required. This course is still free to take, so don't hesitate to do so!
Cloud 101

This course will be useful if you want to learn more about Microsoft Azure's cloud service. Coursera offers this course.
Tutor Jum Sullivan is a master in the art of technology partitioning. As a result, you can anticipate gaining a solid foundation in cloud computing while also having a lot of fun. It will take three weeks for you to complete this particular course. Depending on how quickly you learn, you may finish it in a week or less.
Starting with "What is a cloud?" This course is similar to previous beginning courses in that it provides a comprehensive review of managed services and deployment methodologies.
Beyond the introduction, it compares and contrasts several cloud systems, including Microsoft Azure, AWS, Google Cloud Platform, IBM Cloud, and SalesForce.
The greatest thing is that you may get a free Certificate of Completion after you've finished the course.
FAQ's
Is cloud computing easy to learn?
Consequently, "Is cloud computing difficult to learn?" is increasingly a common query. A simple yes or a clear no: cloud computing is really tough to master. A certification in cloud computing is the best approach to study cloud computing.
Does cloud require coding?
To get a handle on the cloud, you don't even need to know how to code. In any case, you may study cloud computing and acquire programming abilities at the same time. AWS, for example, is a well-known cloud computing platform. To get started, you don't need any coding knowledge.
Which language is used for cloud?
PHP is a programming language widely used for web development and cloud computing because it is easy to learn and manipulate. It is therefore popular when it comes to automating websites and other functions. This language can run on UNIX and Windows servers and has a powerful output buffer.
Conclusion
There seems to be no lack of resources for learning cloud computing, but picking the right one appears to be the challenge. To make matters even better, some of the top free resources are already mentioned above for you to utilise.
Visit each of these sites to learn more about Cloud computing.
Listed here are some Cloud Computing interview questions and answers that you may find useful in your search.