How to Play iMessage Games on an iPhone
Not only can you send ApplePay transactions and create Memojis with the on-screen keyboard in the Messages app of your iPhone, but it also gives you the chance to play games with the individuals who are in your contact list.
You will be able to play these games with your contacts if your iPhone is running iOS 11 or a later version (which it almost certainly is if you haven't been putting off upgrades since 2017), and you will be able to download a variety of iMessage games to use with your contacts. If your iPhone is running iOS 11 or a later version, you will be able to use these games with your contacts.
These are simple games that are designed to be played by a single individual at a time. To begin, you will take your turn, after which you will wait for the next person in the chain to begin their turn, and so on. iMessage is the sole medium via which any and all communication is carried out.
The game will begin once you have followed these instructions.
Read Also: How to Mirror iPhone to a Vizio TV
How to Play iMessage Games on your iPhone
1. Launch the Messages app on your mobile device and either tap on the contact's name or search for them using the search bar.
2. Move up to the options that are directly above your keyboard and scroll through them until you locate the symbol for the App Store. Tap it.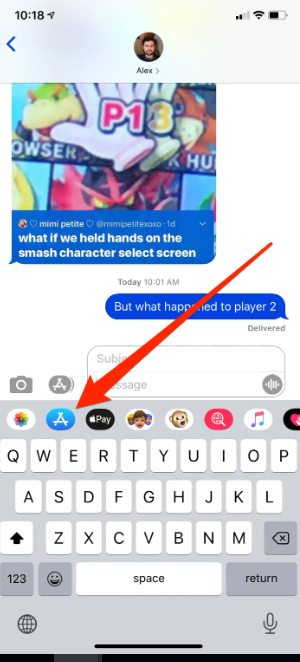 3. Doing so will launch a specialized version of the App Store that displays only add-ons and customizations that are compatible with the iMessage app. The vast majority of them are stickers, but there is a section labelled "iMessage Games We Love" farther down the page if you scroll down. To view all of that title's content, use the "See All" button.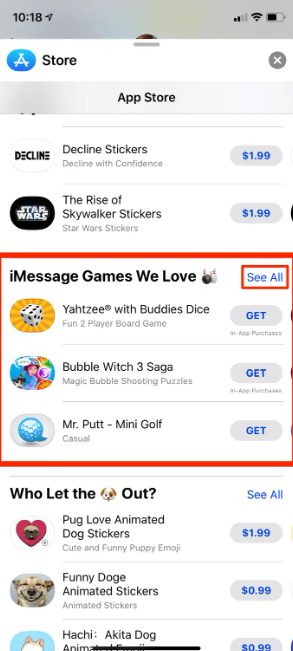 4. You will then be shown a comprehensive list of all of the games that are compatible with iMessage. You may view screenshots, videos, and read additional details on each one's own page, which also contains additional information. Have a look around and see if you can find something you like.
5. Once you have located one that you are interested in downloading, hit the "Get" button that is located next to its icon, and then download it in the same manner that you would download any other app.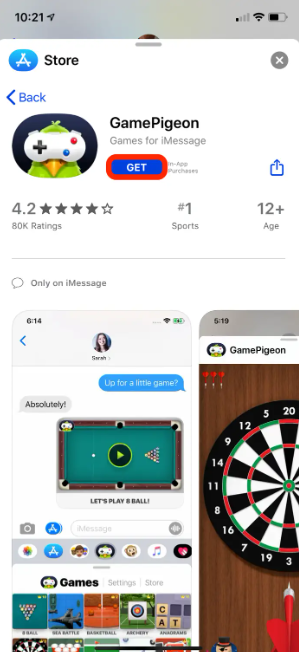 6. To leave the App Store and return to the iMessage screen, tap the "X" icon that is located in the upper-right corner of the screen.
7. Below your keyboard, navigate through the icons until you locate the game app that you recently downloaded, and then open it. Tap it.
8. Doing so will cause a menu to appear, in which you will be able to modify the game that you play with your contact. After you have decided what kind of game you want to play, the appropriate keyboard layout will be loaded for you automatically. as if you were going to attach a picture.
9. Your game will indicate that the message has been delivered in the same manner as a regular message. You can start your round by tapping the screen anywhere on the message.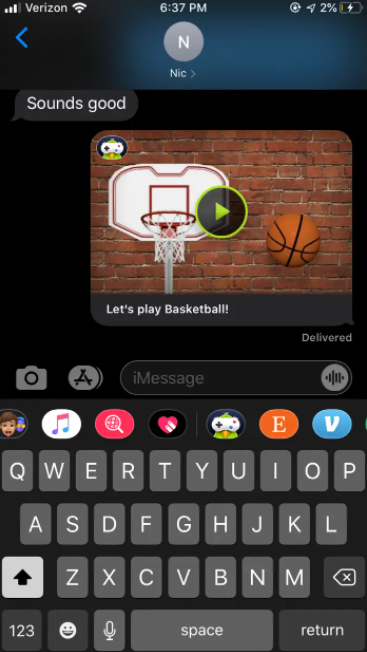 10. Once you have finished your part of the game, you will have to wait for your companion to take their turn.
11. If your rival is able to finish their turn, you will receive a new message from them including a preview of the game whenever they send it to you. Simply tapping it will launch the game once more, allowing you to take your next turn.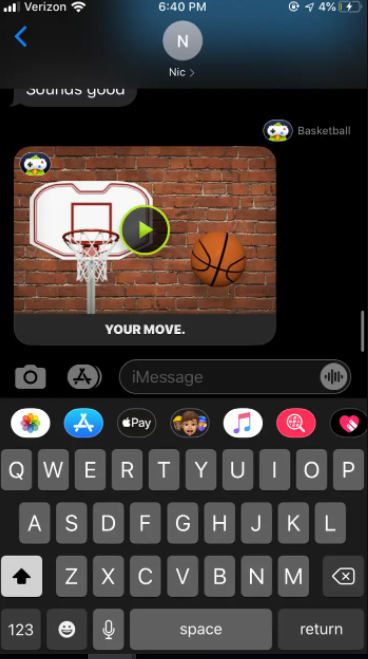 12. Continue to play till the end of the game. In some games, like basketball, there are only a few rounds, but in others, like chess, the game goes on for a considerably longer period of time. When a game is over, you will have the option to issue a new invitation using the same method as previously, or you will have the ability to press "Play Again" from within the game itself.
Video