How to protect yourself while riding a motorcycle
Riding a motorcycle is not without risk. It doesn't matter if you're on a long road trip or just on your daily commute: an accident could happen at any time. In order to protect yourself, there is certain gear you can purchase. To avoid injury, you should not only protect your head, but also your eyes, hands, feet and other parts of your body. Keep reading to find out what gear you need and how they protect you during an accident.
Helmet
A helmet is the first thing you should buy after you purchase a motorcycle. A helmet can save your life. During impact, the helmet will not only protect your face, but also your neck. A helmet should never be bought second hand and should always be replaced after an accident. Buy a helmet with a sun visor to protect your sight from the sun. In order to provide optimal safety, helmets should have a DOT, SNELL, or ECE certification, which means they are tested and safe to use. Purchase a certified helmet on ChromeBurner.com.
Eye protection
Besides a sun visor, there are other means of eye protection that can keep your sight clear. Some sports are practiced on a dirty track, such as dirt biking. The sand that is flying around could easily get in your eyes. To protect your eyes, you should wear a pair of motorcycle goggles. Make sure that when you purchase them that they have an elastic strap that fits tightly around your helmet. Another measure to protect your sight is to purchase a helmet with a peak on top of the shell. This peak provides shade and protects the visor or goggles from falling sand.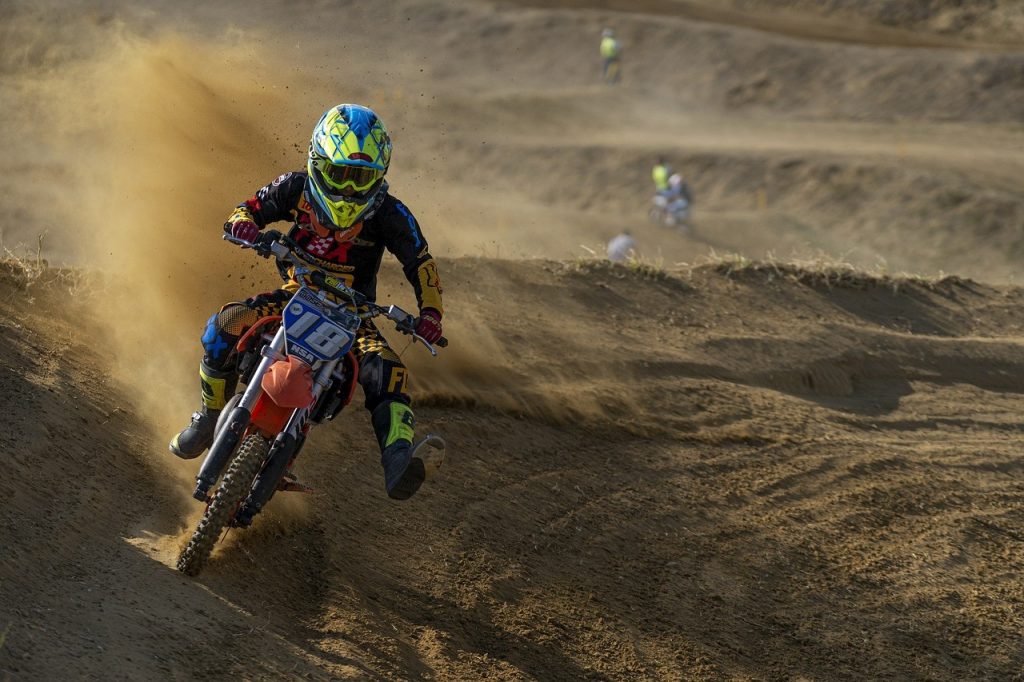 Gloves
Unfortunately, there are still lots of motorcyclists that do not wear gloves during their ride. Gloves might seem unimportant but are far from trivial. Motorcycle gloves not only protect you from the weather, they also increase your grip and control over your bike. Besides, gloves protect your hands from dirt on the road, such as little stones and insects. However, the most important function that motorcycle gloves have is to protect your hands during impact.
Leather is the most protective, since it doesn't burn or tear on the road. However, leather is not very suitable in cold weather. In cold weather conditions, it is recommended to wear textile gloves. They are made with several layers of textile and sometimes even have an extra thermal layer. Important parts of the hands, such as the knuckles and palms are enforced with extra protective Kevlar patches.
Boots or shoes
A motorcyclist should always wear suitable motorcycle footwear. When you are in an accident, chances are big that you will land on your legs or ankles. These vulnerable parts of your body get easily injured. In case the bike lands on your feet, good protection is required as well as the heavy bike can cause severe injury. Motorcycle boots and shoes are made specifically to offer good protection to motorcyclists.
Boots offer the best protection. They cover at least the ankles, but there are also knee high and thigh high boots that protect even more. Unfortunately, motorcycle boots are not comfortable to walk in and only suitable for those who are not planning on walking around during their ride. For motorcyclists who use their bike to commute, there are motorcycle shoes that look like casual shoes. These shoes are enforced with extra protective material and are comfortable to walk in all day long.