How To Quote Messages In Discord
You can cite other users of Discord on all platforms (iOS, Android, and desktop) by following the exact same procedures. In this article, we will focus on mobile-Discord; nonetheless, the procedures for quoting are largely the same as those used on desktop. The procedure of multi-line quoting operates slightly differently on desktop (it's really simpler), but other than that, it is identical to how it operates on mobile. So let's get started
Read Also: How to Log in to Discord With a QR Code
How To Quote Messages In Discord
Single-line Quotes On Discord
When you want to quote something on Discord but it only takes up one line of text, you can utilize the single-line quoting function. This indicates that there are no line breaks and that you do not press the Return button on your keyboard at any point.
When you want to quote something on a single line, type the ">" symbol, then a space, and then your quote. The following is how it ought to appear in the application: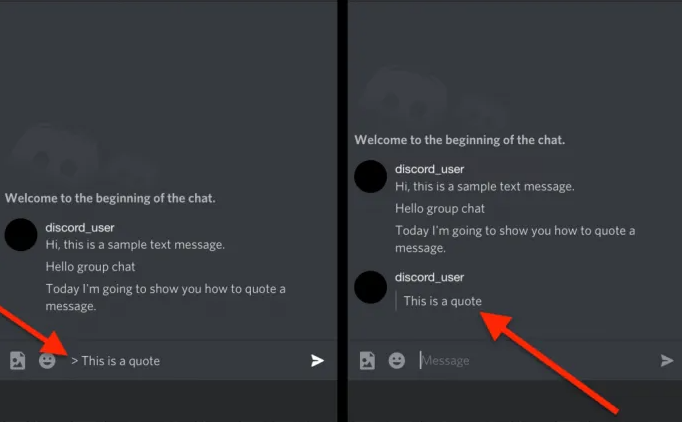 Multi-line Quotes On Discord
When you need to quote something that does contain line breaks, such a succession of paragraphs, you need to use something called multi-line quoting. You may do this by simply putting ">" in front of the beginning of each new paragraph that you wish to quote; but, it is evident that doing so for a prolonged period of time could become tedious.
You can get around this limitation by starting your message with the characters ">>>" followed by a space. This will cause everything that you type in that message to be included in the quotation. Backspacing the ">>>" character is the only way out of that quote; the only other option is to send the message and begin a new one. On the app, it will be displayed like this: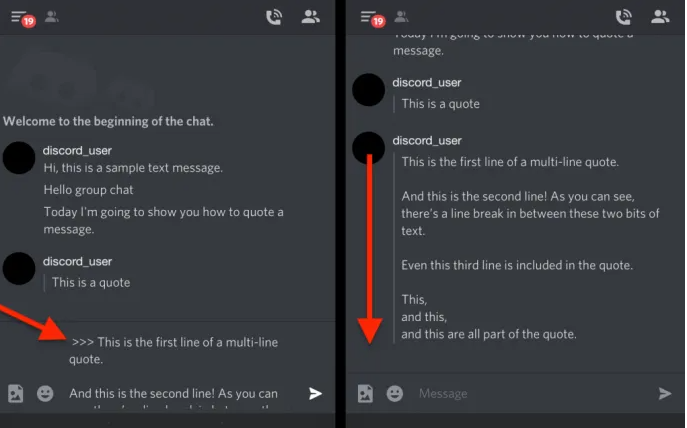 FAQs
How do you copy a quote in Discord?
Simply copy and paste the portion of the message that you wish to quote. (Within the mobile app for Discord, you can pick a specific message by doing a long press on it, then selecting the 'Copy Text' option.)
How do you quote something?
If you are quoting a section of dialogue, you should use double quotation marks on the outside ends of the quotation to show that you are quoting a portion of the text. This should be done whenever you quote something that a character says. If you want to show that someone else is speaking, you should use single quotation marks inside of double quotation marks.
How do I edit a quote on Discord?
To make changes to your personalised status, navigate to the bottom left of your app, click on your profile image, and then click on your custom status. Click on your profile image, which is located in the bottom left corner of your app, and then click on the "X" icon that is located to the right of your custom status. This will clear your custom status.
What is a quote bot?
You are able to establish custom rates based on the type of service or quotation template through the use of the quote bot, which makes it simple for you to handle pricing.
Is there a quote Bot for discord?
A bot that will submit quotes to your server on a daily basis, DailyQuotes. If a channel is scheduled to send a quote every day at 10 AM UTC, the time it sends the quote. The bot is equipped with over 15,000 unique quotations that it can send to your server on a daily basis. DailyQuotes gives you the ability to choose from FIVE distinct categories, each of which can be customized to your liking.