How to Recover Permanently Deleted Photos From iCloud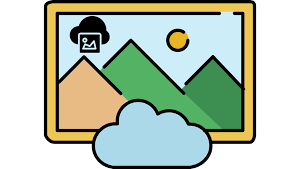 This article will walk you through the steps you need to take in order to attempt the recovery of images that have been irreversibly erased.
Read Also: How to Access iCloud Drive from Command Line in Mac OS
How to Recover Permanently Deleted Photos Using a Backup
It can be challenging to retrieve images that have been erased. Let's take a short look at the Photos app on your iPhone or your Mac before we get started.
Launch the Photos app on your iPhone. Tap the Albums icon, then swipe left or right until you locate the Recently Deleted item under Utilities, and then tap it. If you find the photo or photos you wish to recover, tap the photo, and then hit the Recover button in the bottom right corner of the screen.
Launch Photos if you're using a Mac. To delete something, go to the bar on the left and click the icon or label that says Recently Deleted. If you see the photo or photos that you wish to recover, you can do it by clicking the photo and then selecting Recover from the menu that appears at the top of the window.
If the photographs were not present, you will need to engage in some dexterous manoeuvring in order to determine whether or not it is still possible to retrieve them. The first thing you need to do is check to see how your photographs were saved. You are able to recover your smartphone from an iCloud backup even if the photographs you took were saved locally on your device rather than being uploaded to iCloud Photos. It will take some time, and any new data that has been added to your device will be deleted in the process. Here is a plan that you can implement in the event that you are successful in retrieving the photographs.
1. Launch the Settings app, then scroll down until you reach the Photos section, and tap there to check where your pictures are stored. Your photographs are kept on the device they were taken on if you have not activated iCloud Photos.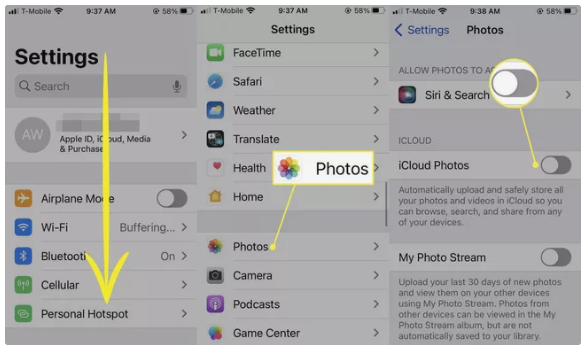 2. Make a fresh copy of the backup. You should create a backup right now since it's possible that your device has acquired new or essential data since the last time you backed it up. Why? We are about to replace the data that is now on your device with an older backup, from which we will hopefully recover any images that you have deleted. On the other hand, this suggests that we will have to replace the data that is now stored. When the backup is finished, you can move on to the next step.
3. Erase your device. Navigate to the Settings menu, then select General, and then Transfer or Reset iPhone. Select Erase All Content and Settings > Continue from the drop-down menu. Your device will be erased once you have entered either your passcode or your Apple ID password. This can take a few minutes to complete.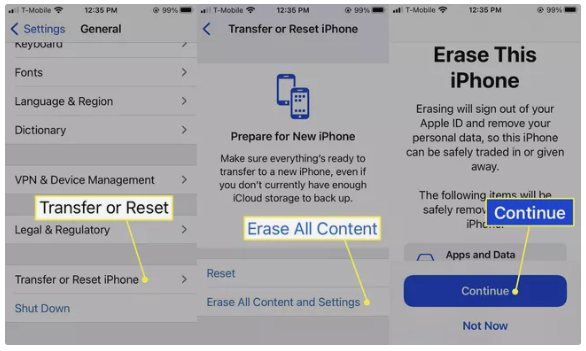 4. Prepare your iPhone as if it were brand new. Because your device will act as though it has never been used before, you will need to activate it and go through the standard configuration procedures.
5. When you get to the screen for Apps & Data, select Restore from iCloud Backup from the menu.
6. Create an Apple ID and use it to sign in to iCloud.
7. Pick the most appropriate backup option. Every backup has either a date or a size written on it. Pick a backup that was created before you removed your photos from the device.
8. Finish setup. It's possible that it will take a few hours to completely restore all of your data, but it all depends on how much information you have saved on your device.
9. Locate your photographs. If you have any images saved on your device at the time that this backup was created, those photos will be brought back.
How Do I Recover Permanently Deleted Photos from iCloud After 30 Days?
You have a period of thirty days after deleting images in which you can retrieve them from your deleted files. After that, they are removed from the system in an irreversible manner. If it has been more than thirty days after you erased your images, third-party software won't be able to retrieve them from their storage location. You won't be able to retrieve them from a backup if they were never saved on your device in the first place.
Are Permanently Deleted iCloud Photos Gone Forever?
If you don't take urgent action to rescue your images, there's a good chance that you won't be able to see them again. You should download your pictures from iCloud and store them in a number of different places if you want to keep them safe for the future.
Video