How to Sell Trophies in Bloxburg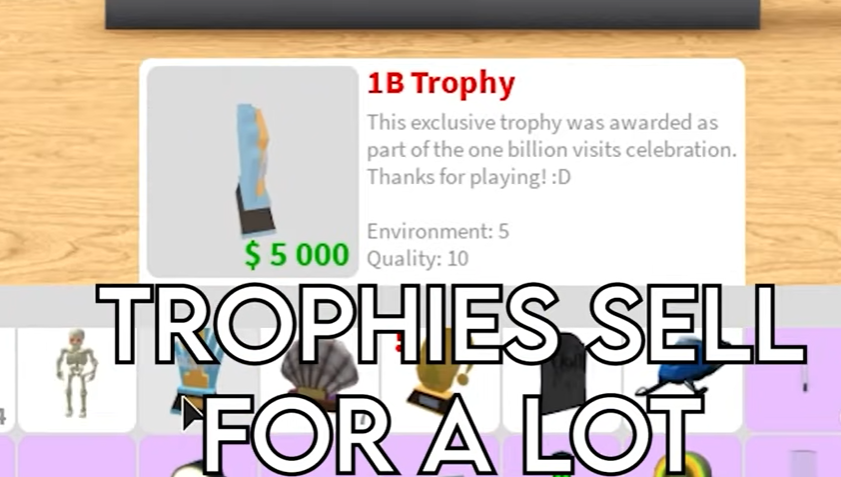 Bloxburg gives a life simulation and role-plays experience. It features all the daily activities of virtual players from a household located near the fictional city. This game is winning the heart of many gamers as it boasts fun and entertainment. Many players want to know how they can sell the trophies in Bloxburg. For this, you need to put both trophies and items in your inventory. The next step will be selling them. However, the inventory will not get rid of these trophies. As they are available in your inventory, you can find them by entering building mode.
Tips To Sell Trophies In Bloxburg
Here is a list of trophies that you can sell in Bloxburg:
Athletic Trophy
The athletic trophy is like a personal trophy that is awarded to the player on their athletic skill. You can also use it as a decoration. Players can sell this item and receive the cash to purchase multiple trophies.
Cooking Trophy
The cooking trophy is another award that is given to the players for their cooking skills. They can sell this item for about $5000. However, even if you sell this item it will be put in your inventory.
Crafting Trophy
When the players are awarded for their crafting skills they get a crafting trophy. This happens to be an unavoidable award but you can sell it anytime that you want.
Gaming Trophy
If you enhance your gaming skills, Bloxburg will give the gaming trophy to the players. As you can earn a good amount of money it is best to sell this trophy at good rates. The cost will be as high as $5000. Whether you use it for decorations or sell them is entirely up to your choice.
Gardening Trophy
Players can max out their gardening skills and get the gardening trophy in return. You can sell it to receive a big amount of cash and use it in the game for other purposes.
Intelligence Trophy
Every player wants to receive some awards in Bloxburg as they can sell it to get a big amount of money. However, you can get this intelligence trophy only if your intelligence skill is of a higher level.
Music Trophy
The players are awarded another wonderful trophy which is a music trophy. Some gaming players like to use it for decorations. While the others may have to sell this item for some other purpose in the game.
Painting Trophy
Players have the option to share another wonderful trophy which is the painting trophy. You can sell it to receive some cash to keep the game going.
Programming Trophy
The programming trophy is like a personal award given to the players. If you have maximum programming skills it will be awarded to you. Once again you have the option to either use it for decorations or sell it.
Writing Trophy
A writing trophy is awarded to the player for their writing skills. When you sell this item you can achieve $5000.
Wrap Up
In this post, you will get an idea about selling various trophies in the Bloxburg. We hope you find it useful and informative!