How to Sign Out Of iCloud Without Password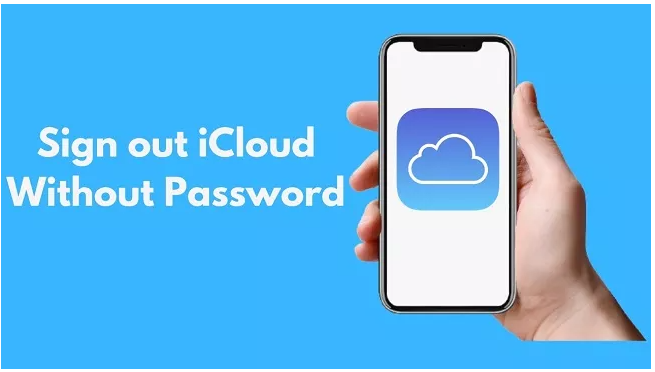 You're probably asking why someone would want to sign out of iCloud without a password, and that's understandable. Whenever you are transferring ownership of your gadget to a family member or a friend, or reselling it, but you have forgotten the password since you haven't used it in a long time, this is the case. On the other hand, you could have purchased a secondhand iPhone from a friend for a low price, and when you try to log into it, it prompts you to enter your Apple ID and passcode. In order to gain access to the device, it is imperative that you check out of iCloud without a password in certain circumstances.. To assist you in the above-mentioned instances, we are here to assist you.
Read Also: How to Transfer Photos From iPhone to Mac
Here are some methods for signing out of iCloud without a password that we will discuss in this article.
Sign out of iCloud without password by erasing iPhone
If you are still able to communicate with the legitimate owner of the Apple ID, you will be able to sign out of iCloud on your iPhone without the need for a password with the owner's assistance. The owner is not required to provide you with her/his password, and you are not need to send your iPhone to her/his location. All she or he has to do is remotely wipe your iPhone from her or his device by following the methods outlined below.
Step 1: Open a web browser and navigate to iCloud.com, where you may sign in using the Apple ID and password that you use to access your iPhone.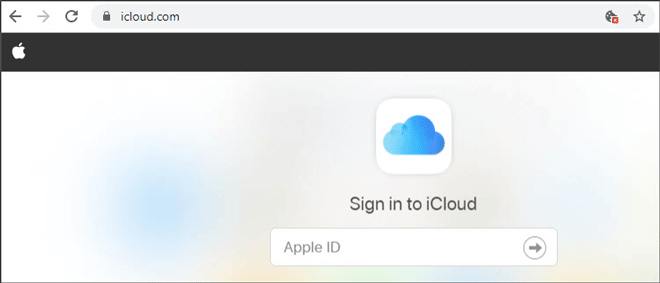 Step 2: After logging in, select Find iPhone and input your password to access the Find My iPhone page.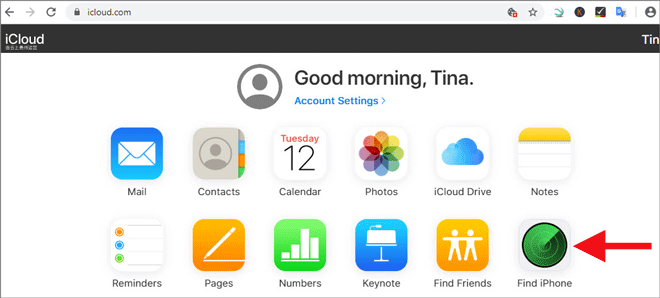 Step 3: Select your iPhone from the device list at the top of the Find My iPhone page by clicking All Devices at the top of the screen. Then, in the panel that appears in the upper right corner of the page, select Erase iPhone from the drop-down menu. If you do this, your iPhone will be forced to restart and all data, including the iCloud account credentials, will be erased.

Step 4: Once the wipe is complete, the owner should select Remove from Account below your device name on his Find My iPhone page. This will ensure that the iCloud account is totally gone from your iPhone and that you may sign in to your iCloud account with a different Apple ID in the future.

Note: Step 4 is really important. However, even if you've signed out of iCloud at the moment, your iPhone will still be tied to the prior Apple ID if he doesn't hit Remove from Account first. This implies that you will be unable to activate and use your iPhone unless you have your old Apple ID and password.
Log Out iCloud on iPhone without Password via iPhone Settings
The following steps will show you how to log out of iCloud on an iPhone without using a password. To log out of iCloud without entering a password, go to your device's Settings and follow the instructions.
Step 1: On your iPhone, navigate to Settings>iCloud. When prompted to enter a password, choose one at random and, if possible, use a special character. Then click on the Done button.
Step 2:A popup message will appear informing you that your username or password has been entered incorrectly. When you have finished, click OK>Cancel, and you will be sent back to the iCloud page.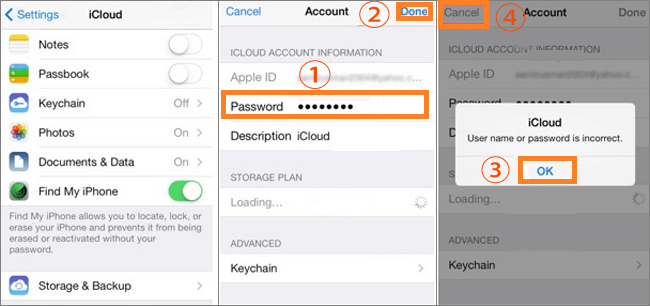 Step 3: Select Account once again, delete the description, and then select Done to complete the process.
Step 4: You will then be brought to the main iCloud Page, where you will not be required to provide a password. And you will notice that the Find My iPhone feature has been turned off automatically.
Step 5: Scroll down and select the Delete option from the drop-down menu. In order to validate and confirm your action, you must press Delete one more time.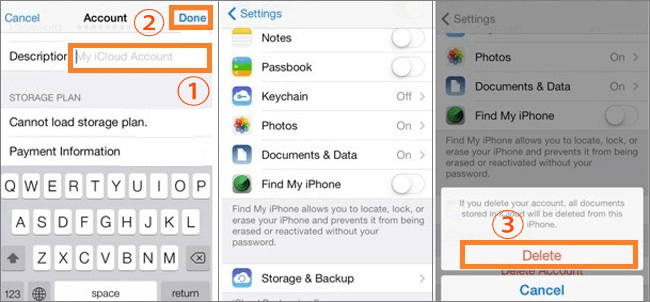 Video