How to Track Your Sleep With an Apple Watch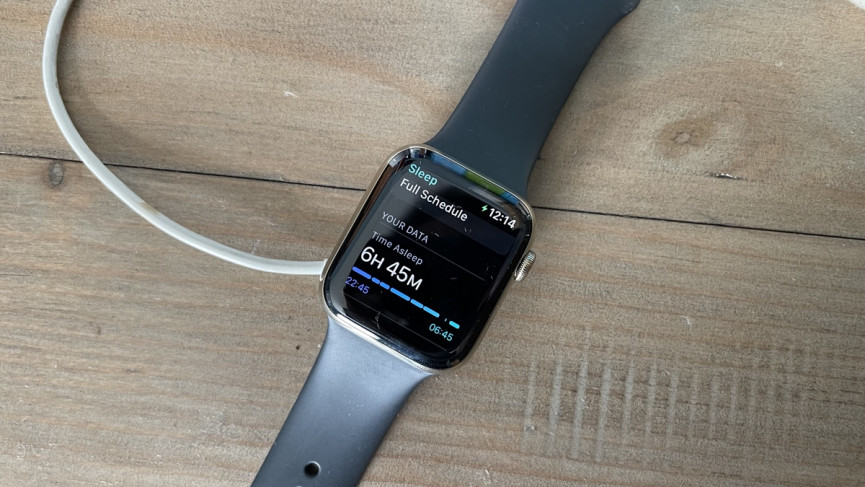 Sleep deprivation, sleep of poor quality, or sleep that is disturbed can lead to or exacerbate a wide variety of health problems, all of which can have a negative impact on both your quality of life and your health over the long run. If you have an Apple Watch, you will be able to keep track of your sleep, analyze your sleep patterns, and find solutions to any sleep problems you may be experiencing.
The Apple Watch comes equipped with a sleep tracker that can both monitor and record your nocturnal activities. You will need an Apple Watch Series 3, 4, 5, 6, or 7 model that is running WatchOS 7 or a later version in addition to an iPhone 6S or later model that is running iOS 14 or a later version.
The tracker on your watch will keep a log of the amount of time you spend sleeping if you wear it to bed with you. The Sleep app maintains a record of your daily and weekly sleep patterns, and it will display you how much time you spent asleep during the night when you wake up in the morning.
Keep in mind that your battery needs to be charged every day, so you will need to schedule some time during the day to make sure that your watch's battery is fully charged and operating at its full potential. In the event that your Apple Watch has less than 30 percent of its battery power before you go to bed, it will remind you to charge it.
We walk you through the process of tracking your sleep using only your Apple Watch. Please refer to our separate guide for instructions on how to keep track of your sleep using an iPhone.
Read Also: How to Zoom Out Apple Watch
How to Track sleep with Apple Watch Initial Setup
You can track your sleep patterns with just your Apple Watch by using the Sleep app to establish objectives for the amount of time you want to spend sleeping. The Sleep app keeps track of the number of hours that you slept and displays it in the morning. It will also keep track of the patterns of your sleep over a period of 14 days. Any adjustments you make to the settings on your Apple Watch will be reflected on your iPhone as soon as you sync the two devices.
Step 1: First, open the Sleep app on your Apple Watch by following the on-screen prompts.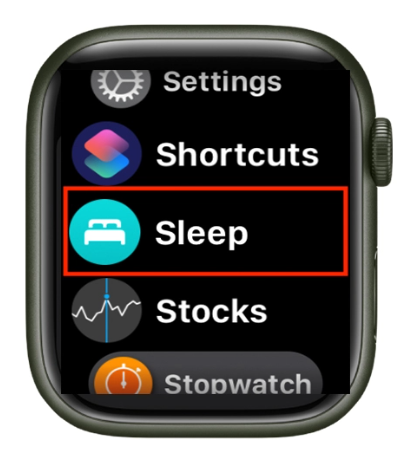 Step 2: After tapping the Sleep app, you will be presented with instructions on how to set a sleep goal, as well as how to arrange your bedtime, wake time, wake up alarm, and reminders.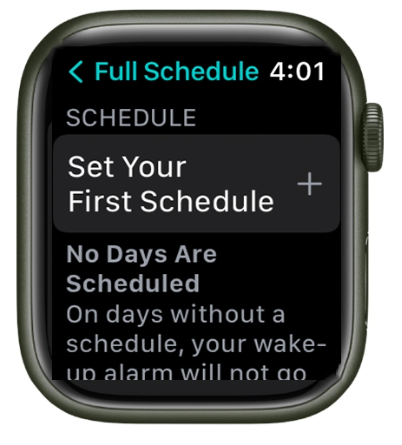 How to Add a sleep schedule to your Apple Watch
You are able to stick to the same pattern of wakefulness and sleep for every single day of the week, every work day, or every single day of the week. This is how you should set it up.
Step 1: First, launch the Sleep app and navigate to the Full schedule menu option.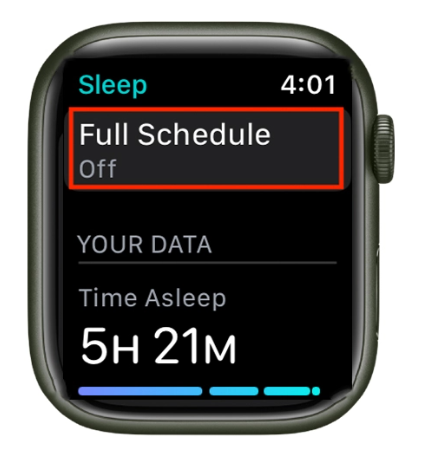 Step 2: Make sure the "Sleep schedule" switch is turned on.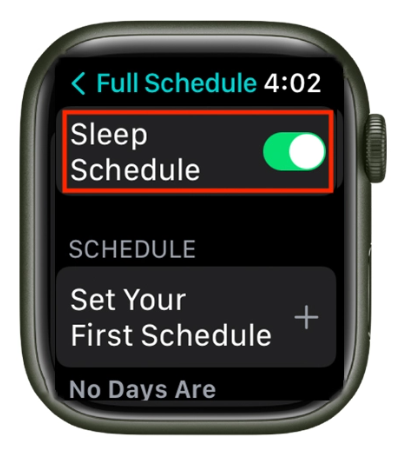 Step 3: Establish your first timetable for the week. The first choice is every day, and if you choose this one, you can keep your usual wake-up and bedtime routines.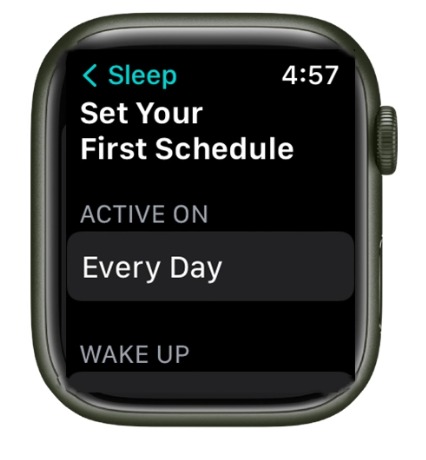 Step 4: You have the option of removing any day or days from a wake-up alarm, but if you wish to track your sleep, it is recommended that you keep all days covered.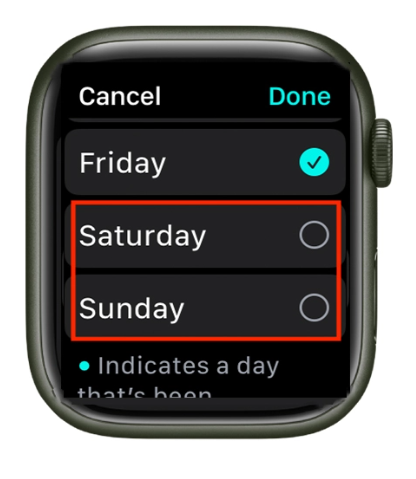 Step 5: Tap the Alarm button in Step 5 to set a specific time to wake up.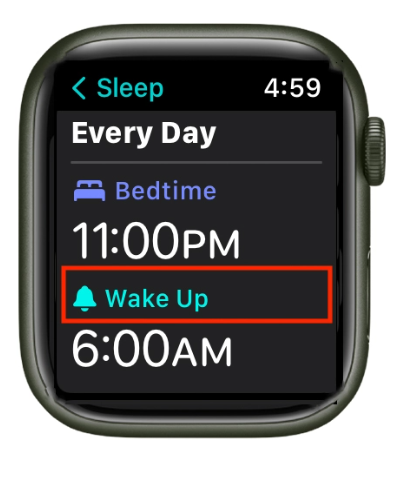 Step 6: Using the Digital Crown on your watch, adjust the time on the alarm clock face, and then tap the green Checkmark in the bottom right corner to confirm the time.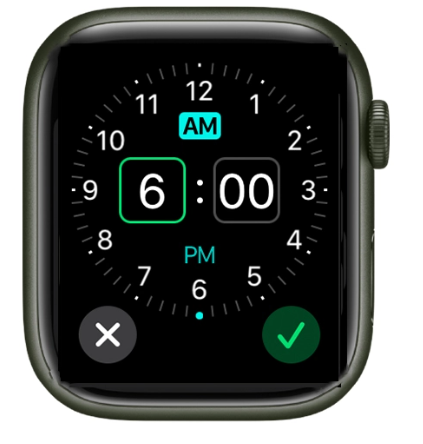 Step 7: When you get to the Bedtime section, repeat the previous steps to set the time there.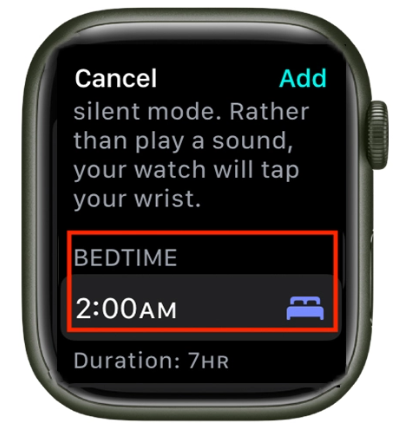 FAQs
Does Apple Watch have sleep tracking?
You are able to establish bedtime regimens for yourself with the Sleep app for Apple Watch, which will assist you in meeting your sleep goals. If you wear your Apple Watch to bed, it will be able to monitor how you sleep. Open the Sleep app as soon as you're awake to find out how much sleep you got and see how your sleeping habits have changed over the course of the past 14 days.
Why didn't my Apple Watch track my Sleep?
If the battery in your watch dies, the data it collects about your sleep will be lost. Ensure that you are wearing your Apple Watch at a comfortable fit by following the instructions provided by Apple. If your watch is not snug enough on your wrist, the accelerometer inside it may pick up an excessive amount of movement while you are in a natural sleeping position.
Can Apple Watch track sleep like Fitbit?
One of the few things that was missing from the Apple Watch in comparison to Fitbit and other competing fitness trackers was the ability to track one's sleep. The depth of a user's sleep will be monitored throughout the night by the Apple Watch through the use of motion sensors, heartbeat sensors, and microphones.
Does sleep watch automatically track sleep?
Even if you don't turn on Advanced Tracking for SleepWatch, it will still track your sleep if you merely wear your Apple Watch to bed. This is true even if you don't activate the feature.
Does Fitbit or Apple Watch track sleep better?
Both smartwatches are capable of tracking sleep, but the Fitbit offers more comprehensive sleep tracking out of the box. Additionally, it can check blood oxygen levels, keep track of stress, monitor breathing rate, and in general provides a more informative experience. While the Versa 2 does not have an internal GPS, the Series 3 does, making it a better choice for use as a sports watch.
Does Apple Watch 7 track sleep cycle?
The Apple WatchOS 7 sleep app only displays the total amount of time spent sleeping, whereas other devices, such as the Fitbit Versa 2 (right), provide an estimate of the amount of time spent in light, deep, and REM sleep, as well as a sleep score.