How to Turn on Vanish Mode on Instagram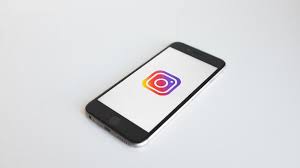 Not every conversation is supposed to go indefinitely! The Vanish mode function on Instagram has finally fulfilled your request if you've ever wished for the lack of disappearing messages once a certain conversation session has concluded.
Although ephemeral messaging has been available for a while, Instagram, which is owned by Facebook, just launched this function last year. Allow me to explain what Vanish mode is and how to activate it on Instagram in greater detail.
Read Also: How to Change Background Color in Instagram Story
What Is Vanish Mode?
Vanish Mode was first introduced on Facebook Messenger in 2020, and it has since been expanded to include Instagram's chat services as well, according to the company. After the functionality was first introduced, Facebook said it would allow users to create and join ephemeral chat threads that would be immediately deleted when the chat ended.
It works in a similar way to Snapchat's self-erasing function, but it will only operate if you manually switch on the option first. Vanish Mode is similarly limited to conversations between two persons. It is not functional in group conversations.
How to Enable Vanish mode on Instagram
Before we begin, make sure you have the most recent version of the Instagram app loaded on your iPhone before continuing. To enable Vanish mode in Instagram, follow the procedures outlined below:
1. Launch Instagram and navigate to the Chats tab (DMs).
2. Open an existing chat room or create a new one.
3. If you haven't already, go to the bottom of the conversation and swipe up to activate Vanish mode.
4. Once activated, the conversation will become dark and a large number of emojis will fall from the top of the screen. In addition, you will notice a notification stating that you are in Vanish mode, as well as a button to turn off Vanish mode at the top of the conversation.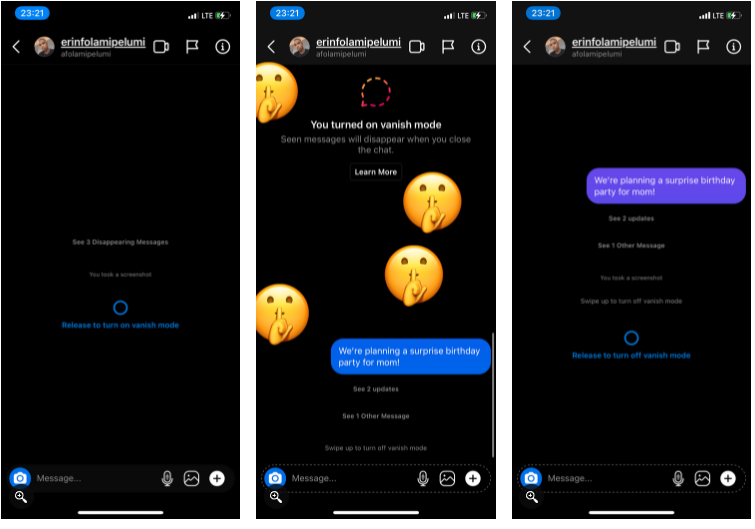 So, there you have it: you have successfully activated Vanish mode. When you depart, the conversation will vanish, but any previous messages that were sent before Vanish will be retained.
Things to know about the Vanish mode feature
When the message has been seen by everyone in the chat room, the messages will be deleted when you quit the chat room.
Once you have enabled Vanish mode, you may leave it turned on and utilize it whenever you like. Every conversation you have will be lost as soon as you close the chat window.
When you enable Vanish mode for yourself, it will be activated automatically for the receiver as well. The other person participating in the conversation will be alerted of the change in status.
If you select Vanish mode, you may still snap screenshots, but the other user will receive a notice. As a result, be certain you have their permission.
Conversations in Vanish mode can still be reported, and all of the messages that vanish will appear in the report for up to 14 days after they are first seen.
Video
FAQS
Why don't I get vanish mode on Instagram?
It's most likely due to the fact that you're using an earlier version of the app. Install the most recent version, and the Vanish mode function should be available to you. If the programme is still not visible after reinstalling it, remove and reinstall it.
Is Instagram vanish mode safe?
Because the words and photographs you provide to the receiver are instantly removed after the chat session ends, it is a rather safe method of communication. They are not made available to anyone. In the event that someone captures a snapshot of the conversation, an alarm is given to the other party.