How to Unlock Sigil Crafting in Diablo 4

In Diablo 4, Sigil Crafting is a late-game feature that allows players to create Nightmare Sigils for their characters. You can increase the number of awards you receive from standard Dungeons by transforming them into Nightmare Dungeons using this method. However, it is not something that can be unlocked at some point in the future. Instead, you will need to finish a Priority Quest at Kyovashad in order to get the Sigil Crafting perk unlocked. Because you may initially find this to be challenging, know that we are here to assist you. This post will walk you through the process of unlocking sigil crafting in Diablo 4, so keep reading! So let's get started:
Read Also: How to Get Nightmare Sigils in Diablo 4
How to Unlock Sigil Crafting in Diablo 4
The following is a detailed, step-by-step guide that will help you better grasp how to unlock Sigil Crafting in Diablo 4.
After completing the primary tasks in the story, continue to World Tier 2 and accomplish the Cathedral of Light Capstone Dungeon. If you do so, you can access World Tier 3, often known as Nightmare Difficulty.
You will receive a Sigil as a prize if you are able to complete any Dungeon.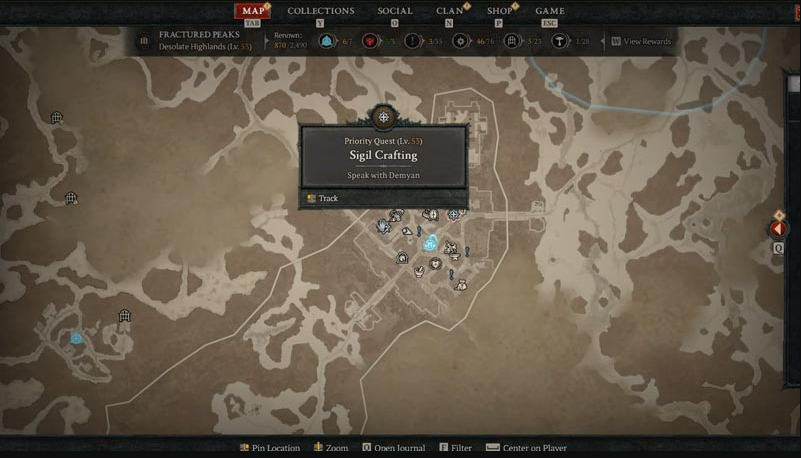 After then, possessing a Sigil will cause a Priority Quest known as Sigil Crafting to become available. You should be able to locate it in the part of your Journal titled "Priority Quest."
As part of this Priority Quest, you will travel to Kyovashad to meet with a native Occultist there and chat with them.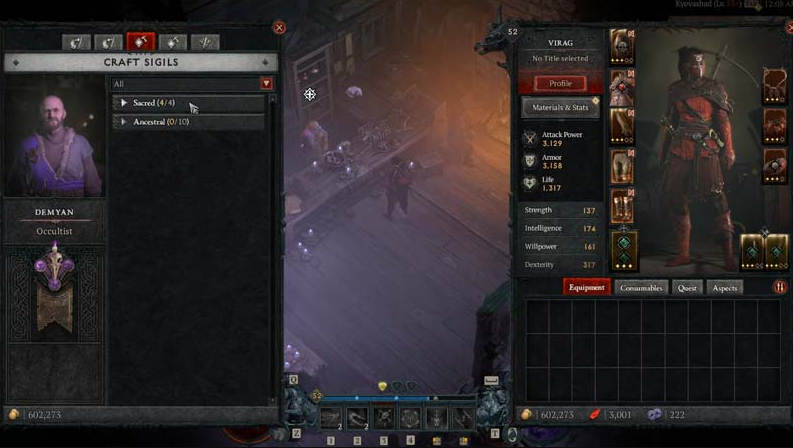 Have a conversation with the occultist who goes by the name Demyan and create a Nightmare Sigil, also known as a Sacred or Ancestral Nightmare Sigil.
In Diablo IV (D4), this will allow you to access the Salvaging and Crafting of Sigils features.
After completing it, you can access the Sigil Crafting profession in Diablo 4. Keep in mind, though, that in order to create the Ancestral Sigil, you must first have the Torment Difficulty unlocked before you can do so. After achieving World Tier 4, you can access this additional difficulty level. Visiting an Occultist will allow you to craft the associated Tier for each Nightmare Sigil in your collection. When you use a Nightmare Sigil of a higher Tier, the corresponding Nightmare Dungeon will become more difficult, and your rewards will be higher quality.
FAQs
How do you use sigils in Diablo 4?
If you already have a Nightmare Sigil for Diablo 4 and you want to use it, all you have to do is travel to the dungeon that shares the same name as the sigil (for example, Blind Burrows Nightmare Sigil). The next step is to access your inventory and navigate to the tab labeled "consumables." Make use of that symbol in order to transform the standard dungeon into its nightmare equivalent.
How do you make a Nightmare Dungeon in Diablo 4?
Accessing the Consumables tab of your inventory, which can be accessed under your character profile, is a must before you may begin the dungeon. Select a Nightmare Sigil, and then put it into action. After you have completed this step, the dungeon will be indicated on the map that you are using.
What level are Nightmare Dungeons Diablo 4?
When players have reached World Tier 3, they will be able to enter Diablo 4's Nightmare Dungeons. These are difficult maps that can be utilized to obtain experience and level up.
How do you get Nightmare Sigils d4?
You can acquire Nightmare Sigil Powder by either grinding through Nightmare Dungeons or by selling Nightmare Sigils to the Occultist in exchange for scrap. In addition, the Occultist is where you'll be able to create Nightmare Sigils.
What is the best dungeon to farm in Diablo 4?
Fractured Peaks is the location of the Forbidden City. The entrance to the Forbidden City Dungeon may be found in the Western Ways region of Fractured Peaks, to the northwest of Sarkova Pass. You should bear north after leaving the settlement if you have portaled into the Menestad Waypoint. After that, continue north again. The entrance to the dungeon is located in a secluded area that has been carved into the rock face nearby.