How to Upload Music to the Amazon MP3 Cloud Player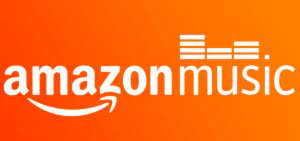 Amazon Cloud Player is an online service that allows you to upload music and then play it over your internet browser if you haven't done so already, according to the Amazon website. If you upload up to 250 songs, Amazon will provide you with free cloud storage space to get you started. If you purchase digital music from the Amazon MP3 Store, it will display in your music locker area as well, but it will not count towards the storage limit.
Whatever your music collection consists of, whether it's music ripped from your audio CDs or music you've purchased from other digital music providers, the following steps will teach you how to get it into the Amazon Cloud Player. All you need is an Amazon account to get started. Following the uploading of your music to the cloud, you may listen to them (through streaming) using a web browser. You may also stream to devices such as the iPhone, Kindle Fire, and Android phones.
Read Also: How Amazon Affiliate Marketing Works
How to Install Amazon Music
First and first, you must download and install the Amazon Music Importer tool on your computer before you can begin uploading your music (which must be DRM-free). For the time being, this is only accessible for the PC (Windows 7, Vista, and XP) and the Mac (OS X 10.6 or later, Intel CPU, Adobe AIR version 3.3 or later). To download and install Amazon Music Importer, follow the procedures outlined below:
1.Sign in to your Amazon Music account.
2.To download a desktop application, choose your name from the left pane and then click Download Desktop application.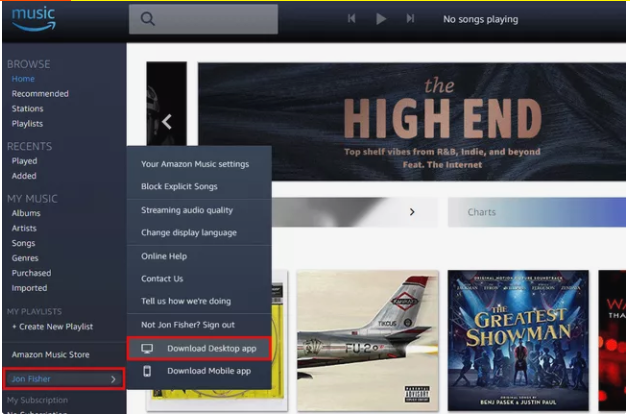 3.To install the application, start AmazonMusicInstaller and follow the on-screen instructions. Because the entire installation process is automated, you'll know when it's complete when Amazon Music launches for you.
4.Log in to your Amazon account if you haven't already.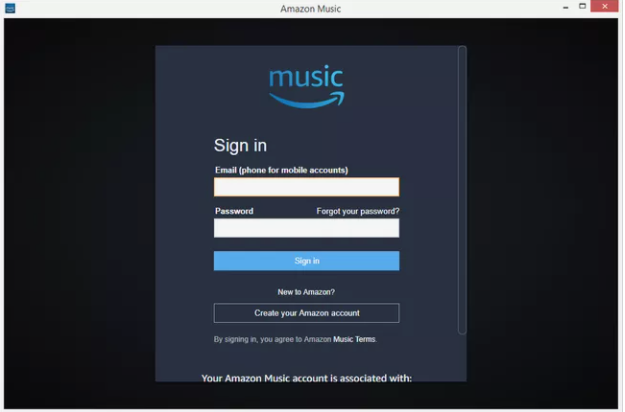 Importing Songs Using Amazon Music Importer
The Amazon Music Importer may be downloaded and installed from the official Amazon website. After logging into your Amazon account, you can begin importing music to your Amazon Music account. The Amazon Music Importer should be set to operate on a regular basis.
1.Select either Start Scan or Browse Manually from the drop-down menu. With the first option, you may search your computer for iTunes and Windows Media Player libraries in the shortest amount of time. We will assume for the sake of this tutorial that you have selected the Start Scan option.
2.Upon completion of the scanning process, choose either the Import All button or the Edit Selections option to import the results. Using this last option, you may choose certain songs and albums. This guide assumes that you wish to import all of your music into the Amazon Cloud Player, which is the case once again.
3.During the scanning process, tracks that can be matched with Amazon's online collection are immediately added to your music locker space, so you don't have to worry about transferring them. For song matching, the following audio formats are acceptable: MP3, AAC (.M4a), ALAC, WAV, OGG, FLAC, MPG, and AIFF. Songs that have been matched are additionally enhanced to high-quality 256 Kbps MP3 files. Songs that cannot be matched, on the other hand, must be uploaded from your computer before they can be played back.
4.When the importing procedure is complete, exit the Amazon Music Importer app and navigate to your web browser to finish the transaction. It is possible that you may need to refresh your browser's screen in order to see the most recent contents of your music locker; hitting F5 on your keyboard is the quickest method.
You may now listen to your music from any location by signing into your Amazon Cloud Player account and accessing it using an internet browser.
Whenever you wish to upload additional music in the future, simply log into your Amazon Cloud Player (using your Amazon username and password) and click the Import Your Music button, which will activate the software application that you previously downloaded and installed.
Video
FAQs
Can I upload Amazon Music to MP3 player?
Amazon MP3s may also be added to some MP3 players by launching My Computer and selecting the folder containing your MP3 player from the "Devices With Removable Storage" section. Once you've completed this, you may transfer the MP3s from the Amazon folder to the MP3 player using your mouse.
What happens when you buy MP3 on Amazon?
There will be one of two things that occurs when you make your order. By default, your browser will begin downloading your new MP3s to your computer as soon as you open the page in question. If, on the other hand, you have signed up to use an Amazon Cloud Drive, Amazon will give you the choice of storing those MP3s to your Cloud Drive as well.