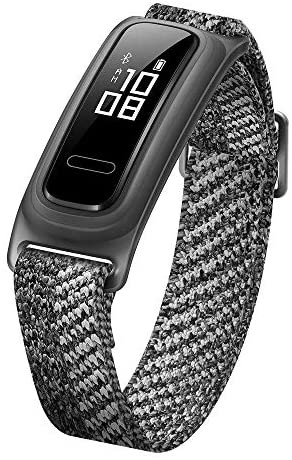 According to the company, Huawei debuted the Huawei Band 4e (active) in South Africa this year at a competitive price. It is an entry-level band intended for people of all musical backgrounds. It has numerous sports tracking modes and can even be linked to your shoes, which is a nice touch. You can also see the Huawei band 4e price from the given link.
The Huawei Band 4e has a 0.5-inch PMOLED display that can be used with slide and touch motions, among other things. Whether you wear it on your wrist or connect it to your shoe, you will scarcely notice it because of its low weight of 6g (a Pandora bracelet is heavier). It is available in two colors: Mineral Red and Graphite Black, depending on your preference.
There are several bands on the market right now. This product has features that are beneficial in your daily activities. You may use a smart band as a personal assistant and aid you in living a healthy lifestyle. To address these demands, Huawei is introducing a new smart band, the Huawei Band 4e, available soon.
The shape may be the same as the other smart bands. The Huawei Band 4e, on the other hand, offers some distinct advantages. In addition to being worn on the wrist, this smart band may be fastened to the sole of your shoe for more convenience and functionality. Curious? Take a look at the review.
Design
The smart band has a design similar to that of other smart bands. It is appropriate for both men and women. Both the gadget and the strap are composed of polycarbonate plastic, which is waterproof. However, there are alternative options available that are constructed of textiles. In terms of dimensions, it measures 40.5 mm in length, 14.8 mm in breadth, and 11.2 mm in thickness. A little over 6 grams is the weight of this smart band. It is available in two different color options: Graphite Black and Mineral Red. There is just one capacitance home button on the device.
Screen and Battery
The Huawei Band 4e's screen is made of PMOLED technology, which allows it to swipe and touch movements. The screen itself is 0.5 inches in diagonal dimension and has a 48 × 88 pixels resolution. The notification that arrives from your smartphone will not be displayed on this smart band screen since it is too small. There are just a few metrics that can be displayed on this smart band, such as calories burnt and the number of steps walked, among other things. To go from one function to another, you must hit the button at the bottom of the screen. To move the menu, press and hold the button once. To choose the menu, press and hold the button twice. Huawei says that it may last up to 14 days using this smart band daily. In addition, Huawei supplies a specific module that must be inserted into the cradle before being connected to the USB-A connection on the phone.
Performance
The Huawei Band 4e appears to be designed exclusively for people who like sports, particularly basketball and cycling. As a result, you may use this smart band to link it to your shoelaces. This smart band, a gyroscope sensor, and a 6-way accelerometer may give more detailed information on sporting activities such as landing impacts, ground contact duration, cadence, and other metrics. As part of its collaboration with the CISS (China Institute of Sport Science), the Huawei Band 4e can give thorough running analysis and suggestions, allowing you to improve your running efficiency while also reducing the likelihood of injury.
The Huawei Band 4e, for those of you who enjoy cycling, utilizes a sophisticated motion sensor to correctly record your riding cadence, allowing you to maintain a constant pedaling tempo while reducing the danger of joint problems. Meanwhile, for those of you who enjoy basketball, the Huawei Band 4e gives precise information about your game, such as vertical leap data, height, and hang time, as well as essential movement statistics, such as speed, distance, and steps, among other things. In the Huawei Health application, you can view everything going on.
With a waterproof rating of 5ATM, the Huawei Band 4e may be worn while swimming without affecting its performance or functionality. As for other features that can assist you in living a healthy lifestyle, such as steps, distance, calories, moderate to high intensity, achievement reminder, single workout distance, single workout time, activity reminder, stand reminder, sleep time, alarm, message reminder, incoming call notification, and find my phone, these are just a few of the options available.
Conclusion
The Huawei Band 4e is an excellent choice for those who like physical activity, particularly basketball, cycling, and running. An original smart band is worn on the wrist, and your shoelaces make this product stand out. The Huawei Band 4e is available for purchase for a highly reasonable price of $ 24.91.