Kwikfunnels Review – Why KwikFunnels Is Best?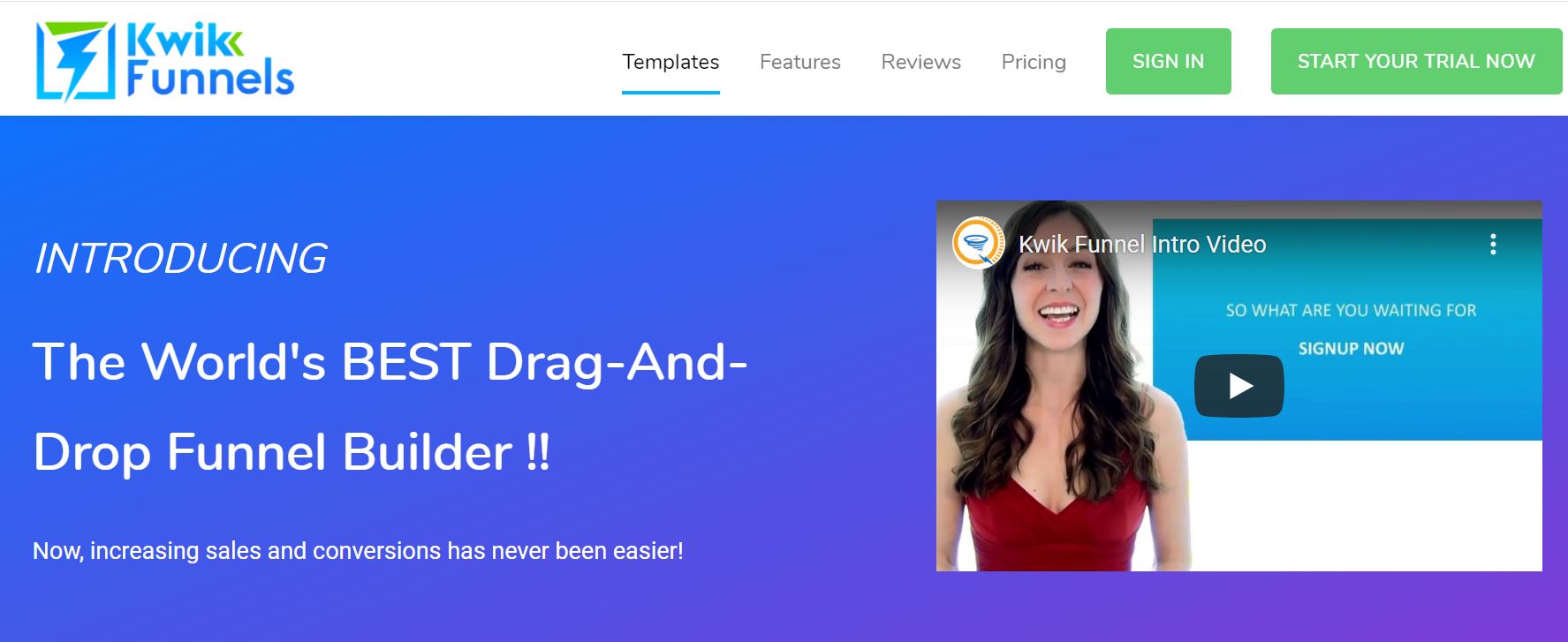 Kwikfunnel helps you to create a marketing funnel that converts prospects into customers. It is used by thousands of businesses around the world. Here I am going to explain How Kwikfunnel is work ? Which plan is best for you, and what is the pricing structure? Is Kwikfunnel is within your budget. In this Kwikfunnel Review, we will give you all kinds of information.
Bangalore based-firm launch Kwikfunnel software. It is designed to be easy enough for beginners, but also advanced enough for the experienced market. Kwikfunnels offer you three types of pricing plans that help you to scale your funnel and grows your business. Their prices start at $25 per month. Before purchase read all the information about its plan and its features which we will give you in the bottom.
Kwikfunnel pricing plans & its features
Kwikfunnel offers only three pricing plans that help you scale your funnel as your business grows. Their pricing starts at $25 for the personal plan. The pro plan is $49 per month and the business plan is $99 months.
Personal
$25 / Monthly
In this plan, kwikfunnel offer you 1 Domain for your personal website. Unlimited Templates for create an attractive page of your e-commerce website and funnels. Kwikfunnel help you to increase traffic at your website and also increase conversions. You can easily create unlimited pages and upload unlimited products at your e-commerce website.
Pro
$49 / Monthly
This plan is best for the entrepreneurs. In this plan you will get more features and quantity rather than kwikfunnel personal plan. Its cost is just $49/month. You can easily access three domains in this plan as well as you are able to change templates according to your website need. You will get unlimited templates like 40+ cheackout templates, 30+ Thank You Templates, 1000+ Landing Templates and many more. After creating the website with kwikfunnel, traffic and product sell is increase day by day with this plan. You can use email intergration process for start email marketing program for your targeting audience. Some features are given below :
Advanced Stats & Reports
1-Click Upsells
Priority Support
Business
$99 / Monthly
If you are a beginner, you want to start your own new business so this plan is perfect to you. You can deduct years from your learning curve with kwikfunnels. It offers dozens of courses that teach you everything about getting traffic and converting that traffic into customers. If you already have a developed business, kwikfunnels can help fuel the fire. This will help you turn your leads and visitors into paying customers. Its amazing features of kwikfunnel business plan are given in the bottom.
10 Domains
Unlimited Templates
Unlimited Funnels
Unlimited Traffic
Unlimited Pages
Unlimited Products
40+ Checkout Templates
30+ Thank You Templates
Built In Payment Integration Process
Built In Email Integration Process
Advanced Stats & Reports
1-Click Upsells
Priority Support
1000+ Landing Templates
Kwikfunnel  Features
A simple drag and drop landing page builder
Kwikfunnel provides a very simple drag and drop landing page builder that you can learn in a few minutes. It lets you create and publish a landing page within minutes. You do not have to be a web designer, conversion specialist or marketing expert to create a landing page.
All you have to do is choose a premiere design and customize it with a simple drag and drop interface.
You can edit and change anything on the page that you don't like just by clicking on it. You can add new elements or change the order of those by simple drag and drop on your page.
The best part of building a sales funnel with kwikfunnel is that it comes with hundreds of pre-made templates that are proven to convert visitors into customers. This removes all guesses and lets you create high conversion landing pages with no design or marketing experience.
Built-in A / B split test.
Funnel sharing between affiliates.
Pre-made templates are optimized for conversion and sale.
One-click up and down-click.
Payment Gateway Integration (Stripe, Razorpay, PayPal, Paytm, Payu, Instamojo, Paytabs etc.).
Marketing automation with Facebook and email platforms like Mailchimp.
Kwikfunnel Pros and Cons
The pros
Helps in generating leads and sales
Drag-and-drop pages and funnel builder are very easy to use
Comes packed with pre-made templates for landing pages and funnels
Funnel sharing capability.
Kwikfunnel pricing plans are much cheaper.
Loss
Limited customization options.
Not ideal for absolute beginners, comes with a learning curve.
kwikfunnel is designed for the non-tech-savvy market and beginners who want to grow their business with a sales funnel but don't want to deal with the technical side of things. All kwikfunnels subscriptions provide access to Funnel Flex, a bundle of courses on marketing and advertising. Even if you don't know anything about funnel making or marketing, these courses will take you through a probate in no time.