New 120mm All-In-One Liquid Cooler From TeamGroup Targets PCIe 5.0 SSDs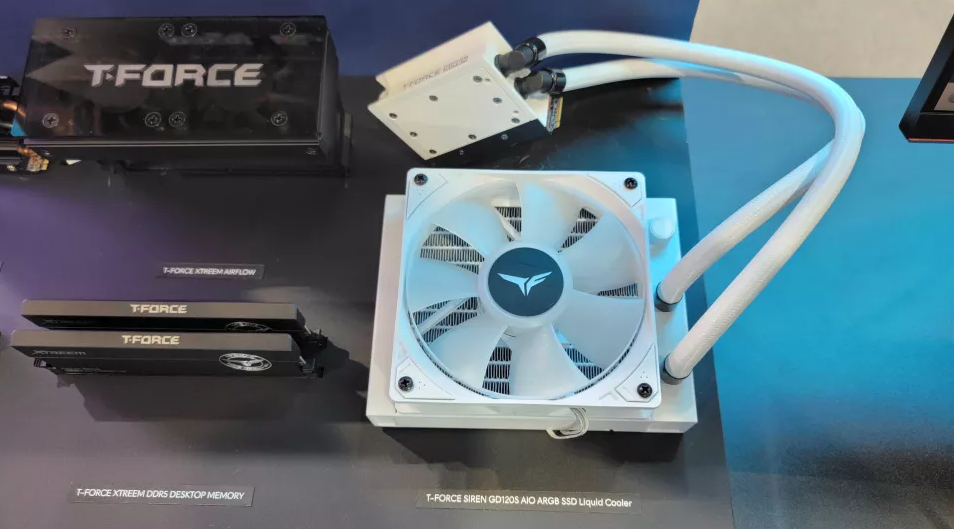 At this year's Computex exhibition, TeamGroup showed off a lot of their incredibly intriguing new items. However, the T-Force Siren GD120S may be one of the most overkill M.2 SSD coolers we've seen, and we've seen a lot of hefty coolers ever since PCIe 5.0 SSDs have started to emerge on the retail market. This is because the T-Force Siren GD120S features a 120 mm fan, which is the largest fan size available for an M.2 SSD cooler. When you thought that SSD coolers couldn't get any wilder, TeamGroup came out with a 120mm all-in-one liquid cooler built for cooling PCIe 5.0 drives, which are often among the best SSDs. Just when you thought that SSD coolers couldn't get any crazier, TeamGroup did it.
The T-Force Siren GD120S is an attractive all-in-one (AIO) liquid cooler that is designed for M.2 2280 SSDs. It comes in a color scheme of pure white. The cooler has a copper base plate that directs heat away from the solid state drive (SSD) and into an aluminum radiator that is 266 millimeters wide, 215 millimeters deep, and 136 millimeters tall. The pump is quite effective, with rated speeds of up to 4,000 RPM, providing a flow performance of up to 850 ml/min, and so on. As a result, it ought to be able to transport a good quantity of heat at a respectable rate.
According to TeamGroup, the noise level of the pump is approximately 22 dBA, and the cooler can use up to 4W of power. There are components that produce a louder volume inside of your casing. At the same time, the task of removing the heat generated by the radiator falls on the shoulders of a single 120mm ARGB cooling fan. The highest noise level produced by the cooling fan is 39.5 dBA, which is only slightly louder than a whisper. The fan can spin at speeds ranging from 600 to 2,200 RPM. TeamGroup has not yet arrived at a conclusion regarding the cost of the T-Force Siren GD120S. Despite this, the company is planning to introduce its product within the third quarter. Because there aren't exactly a ton of M.2 AIO liquid coolers on the market, we can't even make an educated prediction as to how much the T-Force Siren GD120S will cost.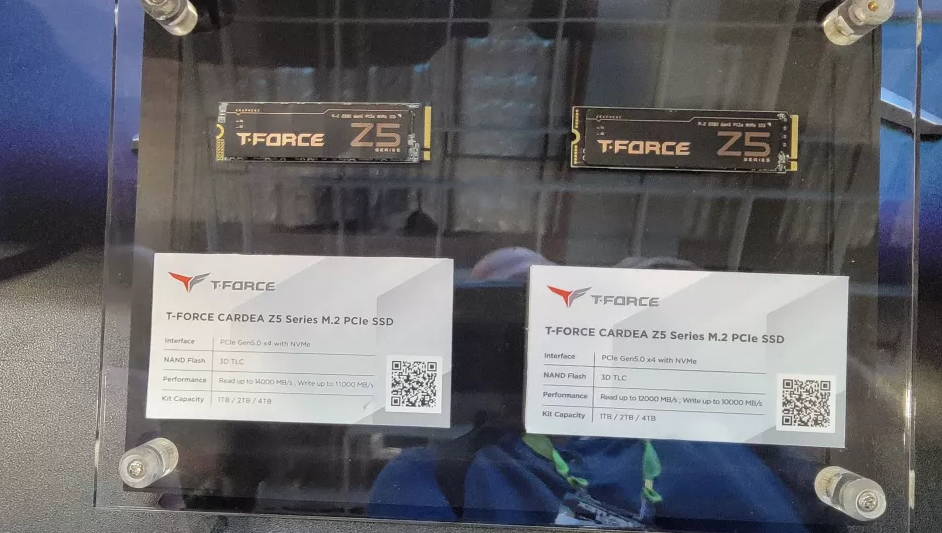 TeamGroup has also lifted the veil on the brand's T-Force AirFlow series of PCIe 5.0 coolers. These coolers employ a more traditional method of air cooling and were unveiled by the company. T-Force AirFlow I, T-Force AirFlow II, and T-Force AirFlow III are the three different variations of coolers that were produced by the firm. The designs are slightly different from one another, so customers will need to choose which one will work best for their particular system configuration and clearance space. Since graphics cards are not expected to get any smaller in the foreseeable future, it can be difficult to install aftermarket M.2 SSD cooling in a computer system.
The T-Force AirFlow series is comparable to Phison's reference PCIe 5.0 cooler in that it has thick heat pipes, aluminum heatsinks with optimized fin stacks, and in some cases, a small cooling fan. All of these components are made of aluminum. The T-Force AirFlow series, manufactured by TeamGroup, is rumored to be capable of reducing the temperatures of SSDs by up to thirty percent.
SSDs belonging to the Cardea Z5 series were among the products that TeamGroup presented at its exhibit. Nevertheless, the Cardea Z54A that the manufacturer had previously teased is not the identical drive that is being sold here. Even though the company was making a big fuss about the SSD in the days leading up to Computex 2023, the brand, for some reason, chose not to take advantage of the chance to release more information about the quicker drive.
The Cardea Z5, which is available in sizes of 1TB, 2TB, and 4TB, is a few of notches below the Z54A in the card hierarchy. Both the sequential read and write rates of the SSDs may reach a maximum of 12 and 11 gigabytes per second, respectively. In comparison, the Cardea Z54A achieves sequential read and write performance that surpasses 14 and 11 gigabytes per second, respectively. The Cardea Z5 has been rated by the manufacturer to have an endurance level of up to 1,400 TBW. The PCIe 5.0 solid-state drives all have a standard warranty of five years.