Specifications for the Adata SSD with Internal Liquid Cooling: Up to 14GB/s
At the Computex 2023 trade expo in Taipei, Adata disclosed some further information regarding their NeonStorm solid-state drive. This drive features an internal liquid cooling system and offers read rates of up to 14GB/s in sequential mode and up to 2M in random mode. The PCI Express 5.0 x4 drive appears to employ an all-new platform developed by Silicon Motion and provides levels of speed that are virtually unheard of.
In light of the fact that Adata's innovative self-contained liquid cooling technology is widely regarded as the most significant selling point associated with the impending NeonStorm drives, it is only natural to begin with that feature. Even though it makes use of a high-performance coolant, the cooling system is not an LCS in the traditional sense.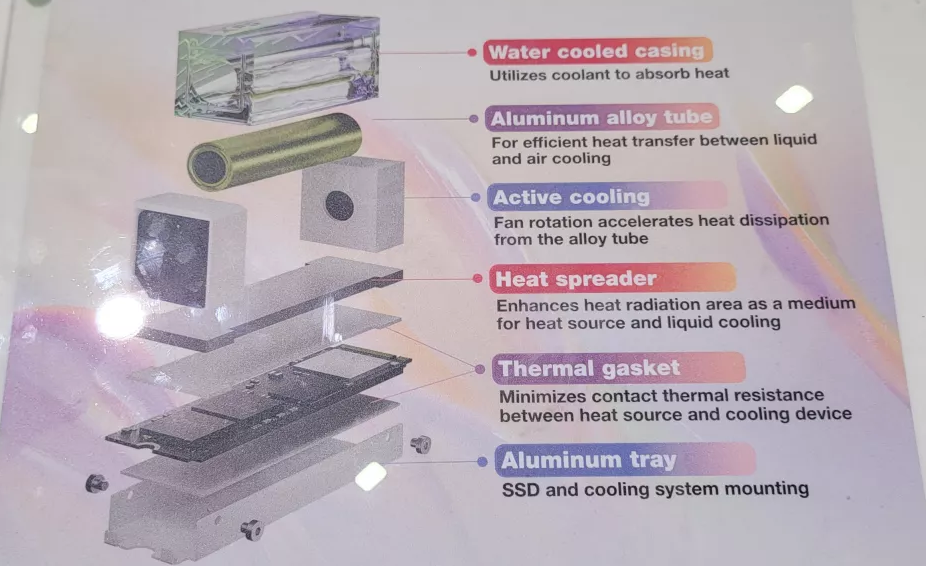 The heat that is produced by a NeonStorm is taken in by a thermal gasket and a metal heat spreader in order to make the most of the available contact surface. This heat is then moved into a liquid reservoir, where it is absorbed by a high-performance coolant. This coolant, in turn, is cooled down by an aluminum alloy tube that is ringed by the coolant. This process continues until the heat has been removed. In the meantime, the tube is cooled down with the assistance of two fans that circulate air from one end to the other. According to Adata, the liquid-assisted cooling solution exceeds typical fan-cooling mechanisms by providing an amazing additional 20% reduction in SSD temperatures. This additional cooling will be essential in ensuring that NeonStorm drives maintain their high level of performance consistently.
It is planned that Adata's NeonStorm solid-state drives will use Silicon Motion's SM2508 controller. This controller is NVMe 2.0 compliant and promises sequential read speeds of up to 14GB/s and sequential write speeds of up to 12GB/s. Additionally, it promises random read/write performance of an astounding 2 million IOPS, which is comparable to that of enterprise-grade SSDs. When it comes to storage capabilities, SM2508-based drives will support up to 8 terabytes (TB) of 3D NAND, which is more than plenty for client-grade devices.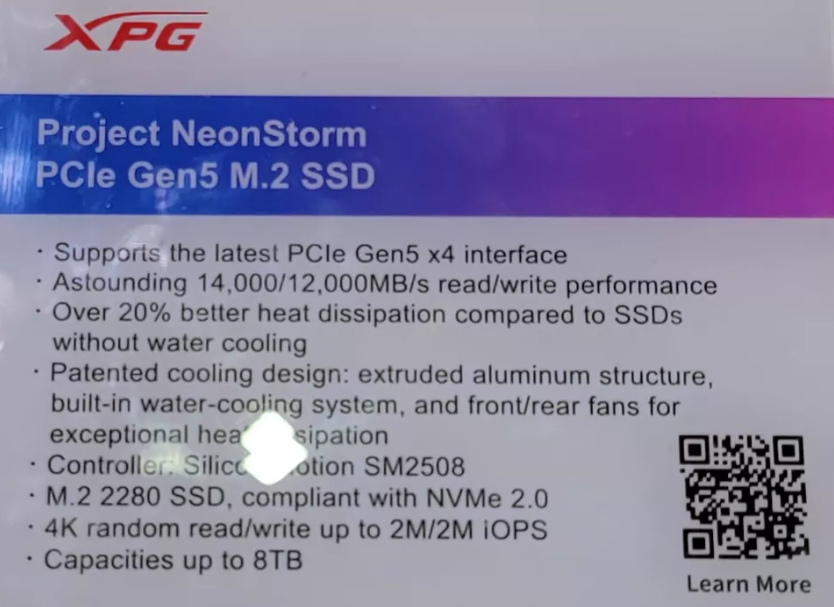 The reservoir of Adata's NeonStorm coolers is self-contained, and there is no circulation of liquid from one system to another, therefore there are no potential failure spots. This is the primary benefit of these coolers, which also eliminates the need for replacement parts. Assuming that the NeonStorm has a good build quality and that its fans do not break down, it should be able to function normally for a number of years without any problems. In addition, the cost of producing the cooling system does not appear to be particularly high, and it also has an impressive appearance.
Of course, fans make noise, and for the time being, Adata even needs to use an external wire to supply power to them. In the meantime, the company claimed that it is keeping its fingers crossed that Silicon Motion will be able to lower the amount of power that its platform consumes so that it can supply fans from the slot.