Next Xbox Game Pass Titles Revealed: Madden 22, Total War: Warhammer 3, And More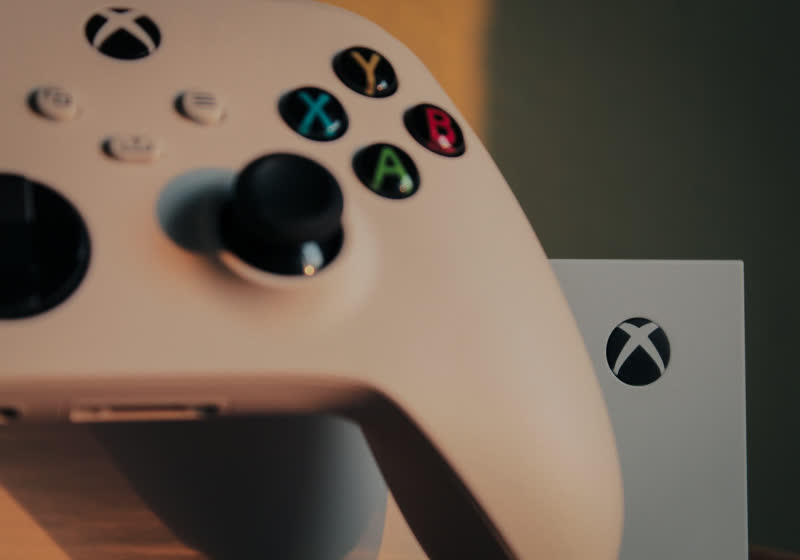 Following a recent leak, the next wave of Xbox Game Pass games has been officially revealed. Each and every one of them will be a participant in the programme by the end of February, and they include some strong hitters—including one very large lawnmower.
The day-one release of Total War: Warhammer III, which is perhaps the most significant release of the month, is among the new additions for the second half of February. It serves as the climax to the Total War: Warhammer trilogy, and it invites players to enter the Realm of Chaos, a place of "mind-bending terror," in which they will face off against the forces of evil.
Roboquest, Madden NFL 22, Super Mega Baseball 3, and Galactic Civilizations III are among the games that will be released this month. The PC version of EA's Alice: Madness Returns will be included to Game Pass as well. Those interested in Madden and Alice may do so through EA Play, which is included with Game Pass Ultimate.
Also this month, Lawn Mowing Simulator, which is already available on Game Pass for the Series X and PC, will be made available on the Xbox One, while Mass Effect: Legendary Edition will be cloud-enabled in the coming weeks.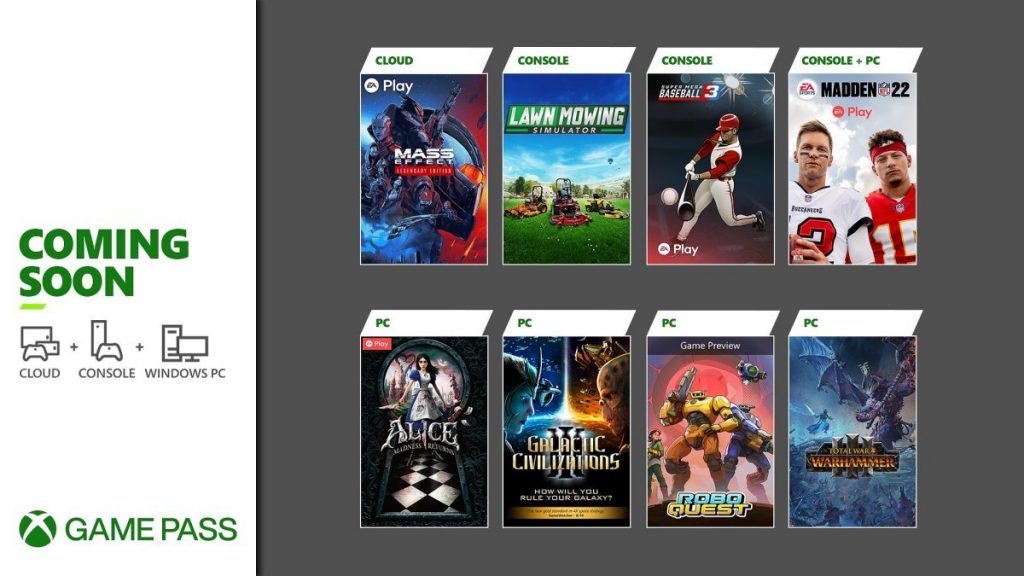 Also announced today was the addition of touch controls to six more Game Pass titles for mobile devices, including Dreamscaper, Firewatch, Lake, The Pedestrian, Yakuza 3 Remastered, and Yakuza 4 Remastered, among others.
Ark Survival Evolved Ultimate Survivor Edition, CrossfireX (for which the campaign has yet to be released! ), Contrast, and Telling Lies were among the ten games included in the first wave of Xbox Game Pass titles for February 2022.
The next wave of Xbox Games With Gold titles, including Aerial Knight's Never Yield and Band of Bugs, will be released on February 16, according to the latest news.
Xbox Game Pass Rest Of February 2022 Games
February 15
Mass Effect Legendary Edition — Cloud
February 17
Lawn Mowing Simulator — Xbox
Madden NFL 22 — Console, PC
Total War: Warhammer III — PC
February 22
Roboquest (Game Preview) — PC
February 24
Galactic Civilizations III — PC
Super Mega Baseball 3 — Console
February 28
Alice: Madness Returns — PC