Nvidia and AMD GPU Prices Continued to Plummet in April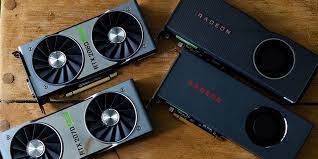 Graphics card costs have continued to decline throughout April, according to 3D Center Germany's Easter weekend roundup of the latest deals. AMD GPU costs have fallen by an average of 13 percent in the last three weeks, while Nvidia GPU prices have fallen by a total of -6 percent in the same period. According to the graph below, it is instantly apparent that the rate of fall in Nvidia's GPU prices has slowed significantly.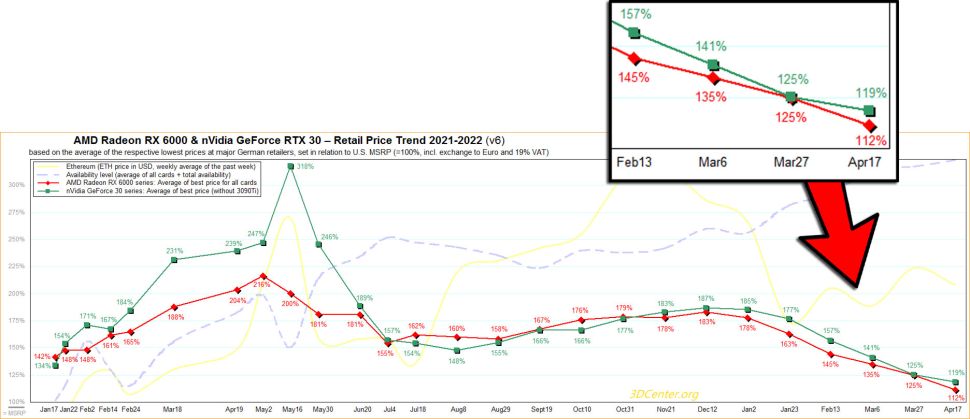 In April, it looks like the pricing curve for Nvidia graphics cards is flattening. According to the source site, this might be an indication that "the period of fast price reductions has come to an end." These types of supply/demand price curves, on the other hand, are not necessarily smooth or easily foreseeable.
According to prior estimates from 3D Center, both Nvidia and AMD GPUs were selling for around 25% more than their MSRPs at the end of March. There is a possibility that this was enough to entice some Nvidia enthusiasts who had been sheltering from the storm for the previous months. On the other hand, it is possible that the supply of Nvidia GPUs has slowed for a variety of reasons during the previous several weeks. Evidently, things are different in Nvidia's and AMD's worlds, as after both were 25 percent above MSRP at the end of March, Nvidia GPUs are currently 19 percent over MSRP on average, while AMD GPUs are 12 percent over MSRP on average, respectively.
For its average pricing and availability statistics, the source site, which is German, takes into account a large number of online businesses around the country. With nine eShops on the German market, it appears to be extremely competitive, and we anticipate that graphics cards will be available for purchase elsewhere online, such as on Amazon Germany or eBay Germany.
Another thing to keep in mind regarding the German findings is that they do not contain any GeForce RTX 3090 Ti graphics cards at all. There were no significant supply issues with these halo GPUs when they were released and made accessible at list price very soon after their introduction. Furthermore, the RTX 3080 12GB is not listed due to the fact that it does not have an official MSRP.