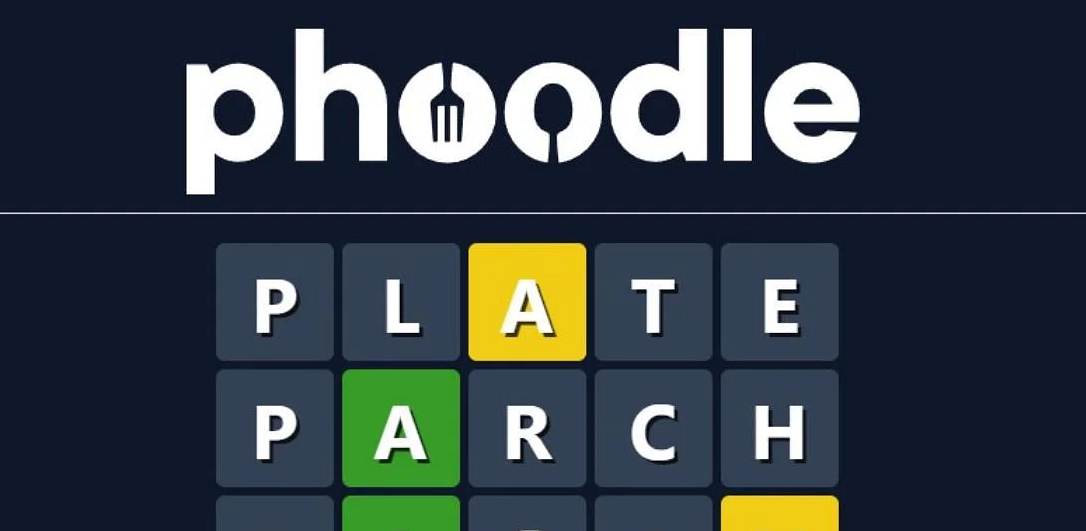 Are you ready to test your word-guessing skills? Look no further than Phoodle, a challenging game inspired by Wordle. You'll be tasked with guessing a five-letter word centered around food. Each guess counts, as you only have six attempts to crack the code. But don't worry, the game will provide you with color-changing tiles to help guide you. Can you use your knowledge of food-related words to make educated guesses and uncover the tasty word of the day? Let's find out!
What is Phoodle?
Phoodle is a word game that revolves around food-related terms. In this game, you have to guess a five-letter word related to food, which can be anything from kitchen gadgets to well-known chefs. You have six attempts to identify the correct word, and each guess must be a valid five-letter word. After each guess, the color of the tiles changes to indicate if the letters are correct and in the right position.
Gray tiles mean the letter doesn't appear in the word, while yellow and green tiles indicate correct letters in the wrong and right positions, respectively. The game provides no initial hints, making it a challenging and exciting word game experience.
Phoodle Word Answer Today: Friday September 22 2023
You can find the Phoodle word answer for today, Friday, September 22, 2023, by scrolling up and maintaining your winning streak in the game. The answer for today's Phoodle word is 'LOCAL.'
Knowing the answer can help you keep your winning streak alive in the game. If you want to try again, you can scroll up and make another attempt. Just remember, revealing the answer is your final warning before it's disclosed. So make sure to use it wisely. Keeping your streak going is the goal, and having the correct answer will definitely increase your chances. Good luck, and happy playing!
Here is the Phoodle answer today:
LOCAL:
We really hope that this was able to help you maintain your winning streak, and we encourage you to check back here for additional help with any popular word game or crossword puzzle if you ever find yourself stuck.
If you enjoy playing specialized word games, you should look into the many other types of category-specific games that are available on the internet. We offer daily solutions to these games in case you ever find yourself in need of assistance with them.
Phoodle's Daily Puzzles: Past Answers
Scroll through the list of Phoodle's Daily Puzzles: Past Answers to find inspiration for your next word-guessing challenge. With a variety of food-related words to choose from, you can test your vocabulary skills and have fun at the same time. Check out some replies from past months:
Phoodle Answers for July 2023
The following are the solutions to Phoodle for July 2023, as listed in the table below:

Phoodle Answers for June 2023
The following are the correct Phoodle answers for June 2023:

Phoodle Answers for May 2023
The following are the solutions to the Phoodle questions for May 2023:

Bear in mind that these solutions are not intended to be used in any way that would constitute cheating, but rather as a guide to help you comprehend the pattern and logic underlying the game.
Frequently Asked Questions
How Can I Submit My Own Word Puzzles for Phoodle?
To submit your own word puzzles for Phoodle, visit the official website and look for the submission guidelines. Follow the instructions provided to contribute your unique puzzles and share your creativity with other players.
Are There Any Rewards or Prizes for Completing the Phoodle Daily Puzzles?
There are no rewards or prizes for completing the Phoodle daily puzzles. The satisfaction comes from challenging yourself and testing your vocabulary skills. Keep playing and enjoy the fun and challenging experience!
Can I Play Phoodle Offline or Do I Need an Internet Connection?
Yes, you can play Phoodle offline without an internet connection. The game can be played for free on mobile devices or computer browsers, allowing you to enjoy the word-guessing fun anytime, anywhere.
Is There a Time Limit for Each Guess in the Phoodle Game?
Yes, there is a time limit for each guess in the Phoodle game. You have a limited amount of time to input your guess before the game moves on to the next attempt.
Are There Any Special Bonus Rounds or Challenges in Phoodle?
No, there are no special bonus rounds or challenges in Phoodle. The game focuses on guessing a five-letter word related to food within six attempts. It's all about testing your vocabulary skills.
Conclusion
In conclusion, Phoodle is a challenging word-guessing game centered around food. Players must use their knowledge of food-related words to guess a hidden five-letter word. With only six attempts and color-changing tiles to guide them, players must make educated guesses to crack the code.
Can you uncover the tasty word of the day and maintain your winning streak? Dive into the world of Phoodle and put your word-guessing skills to the test!