Princess connect Re: Dive How to Gear Up fast using LDPlayer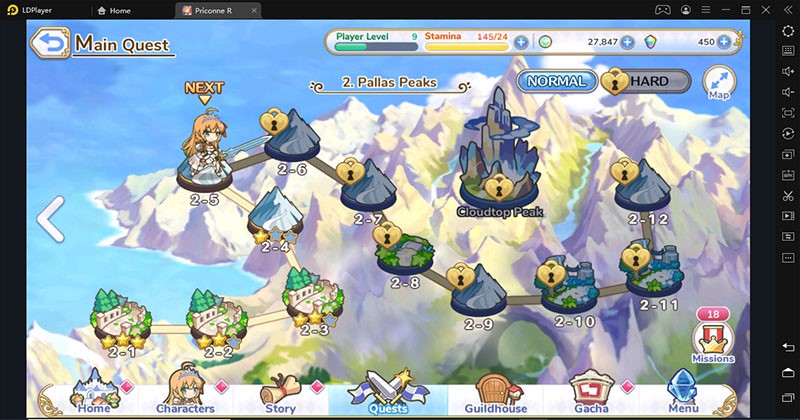 Princess Connect Re: Dive comes to the gaming world with a category of role-playing, and now it has come to all gaming lovers with the series of Princess connect japan anime. Join the game to experience the unlimited sources of characters and the equipment to move around fast. Join around the land of Astraea and begin the adventure by playing competitive battles in the Landsol village. Come to download Princess Connect Re: Dive on PC now.
You can play this game to experience most of the features and visual representations entirely by using LDPlayer, and that is it. LDPlayer is known to the best emulator for having android gaming experience around the world and now you have got the chance to enjoy every android game through a larger screen with super performances by LDPlayer.
You will share the best gaming experience with it for your lifetime. The equipment of gears in upgrading them from LDPlayer is quite an advancing way to build them fast. So how can you do this from this fantastic emulator? Let's find out.
Gear up fast by LDPlayer
First of all, you have to start the gameplay by using LDPlayer. So download your free emulator from LDPlayer official site and install it. You have to search the game Princess connect Re: Dive and install it from its store.
Right after your installation, you can set up the specifications related to your PC by diagnostic Information. So once you have started the game, you can see a screen of equipment on your pc. It is shown when you tap on a character banner in the list of characters. This one is for you to equip on familiar characters. These are built to gear up your characters in the gameplay.
Equipment slots
In your LDPlayer gaming screen with Princess connect Re: Dive, you will see these equipment slots on the left side. There will be six slots in total, and you can only take the ones already shown. When you got the right type of equipment, make sure to click on the corresponding slot. It will enable you to use the slot and take a bonus for stats.
Equipment Upgrade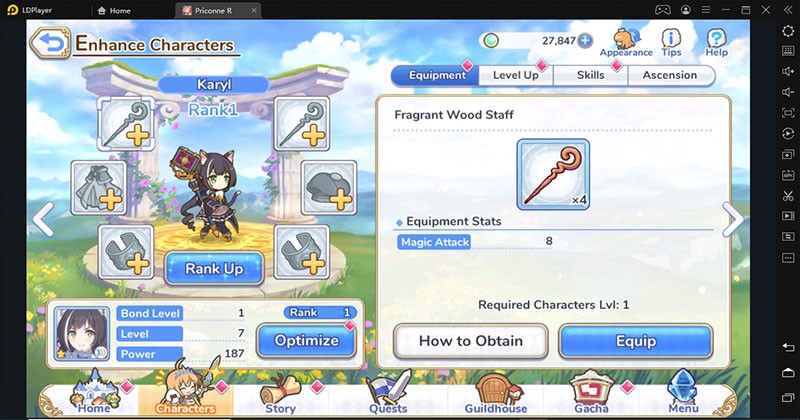 Once you are equipped with the items and one or more stars with its icon, those can be upgraded. You have to engage with these upgrades as they allow you to increase the stat bonuses related to that equipment. To begin the upgrading process, you can click on that equipment and tap the upgrade button. That button will appear on the right of your screen on the information box.
When you finished these all steps, you will see the upgrading screen, and it will show you the needed amounts for you to upgrade that equipment. There will be so much unnecessary equipment with you, and you are free to fold off them to fill that bar shown to you. You can fill it by using weapon gems as well. When this bar is filled up, you can hit on the upgrading to finish the whole process of equipment upgrading.
Jewels also a good source for instant upgrades, and you can use them on some occasions. Don't try this unless there are no other options available because this method is not cost-efficient for gamers. When you are ranking up your character, all of your upgraded equipment will vanish. So if you rank up, you will get half of the weapon gems as a refund.
Remember that the stat bonuses you have within the upgraded equipment will not be transferred to the characters. You have to upgrade your equipment only on the occasions where you have the highest ranks with you and do this process in which you do not have intentions to rank up your character for a while.
Upgrading with the best visual represents from LDPlayer.
When you are going to play Princess connect Re: Dive on your pc, you need to have the best visual represents of your eyes as it increases the interest in the game. As this game is inspired by an actual series, the best way of experience its scenarios is the best quality visuals. So you have to update your graphic driver to get the advanced performances from this game.
Princess Connect Re: Dive will not smoothly function on your PC if there is an outdated graphic diver. So if you want to experience the best features, you will always need to access your device's latest graphic drivers. Make it to the latest by following these simple instructions.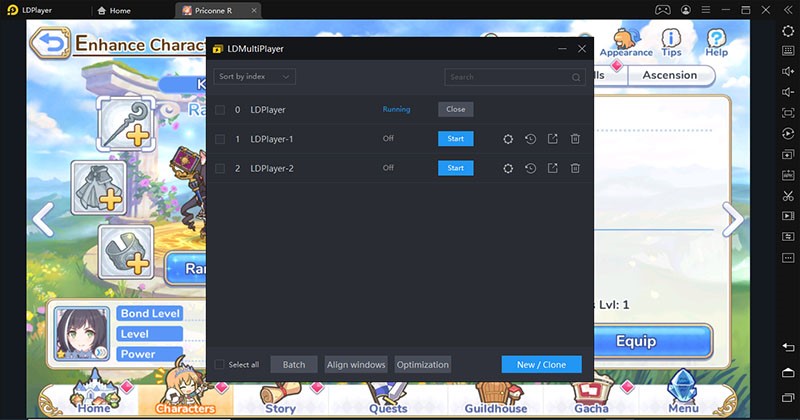 Download the official driver booster from the site LDPlayer and install it on your PC. Run it and make your gaming experience superior. And after all your tasks, create your LDPlayer work in a multi-instance sync feature and allow your game to start in both copied emulators. You will get the chance to gear up several pieces of equipment at the same time so that nothing will take you down. All you gain is the perfect gaming play to the Princess Connect Re; Dive on gear up.
Conclusion
LDPlayer will be the smoothest emulator to run Princess Connect Re: Dive on your PC, and it is going to offer you the best experience related to game playing. You have to experience the advanced features as multi-instance sync, and the rest will do by the LDPlayer. So if you ever want to share Princess Connect Re: Dive on your PC with advanced features, don't think twice. Here is the LDPlayer. Though many kinds of android emulators in the market, LDPlayer is the free android emulator as well as the lightest one, which might be the best choice for most players.