Quality-oriented and Economical DTH connection in India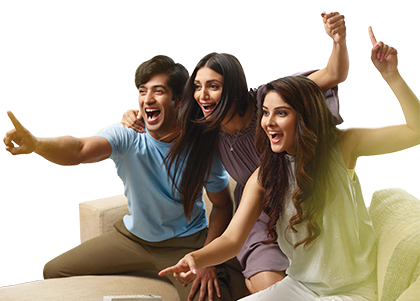 It has been more than a decade that DTH or Direct to Home services are taken by people in India. DTH has made the experience of watching Television more enjoyable, as with the DTH connection the video quality gets vast improvement and you can enjoy several channels as a pack. However, whenever we consider taking a DTH new connection,the biggest concern that bothers us is deciding the service provider. If you are looking for a new DTH connection, nothing can be better than Airtel. Airtel has been one of the premium DTH providers in the country since its inception in 2008. Airtel DTH is also one of the best options for customers who already use other Airtel services such as Airtel prepaid, postpaid, or broadband.
Here are the few factors that will justify going for a new Airtel DTH connection:
Easy to manage through Airtel Thanks App: You can login to Airtel Thanks App using your registered mobile number and the OTP received. Once you login, you can see the landing page with the various Airtel accounts that you have associated with the registered number. You can click on the DTH account there and you will be directed to the DTH page. Over there you will get various options including managing your DTH plan.
Cost-effective Plans: With Airtel DTH, you will get some of the most affordable plans. In many of the plans, even the regional channels are included; thus, you do not have to pay any extra money for activating the regional channels. You also have the option of choosing the channels and creating your plan. The plans start at the affordable price point of INR 153 per month.
Easy to upgrade to Xstream Box: By upgrading to Airtel Xstream Box, you can turn your television into a Smart TV. As you take Xstream Box, it will come with Chromecast built-in, Xstream App Premium, Voice Search option, and you can even use your mobile as the remote for the TV. You will also get 4K picture quality and OTT app and games that you can directly install on the television.
You have several options for getting a new Airtel DTH connection:
You can get it from the Airtel store or retailer: To get a new DTH connection, you can visit any of the nearby Airtel stores. You can choose from the available STB including HD, SD, or Airtel Xstream Box that you want and then purchase through any mode of payment, including Debit Card/Credit Card/Net Banking or Cash.
Buy it from the website: If you buy the new Airtel Digital TV connection from the Airtel website and you will get additional benefits as well as discounts. You can get equally good options if you are trying to upgrade to an HD box or Xstream Box.
The Airtel DTH service takes care of the pocket of the users and comes with a huge list of channels. Now if it convinces you to opt for the service provider, you can go ahead and visit https://www.airtel.in/dth to get an in-depth idea of Airtel DTH services.