Salesforce CRM for Small Businesses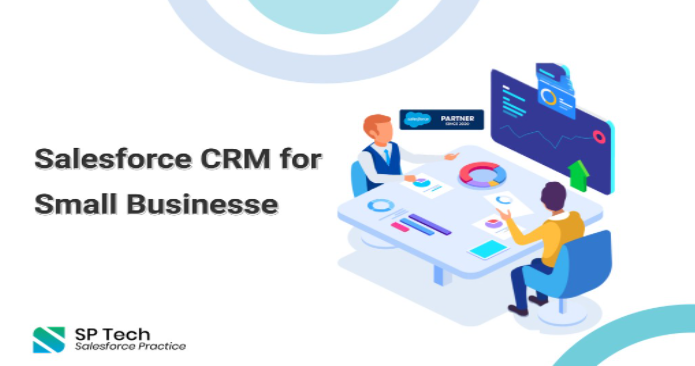 The Salesforce CRM for small businesses is just the perfect tool to scale up growth and transform all your challenges into opportunity!  
With innovative technology and creative innovation around the globe, it has become important that you delimit your business sphere and target your customers globally. Salesforce CRM is the perfect key to unlocking your customer market with in-depth market analysis, behavioral patterns, AI-mediated business insights, and everything that you need to scale up your business! 
So, let's dig deeper and know how Salesforce CRM will work for your small business! 
How do you encash Salesforce CRM for Small Businesses? 
To encash the most of CRM into business value, you need an efficient utilization of organizational teams, from production to essential services and from sales to marketing. 
This can be achieved once you direct all team windows towards customers and couple demand-supply chains with AI inputs.  This helps to update all teams and can work in a customer-oriented approach! 
There are unique features and tools that can be utilized to make better business solutions and enhance the processivity of your multiple departments. As you proceed, this can impact your customer orientation! 
The best solution is- to maximize your team integration  with salesforce consulting services   
Furthermore, let's drive our focus towards the most essential part of this blog! 
First thing first, you are a small business and wanting to close more deals? 
Ease your sales teams with all essential information in a single window.  
Learn Business Sales with Salesforce! 
The power of Salesforce is that it enables the sales teams with all the essential information required. 
Salesforce CRM has a unique ability of its 
Guided setup

 that is not just quick but with consistent support by 

in-app tutorials

 too!

 
Accessibility of information

 to mediate employees with tools and in-depth customer analysis to close the deals

 
Also, sales are not just an in-office venture, you need a 360 customer view plus access to CRM from any device to make it quicker!

 
Furthermore, as every business is unique, so is your customer, and the more you focus on this fact, the higher your chances to get on the leaderboard! Yes, that sounds crazy! 
Today, corporations have AI-mediated business tools, strategies, and solutions.  
The very desired tool to attract customers is not just by your product, services, or your ethical business practices but by the customer relationship.  
It can help you flourish your business by achieving a better understanding, which may create wonders that you may have never imagined 
A personalized sales experience

 is helpful if you connect your sales, services, marketing along with B2B commerce team and customer data from being prospects to loyal business leads.

 
In sales, information works like- the more the merrier! 
A Predictive forecasting tool

 can help your sales team smarter, also, it can be helpful in each and every step of your sales along with capturing data to get instant insights. Also,  this can help you have predictive forecasting!

 

In-depth information and informed decisions

 go hand in hand. If you enable your sales professionals with insights on reports, salesforce dashboards, and analytics that are AI-powered, what more!

 
Salesforce CRM with better customer experience 
The key takeaway for any small business is to ensure the ultimate customer experience that leads to customer retention followed by enhanced brand value! 
Salesforce integration does just the same! 
Customer Support: With Salesforce CRM you have the opportunity to manage customer relationships via productivity toolkits that ensure to automate redundancy of admin tasks and facilitate high-value customer support experience too! 
Personalized digital support: With CRM integrated digital channels and social media, Salesforce helps you to be available for customers 24×7 using chatbots and keep your customers happy! 
Customer Service:  A very important feature of salesforce CRM is its profound skill of understanding your priorities of the business as per your customer! 
Now, with salesforce, you can help your customer, facilitating self-service in need. All you need to do is , use the drag and drop design and build a branded help center. 
Furthermore, salesforce also enables field service employees with necessary details that can help your company reduce cost, enhance efficiency, and complete remote jobs accurately! 
Salesforce with Marketing Intelligence 
Sales and Services are all good for business but what keeps your small business in the competition is your marketing tools, strategy, and business intelligence. 
With Salesforce you have an opportunity to  
Construct a pipeline that provides a personalized impact: Your marketing emails speak all about you and to be proficient with what you say, you have Pardot by Salesforce.

 

Also, there are multiple know-hows of marketing but most of them are utilized or overexploited and the best solution to stand out in your business market is to  create user engagement through your email communications system with quick and effective Email Builder

 

Your marketing strategy needs to be derived from your customer itself. The best you can get from Salesforce is by creating high-end landing pages and tracking your target customers. Capture your target, route in your interested directions, and land your leads in  your interest

 
The four pillars of Salesforce Advantage 
As you use Salesforce CRM, you will always stay upgraded every quarter of the year.It comes with enterprise, level, and security 
Also, you have the facility for configuration, quotation, and pricing along with an automated invoice for your integrated sources such as email, Calendar app, and many more  
Furthermore, there are various plugins from app exchange that you can just plug and play on your choice. Ease your sales team effort by integrating app exchange plugins and play apps such as  
Dropbox

 
Get feedback

 
Mailchimp and many more!

 
A quick takeaway from this blog is- with Salesforce consulting you get the ease of doing business with a cloud community that will constantly update and upgrades you to make maximum utilization of CRM and get efficiency at your business game!