Situational Analysis of Starbucks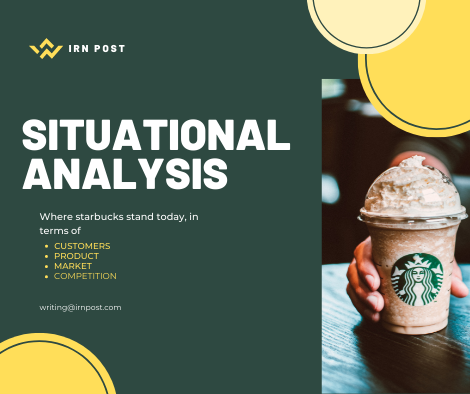 In this article, we will first have a short look at Starbuck's current stats, and then we will have a situational analysis of Starbucks. As situation analysis is a detailed examination of a company's market presence based on internal and external factors (where company stands today). So, we will look into all these factors.
Starbucks Company Current Stats
| | |
| --- | --- |
| Company Name (Starbucks Corporation) | Stats by End of 2022 |
| Year Founded | March 30, 1971 |
| Worldwide Number of Stores | 34,317 |
| Number of Countries Starbucks Operates in | 80 countries |
| Starbucks annual revenue for 2022 | $32.25B |
| How much is Starbucks worth in 2022 | $114.27B |
| Starbucks Annual Number of Employees | 402,000 |
| Starbucks annual gross profit for 2022 | $21.933B |
A situational analysis of Starbucks provides valuable insights into the company's strengths and weaknesses, including its products and services, customer demographics, marketing strategies, and financial performance.
It is important to consider both internal factors, such as operational efficiency, brand awareness, and reputation, as well as external factors, like competition in the retail market and changing consumer preferences. Understanding the environment of Starbucks helps managers make decisions that will drive the company's growth and profitability.
To understand the current situation of Starbucks, we will conduct a SWOT analysis of Starbucks and will analyze the internal (Strengths & weaknesses) and external factors (Opportunities & threats) of Starbucks.
SWOT analysis is a powerful tool to help evaluate Strengths, Weaknesses, Opportunities, and Threats.
Strengths of Starbucks
The company has a strong commitment to customer service, quality products, and innovation. It also leverages its global presence with over 34,000 stores in 80 countries to increase brand recognition and reach new markets. Starbucks has an experienced management team that understands the importance of integrating technology into the business model to stay competitive.
Starbucks has a strong financial platform that allows for long-term expansion and growth opportunities. These strengths have enabled it to become one of the leading coffee companies in the world.
Starbucks' strengths are its superior brand recognition, strong customer loyalty, and wide menu selection that appeal to both traditionalists and trendsetters alike.
Weaknesses of Starbucks
These factors are primarily related to their pricing. Starbucks prices are higher than those of most other coffee shops, making it difficult for customers on a budget to purchase their products.
Starbucks has limited menu options and does not offer much variety in terms of flavors or types of coffee beverages. Furthermore, despite the chain's popularity and ubiquity, there have been reports of declining customer service in some locations. Issues such as slow service and unhelpful employees have caused customers to choose other options.
Starbucks's loyalty program has led some customers to be overcharged and charged for items they never purchased. These factors all contribute to weaknesses of Starbucks that can potentially hurt their business as more competitors enter the market.
So, its weaknesses include high prices for some items on its menu, lack of a clear competitive advantage, and over-presence in some locations.
Opportunities of Starbucks
Starbucks' opportunities include the chance to offer more organic and specialty drinks, expand into new markets, add food items to its menu and diversify its product offerings.
Starbucks offers the potential to work in a variety of roles including customer service, product preparation, marketing, sales and operations. The company prides itself on its commitment to providing excellent customer experiences as well as creating unique and delicious products for customers around the world.
Starbucks also provides an excellent opportunity to expand one's knowledge and experience in the food and beverage industry. By learning from Starbucks, employees can gain valuable insights into how a successful business operates and how to provide high-quality customer service. This makes Starbucks an excellent place for individuals to learn new skills and advance their career.
Starbucks provides a variety of educational opportunities to its employees. The company offers a variety of online and in-person courses to help Starbucks workers develop their skills and gain new insights into the food and beverage industry. They also offer access to college scholarships for those looking to advance their education.
Starbucks is committed to providing its employees with opportunities for career advancement. With a commitment to developing employees and providing them with the opportunity to grow within the company, Starbucks provides excellent career growth opportunities for its workers. This makes it an ideal choice for those looking to develop their skills and gain experience in the food and beverage industry.
Overall, Starbucks offers a variety of opportunities for current and potential employees.
Threats to Starbucks
Starbucks faces threats from rising coffee bean prices, increasing competition from both established chains and independent coffeehouses, and changes in consumer tastes.
Threats can come in many different forms, such as increasing competition, changing consumer tastes or preferences, and political or economic instability.
Competition for Starbucks is on the rise with more coffee shops popping up around the world. With new competitors entering the market, Starbucks must ensure that their product offerings remain attractive to customers in order to stay ahead of the competition.
Consumer tastes and preferences are constantly changing, and Starbucks must be aware of these changing trends in order to remain relevant to their customers. For example, more people are now looking for healthier alternatives, such as sugar-free or vegan offerings. Starbucks must ensure that they can provide these options in order to keep up with consumer demand.
Political and economic instability can pose a threat to Starbucks as well. For example, if the economy is weak or there are trade disputes between countries, Starbucks may face difficulties in supplying their coffee beans or other ingredients.
Furthermore, changes in legislation can also negatively affect the business by increasing costs or restricting operations.
Recommendations
Overall, Starbucks must remain vigilant and stay up-to-date on the changing market conditions in order to protect themselves from these various threats.
By understanding their customers' needs and staying aware of external factors, Starbucks can better prepare for any potential risks that may come their way.
The most important factor to consider in a situation analysis of Starbucks is its customer base. Starbucks has an extremely loyal customer base, with many customers visiting multiple times each week. This loyalty is facilitated by the high quality of their products and services, as well as their attractive in-store experience.
The company's ability to reach customers through various channels, including its mobile app, website, and social media presence, contributes to its strong customer base.
At the same time, Starbucks faces a number of challenges in the retail market. Competitors such as McDonald's and Dunkin' Donuts are continually innovating to attract customers and capture market share.
Starbucks is facing increased competition from independent coffee shops, which are often cheaper and more convenient than Starbucks. Moreover, the company must also contend with changing consumer preferences such as health consciousness and eco-friendliness in order to stay competitive.
An effective situation analysis of Starbucks must include an assessment of the company's financial performance. Although the company's sales have grown over the past decade, its profits have been declining due to increased costs associated with operations and expansion.
So Starbucks is facing increasing pressure from foreign competitors in international markets, which could further limit growth opportunities for Starbucks in the near future.
Conclusion
In this article we did situational analysis of Starbucks by reviewing the external and internal factors associated with Starbucks, managers can make informed decisions that will help ensure the company's continued success. Taking into consideration the changing retail environment, consumer preferences, competition, and financial performance can allow managers to maximize profits and growth potential for Starbucks in the long term.